Sean Azzopardi is one of those vital and essential mainstays of the UK small press whose constant presence has given a reassuring sense of continuity to British comics self-publishing for as long as I have been covering the scene. Sean is most well-known for his thoughtful and emotionally articulate autobiographical comics (Tracks, Rain on Glass) but he's also produced memorable psychological horror work with Douglas Noble and tangential super-hero action in Necessary Monsters with Daniel Merlin Goodbrey.
Sean's role "off-panel" has been as important as his comics work over the last few years. He was a founding member of the London Underground Comics collective and has been the organiser of the ever friendly and accessible Crouch End Cartoon Art Festival (CECAF) for the last three years. This year CECAF takes a break as Sean gets to work on his next very special project, The Voice of the Hall, a graphic novel on the history of Hornsey Town Hall for which he was awarded a British Arts Council grant last year.
Canadian readers will also be fortunate enough to see him this year at TCAF.
In the latest of our 'Small Press Inside Look' creator commentaries Sean gives us some insights into the creative process behind his upcoming autobio work – the significantly titled 50…
The process of reaching 50
My comics production is slow. I work constantly, but slowly. The past couple of years has involved making a series of comics that loosely log events in my life. The last of these, Tracks was completed over two years ago. I had the vague idea of a follow-up, but it was delayed by a flapping around for a theme. My 50th birthday was on the calendar, so I set this as a deadline. What a great idea, A fifty page comic, Call it 50, launch it on my birthday and have a party. Well my birthday was this January and as I type this, 50 is still a few weeks away from being released. But I wanted to share a fresh work, and its various production stages.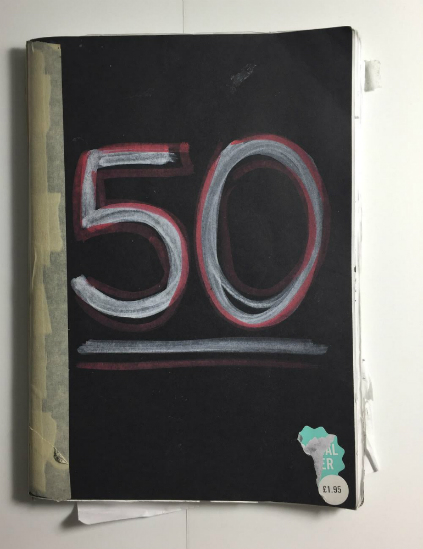 Sketchbooks
I'm trying to avoid that that idiotic question 'Where do you get your ideas from ?'.
Okay, so a story needs telling. How to begin. It's in my head, and needs putting somewhere. Write it all down. Total nonsense, long rambling passages, short notes sketches. Then write them out again, draw panel layouts – any old rubbish – just giving some shape to the structure. I had been working on three or four ideas that refused to progress, Black Leather was the longest. Six years, I think.
I had the bright idea that they could make an anthology, so this was the start of 50. I'm going to be 50, lets make a comic about what this means to me. Lets make it 50 pages.
So make a rough, a prototype. Then another. Then stick pages over the pages. Days become weeks. My beard loses more colour.
Drawing the stuff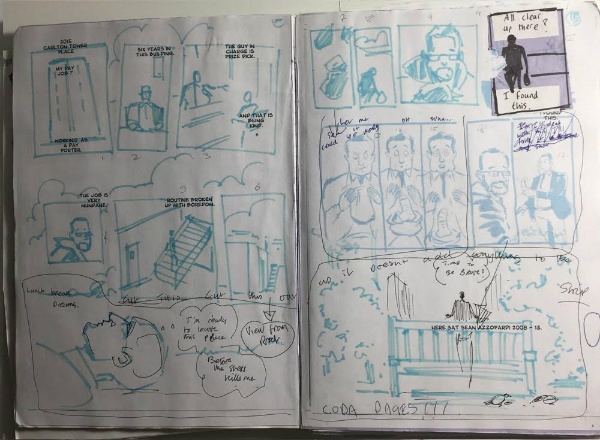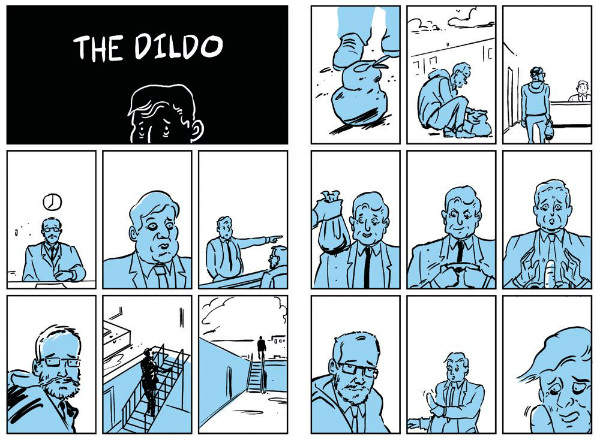 Some interior pages.
My initial idea was to simplify the process. Blue line pencil and a brush pen. Coffee shop style, bang it out, live with the mistakes, offer up some caffeine-fuelled energy. Well I got 15 pages into this, and was horrified by the results. I'm not a stylist. Generations of cartoonists are not going to be looking at my inking and slavishly copying it with the vague hope of touching genius.
Get a sharpie, rough out all the pages, scan it, load up Manga Studio and go.
I love editing pages, chopping them up, moving panels around, trying to make the narrative flow. It takes a lot of work to look as amateur as this.
Two-page spreads are my favourite workspace… I realise that along with talking of inking, using thought balloons and two-page spreads that I am a dinosaur. It's great. Anyway, two-page spreads became a thing when I started using the centre of my comics to make a poster image. This has now spread through all my work and I have a problem: two-page spreads everywhere! In 50 the centre pages are a linking device in that the protagonist travels from one past into another via Old Street roundabout.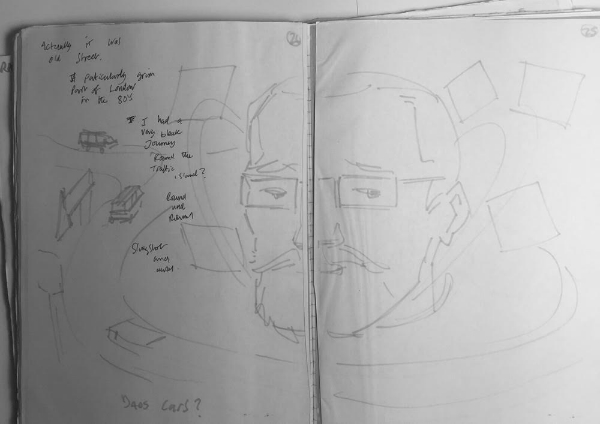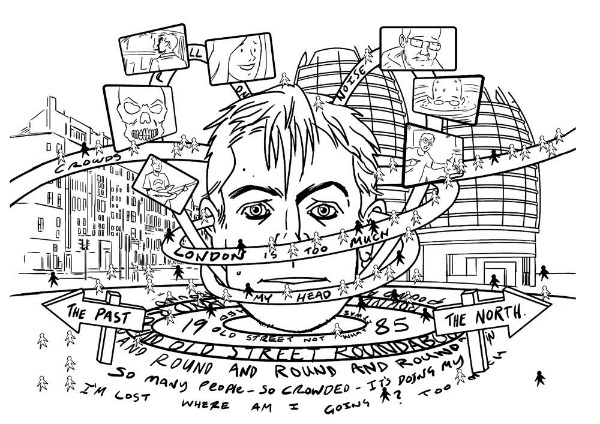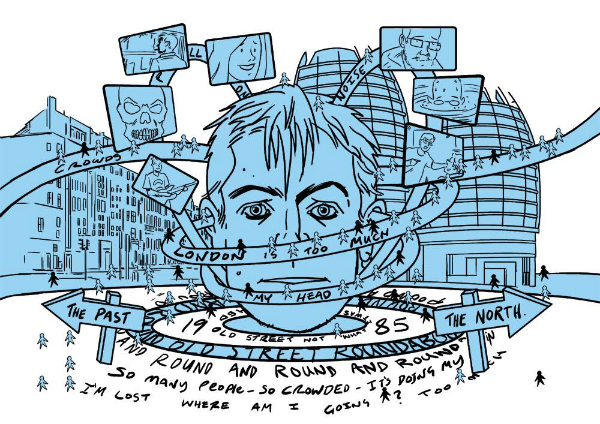 Colour
50 is my first colour comic. Previous outings have been toned the with grey. Now I have ventured into a spot colour, blue. This may grow into several colours for my new current project (The Voice of the Hall). I chose blue because mostly my hands are that colour when working in my freezing studio. Plus its a light colour; dreamy. I like dreamy; sitting looking out of my studio window, at the sky, clouds, rain.
Cover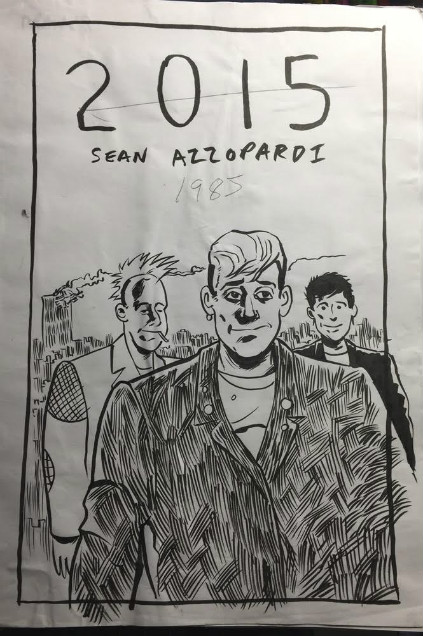 Making covers for my comics is a time to experiment. For a long time I didn't have a clear idea for 50. The original title was Gone North, and looked like a panel rather than a cover. I was scratching around for an image. I wanted something that suggested a denial of the onset of age. Watch afternoon TV and you will get an idea of the space that has been marked out once you have reached 50. I was looking through a photo book in the library and there was this really good one of Bowie in the Berlin years. So I took a picture of it, and traced over it (OMG – cheat ! Hack !).
I farted around with loads of different versions, but finally found one that I was happy with.
Blue, light, dreamy.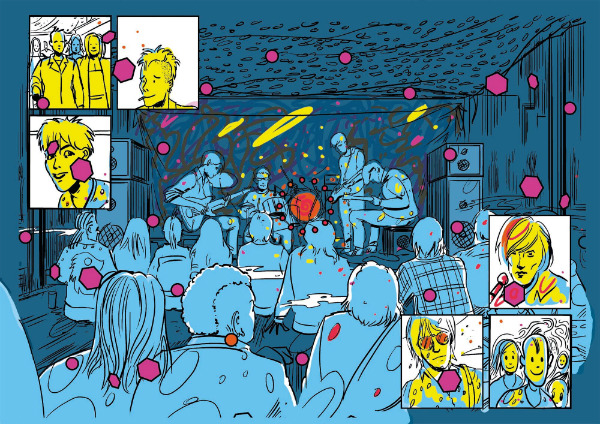 Follow Sean on Twitter here and visit his online store here. For more on his work visit his site here. 
For regular updates on all things small press follow Andy Oliver on Twitter here.