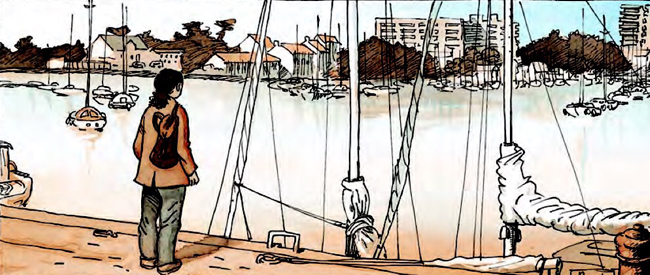 A work of exquisite restraint and complex emotion, Étienne Davodeau's lush illustration and precise sense of pacing enchant the reader with sublime storytelling craft, in this beautiful English translation from NBM.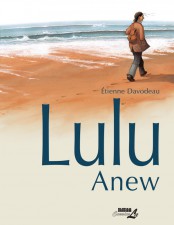 When a middle-aged housewife suddenly yet quite deliberately decides to go on walkabout along the coast of France, she discovers the power of stories and comes to the startling realization that her own tale is only just beginning. This is the primary driver of Étienne Davodeau's powerful rumination on the nature of self-perception and how making a seemingly simple choice can reveal the hidden potential residing in all of us.
Exiling herself to the panoramic vistas of France's magical, languorous coastlines after a failed job interview causes her to re-examine her life choices, Lulu embarks on what one supporting cast member describes as her first real adventure. For Lulu, this of course does not entail harrowing car chases, flamboyant villains, or gut-wrenching cliffhangers.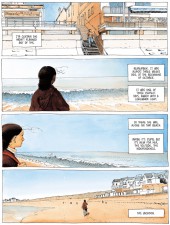 Instead, it simply means putting herself before her family for the first time in her adult life. Leaving behind a pair of rambunctious twins, an appropriately angst-ridden, cynical teenaged daughter, and an abusive husband, Lulu spends a revealing couple of weeks living a life free of the confines of familial responsibility and mundane routine.
Along the way, she encounters a colourful cast of characters, each of whom, in their own way, teaches her to embrace the story of her life without judgement or reservation. It isn't until she sheds the dried-up husk of her former self that she is able to return to her dysfunctional family a stronger, more complete woman and a better mother and wife.
Much of the book's success relies upon Davodeau's brilliant command of the visual narrative. Benefiting from a technical virtuosity that borders on intuition, the artist constructs this deceptively simple tale of matronly rebellion with subtlety and restraint.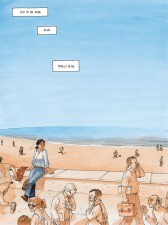 Some of the most arresting sequences are entirely 'silent', as Davodeau lets his setting sing through the use of huge splash panels and long shots designed to instill a sense of ponderous distance that mirrors the introspection and stillness of his protagonist. As Lulu absorbs the quiet, pastel vistas before her, so too the reader falls under the spell of Davodeau's lush illustration and engages in their own period of self-reflection.
Davodeau also smartly utilizes a revolving cast of narrators, culled from Lulu's concerned friends and family, to relate the tale of her startling disappearance. Her story moves from one narrator to the next, each one filling in not only the gaps in Lulu's grand adventure but also uncovering tantalizing revelations about her vile, self-absorbed (though not entirely unsympathetic) husband.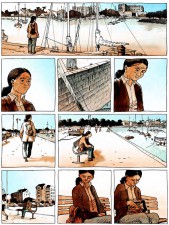 By allowing this tight circle of supporters to tell her story, Davodeau creates a much more reliable chorus of narrators, unencumbered by the proximity of Lulu's own self, to tell the tale true and right. Without this quirky band of friends and family – all of whom feel as distinct and fully realized as Lulu herself – the story of Lulu's disappearance would never resonate as deeply as it does with the audience.
Critics and reviewers often bandy about timeworn words and phrases such as "powerful", "resonant", or "hope-filled tale of self-discovery" to describe the works we examine. The truth is we use these adjectives and labels far too often. They're like default settings on a smartphone – little more than safety nets or crutches we fall back on when words fail to describe an ephemeral, mysterious creative process that typically defies solid explanation.
In the case of Lulu Anew – as deliberate and thought-provoking a graphic novel as you're likely to find – the reliance on these tried-and-true descriptions couldn't be more appropriate. Davodeau's depiction of one woman's quiet, necessary rebellion taps into a universal theme of self-dissatisfaction that straddles the line between tale of survival and journey of self-discovery. And that is something we can all relate to.
Étienne Davodeau (W/A) • NBM Publishing, $27.99, March 2015.