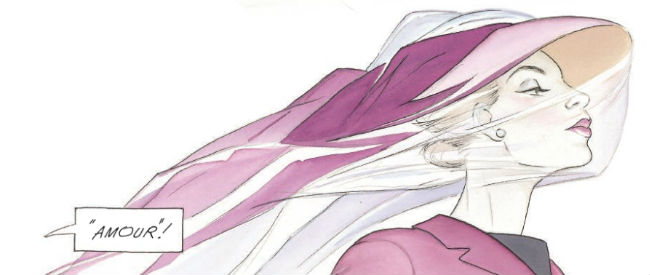 Calling on her background in costume and fashion design, the lush illustrations by celebrated French artist Annie Goetzinger are the real story behind this brisk survey exploring the history of the father of haute couture, Christian Dior.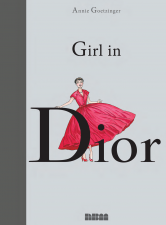 Let's get down to brass tacks, then. I know about as much about fashion as I do about dental surgery. In fact, I probably know a good deal more about dental surgery. Fashion, or what people in the know consider "fashionable", seems arbitrary and impractical at best and encourages classism and the reliance on abused, underpaid foreign workers at worst.
But let's set aside the politics of the sweatshop for the time being. This is a comic book review, after all. And based on the set of criteria reviewers tend to rely on when considering the quality of their subject matter, Annie Goetzinger's Girl in Dior is one hell of a graphic novel.
Set during the dawn of Paris's post-World War II fashion explosion, Girl in Dior chronicles the rise of the legendary Dior fashion house through the eyes of a young model named Clara. Drawing upon an education based in costume and fashion design, it's obvious this is a story close to the artist's heart. The craft imparted to the accurate rendering of people, places, and – above all – the clothes is passionate and painstaking.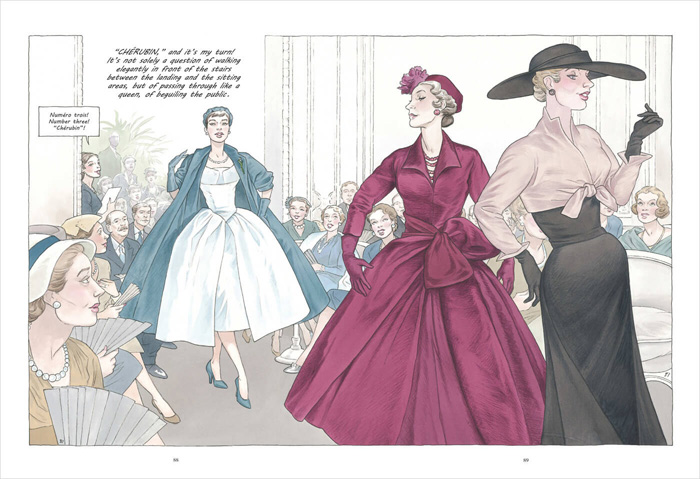 Goetzinger follows the fictional Clara from her beginnings as a naïve, idealistic young fashion reporter to her emergence as one of the ethereal young women who served as the face of Christian Dior's "New Look". It is through Clara's eyes that we witness the rise of Dior to the summit of the world's fashion industry, as he reshapes his contemporaries' perceptions of haute couture and lays the foundation for an empire that still influences the style of the rich and famous to this day.
As a vehicle for the exploration of this fascinating era of French culture, Clara falls a little flat. While Goetzinger's rendering of her protagonist's appearance chronicles her transformation from a cute but somewhat mousy reporter raised by her mother and grandmother to a poised, alluring young woman who turns the heads of nobility, the metamorphosis feels a little superficial.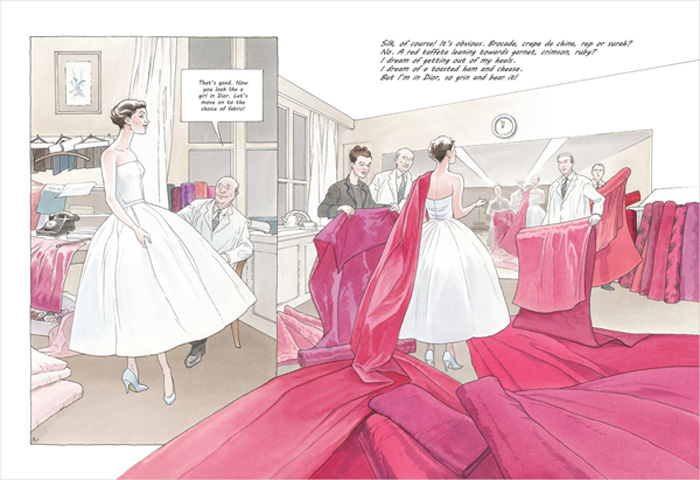 Despite losing her job as a reporter for a minor fashion rag, Clara's rise to the glamorous catwalks of Paris seems like smooth sailing. Regardless of her humble beginnings and interminable hours in tortuous heels, there just isn't a lot to like or dislike about Clara. Her personality feels contrived, her persistent wide-eyed innocence tiresome.
Her love of Dior as man, employer, and artistic genius is genuine but borders on the fanatical. One gets that the sense if Clara lived today, she'd be utterly entranced by the onslaught of vacuous, manufactured celebrity permeating our social media newsfeeds. Even her marriage to a member of the English nobility and the man's subsequent death only warrants a handful of pages.
But perhaps that's as it should be. This isn't really Clara's story, after all – it's Christian Dior's, and it is here that Goetzinger's talent as an artist truly sings.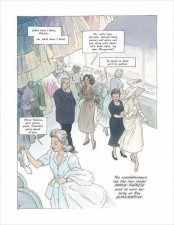 Using a brisk pace that touches upon the highlights of Dior's rise to international stardom, Goetzinger focuses all of her attention on the designer's chosen medium of artistic expression – his collections. Here, we are treated to a behind-the-scenes look at avalanches of lush fabric, mountains of accessories, and the diligent, hard-working seamstresses, models, and showrunners that made Dior's stellar rise possible.
Huge page-sized panels and double-page spreads showcase Dior's inimitable designs, letting the reader's eye linger on the sleek lines and bold colors of each piece. Goetzinger's singular artistry is on full display, permeating every textured fold of fabric and infusing the cool, lofty expressions of each model with just the right measure of practiced ennui.
Quite simply, Goetzinger's art is breathtaking, evoking the sense of awe and pageantry felt by Dior's audiences upon first laying eyes on his extravagant New Look collections, with a flare all of its own. Girl in Dior might just be the prettiest book on the shelves today.
As is only fitting (see what I did there?), Girl in Dior is a story about art told by an artist at the top of her game. Despite a one-dimensional protagonist, it remains a fascinating glimpse into the history of a true artistic genius, who forever changed the way the world thinks about wearing clothes.
Annie Goetzinger (W, A) • NBM Publishing, $27.99.