Consider this opening statement: 'Contrary to the glamorous clichés associated with the mythical cities of American pop music, it's cold in Minneapolis, Minnesota, and, at the time, there were few black people. Yet it was there, in a household, which, though it dissolved early on, was inhabited by the spirit of music, that Prince Rogers Nelson grew up, the strange child destined for an extraordinary future [sic].'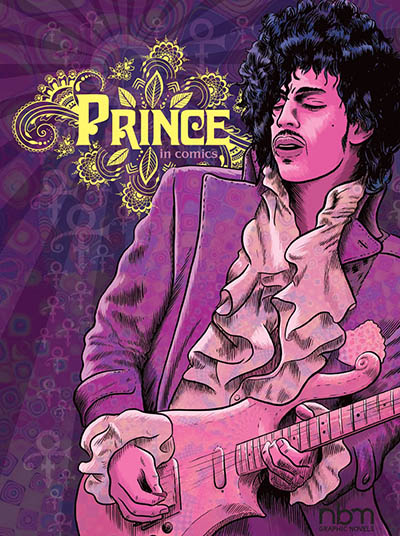 Yes, it could use an editor, but that is still a succinct introduction to one of pop music's unlikeliest icons. Prince in Comics begins, quite literally, with his birth on June 7, 1958, at Mount Sinai Hospital in Minneapolis, plunging us quickly into his early years before his love and aptitude for music kicks in. The format is similar to earlier NBM titles devoted to musicians and bands including The Beatles and Michael Jackson: multiple artists interpret various events, stories, or anecdotes related to a subject's life. It makes for a mixed bag, but there are always a few diamonds left glinting in the dust.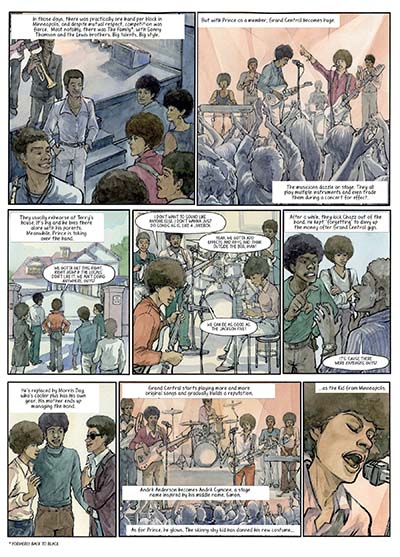 Tony Lourenço and Nicolas Finet play the role of curators for the 20 sections here, navigating us through the work of illustrators including Noémie Honein (Hanging on by a Thread), animator Kongkee, Barrack Rima (Cairo Storyteller), and mangaka Toru Terada, among a host of other exciting, lesser-known names from Europe and Asia. What makes the interludes in between each section particularly interesting are the recommendations, LP covers, and rare photographs. There's one of early Prince producer Pepe Willie, for instance, as well as a reproduction of one of the first cheques written by Owen Husney for his then protégé, along with magazine covers and photographs from live performances such as one taken at Montreux in 2013, with the Purple One surrounded by 19 musicians.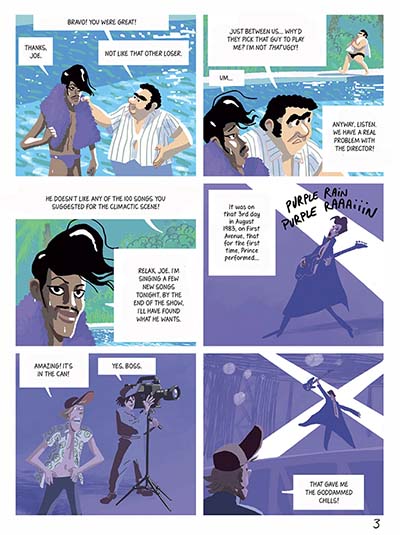 Some sections work particularly well: one by Yunbo deals with the period following the divorce of Prince's parents with poignancy, while Céheu's pages focus on how the relatively unknown musician scored a massive deal from one of America's biggest record companies, capturing the headiness of that era. Others — such as the pages by Yvan Ojo dedicated to 'Sign o' the Times' — show potential, but don't always rise to the occasion, let down by the writing more than the art itself. There are moments of surprising tenderness too, such as a section illustrated by Samuel Figuière documenting Prince's relationship with percussionist Sheila E from 1985 to 1989, which ends with her choosing to walk away.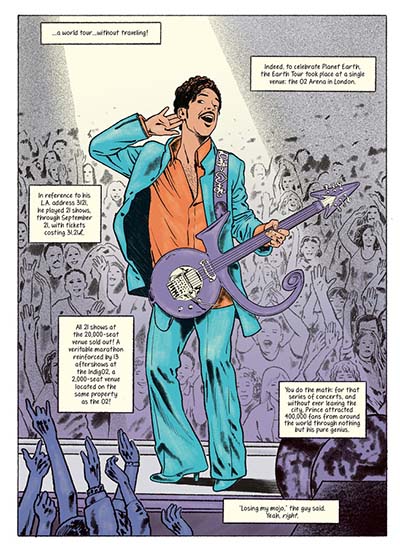 If it's insights you're looking for, there are slim pickings here. This is true for almost all biographies of the Purple One though, an unavoidable fact given his lifelong need for secrecy. It's still a great addition to the bookshelves of longtime fans, not only because some of these stories bear repetition as a reminder of how unique Prince was, but because graphic biographies like these serve as a great kick-off point for new generations of listeners curious about why he continues to be a towering figure in popular culture.
Tony Lourenço & Nicolas Finet (W), Joel Alessandra, Céheu, Christopher, Samir Dahmani, Anne Defréville, Samuel Figuière, Baudoin Forget, Noémie Honein, Kongkee, Yvan Ojo, Christelle Pécout, Barrack Rima, Toru Terada, Léah Touitou, Martin Trystram, Yunbo (A) Christopher (CA) • $27.99
Review by Lindsay Pereira