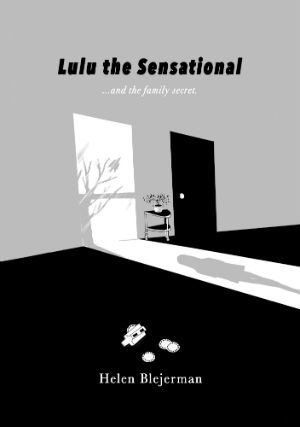 "May God watch over you, and protect you and keep you safe." 
Lulu's mother "enjoyed watching Gene Kelly dance and sniffing round an old poetry book. She abandoned her acting dreams to be a mother. Always an optimist, she believed in the possibility of a better world."
One day, Lulu's mother is blown into the bathroom, and she stays there and doesn't come out. Unless Lulu is meant to be the name of the mother. It's a little ambiguous. It works both ways I think, you'll have to read it to make your mind up.
Lulu the Sensational …and the Family Secret explores the life of a seven year old girl and the impact on her of her mother's paranoid breakdown, which manifests itself in many ways in the central character's mind, body, imagination and her relationships with her peers. Oblique links are drawn between raw and familiar themes – bullying, eating disorders, fame, paranoia, fear, obsession, imagination, art, dreams, films and ultimately: Love.
First published in France in 2014 as Lulu la sensationnelle by Preque Lune Editions, Helen Blejerman's greyscale tale of family implosion and childhood trauma is a story told with great economy and poetry. A story within a story. The narrative voice is that of a small child, but we never see her or any of the other characters. Instead, each moment is portrayed with tangential imagery, streets, trees, everyday interiors and objects, sometimes haunted by a second layer of scratchy markings, sometimes these markings form birds who fly away, or childlike drawings on walls and floors.
The rich metaphorical layers are not only visual, but also present in allusions to news stories about black holes, or well known poems concerning daisies. There's a lot going on in a very spare frame basically, one of those deceptively simple books, but not over-laboured. Deserving of a second or third reading.
Because no faces are shown, it is like being told a story by someone who does not want to make eye contact with you, who instead looks around at anything but you. Out the window, at objects on a table. Forcing you to hear their story but look only into your own soul. To see there truths you might prefer not to face about the cruelty of children, and the courage of delusion.
You can buy Lulu the Sensational and Blejerman's other graphic novel Tito and the Love Letters here: https://helenblejerman.com/bookshop/
Helen Blejerman (W/A) • Self-published, £8.00 (print)/£3.00 (digital)
Review by Jenny Robins