The Adventures of Nero, by Marc Sleen, is that rare breed of comic that appeals to both pre-adolescents and adolescents alike. Nero is an impulsive know-it-all whose supporting cast is as eclectic and chaotic as his adventures are non-sequitur.
Belgian creator and artist Marc Sleen started out as a newspaper cartoonist in 1944. He drew illustrations, cartoons and ongoing syndicated comic series. However, due to the success of Willy Vandersteen's Bob and Bobette (touched upon in Crossing Borders earlier), Sleen decided that the best way to make money was in newspaper comics, not illustration work.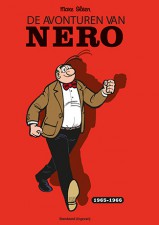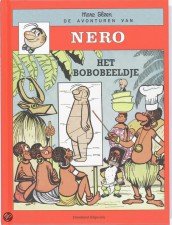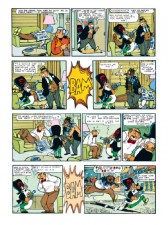 On October 2, 1947 the first reel was released: The Adventures of Detective Van Zwam. Nero was already in that storyline, though, and after three stories he simply took over the series. And so both history and a serious competitor for Bob and Bobette was born.
It may be odd to focus on a comic book that has such limited international success when writing a column for a cosmopolitan audience, but Nero is definitely worthy of a broader spotlight.
What makes Nero so special is the way Marc Sleen created comics from his guts. While Vandersteen's Bob and Bobette presented us with squeaky-clean kids' entertainment, Nero tackled the Chinese menace (late forties, remember?), griped about political situations, name-dropped cultural and political allusions left and right and featured a floating pirate, a pipe-smoking woman and an adopted African-American kid who, together with his niece, solved all the problems of the grown-ups. And they were all part of the fixed cast.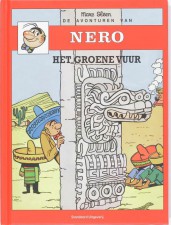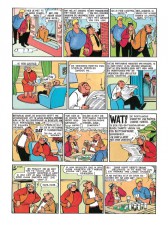 Stories typically involved Nero getting caught up in either a sinister conspiracy or a plot of his own devising, trying to save the world a lot of aggravation by solving one of his pet gripes – often spur-of-the-moment ideas motivated by an invention by his genius toddler, like the happy pills or a potion that could destroy a whole nation.
Just like Hergé and his own creator, Nero was also a globe-trotter, searching adventure all across the world while never forsaking his Belgian roots. And every story ended with the whole cast and characters from the adventure they had just lived through packed together in Nero's living room eating Belgian waffles, freshly baked by his wife.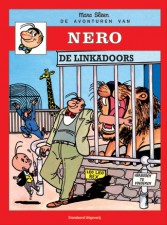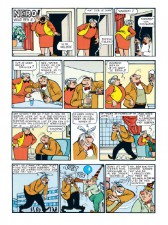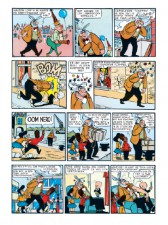 Since Marc Sleen decided to stop publishing Nero, no new stories were published (although a new unpublished story has been set to see the light of day for over a year now). This means that the whole run from 1944 to 1992 was drawn and written by a single creator, totalling 189 48-page albums. Erik Larsen would be proud.
In 2002 Sleen threw his towel into the ring and explicitly stated that no-one was allowed to continue the adventures of Nero and his crew – a quite remarkable decision for a property that always remained focused on the comics and never on merchandise, animation or other spin-offs. Sleen and Bill Watterson would have been best friends (if they lived on the same continent).
In the new reprint edition, The Adventures of Nero 1965-1966, as published by Standaard Publishing, the comics are reprinted in full color. To be honest, I would have preferred a black-and-white edition and a slightly larger paper size; the pages are just a bit too cramped in the current format, and it is hard to appreciate the master craftsmanship Sleen showed on the page.
However, the printing is crisp and so is the line work. The following albums have been reprinted: The Bobo Statue, The Green Fire, The Linkadoors and Aboe-Markoeb. All are quality albums, with perhaps Aboe-Markoeb being in the top 20 of the best Nero adventures.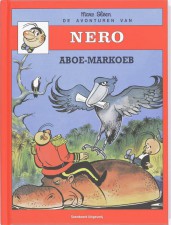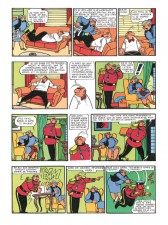 While The Linkadoors is a rather straightforward adventure, in which Nero and Detective Van Zwam search for missing persons in Brussels, stumbling upon a maniacal plan to destroy the capital of Europe by way of underground tunnels, the other three stories all excel at being absurd, helter-skelter stories that can swerve in all directions (and often do).
His drawings feature mostly a fixed front-view "camera position", due to the speed at which he was producing the panels for publication. It is a rather bare-bones approach, but it works by stripping any tricks from the comics and focusing on the characters and story. His characters are consistent and his backgrounds sparse, but, most importantly, his comedic timing is near perfect.
Nero by Marc Sleen is just loaded with gags and one-liners – a product of its appearance in strokes in newspapers – and Marc Sleen delivers in spades. From topical items to running gags to golden oldies, it's all there, so I'm glad that Standaard has once more picked up the ball and made sure that there are Nero comics in stores all over the country – and, hopefully, in other countries too in the future.
And let's end this column on good old-fashioned Belgian waffle bake party, including a homage to Nero's creator, Marc Sleen: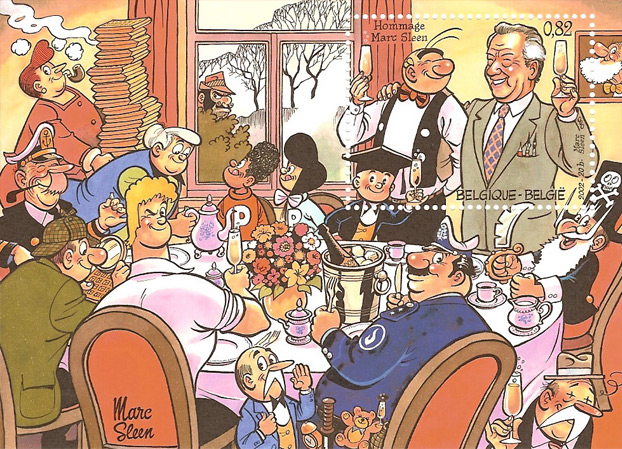 The Adventures of Nero 1965-1966 is published by Standaard Publishing in Dutch. It is a full-color hardcover counting 184 pages and retails for €21.99.
For more news and info from Europe's comics community, follow me on Twitter right here.