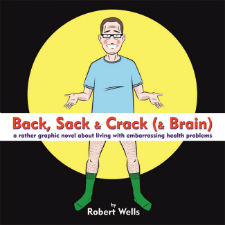 In 'Covers Album' each Wednesday we ask comics creators, publishers and commentators to pick three of their favourite comic covers …but with a small twist. One must be chosen for aesthetic reasons, one for inspirational reasons and one for pure nostalgia!
This time round we have the thoughts of 2014 Myriad First Graphic Novel Competition finalist Robert Wells whose debut graphic novel Back, Sack & Crack (& Brain) is published this year by Little Brown. We've seen an advance copy here at Broken Frontier and can guarantee that it's one of the funniest books you'll read this year.
A mainstay of the UK small press scene for many years, his self-published comics have included Crisp Biscuit and Colin Comix. He has also collaborated with Rol Hirst on Department of the Peculiar and Paul B. Rainey on Connected (included in the recently released Thunder Brother Special).
Aesthetic Choice: Plastic Man Vol.1: On the Lam TPB (2004) by Kyle Baker (DC Comics)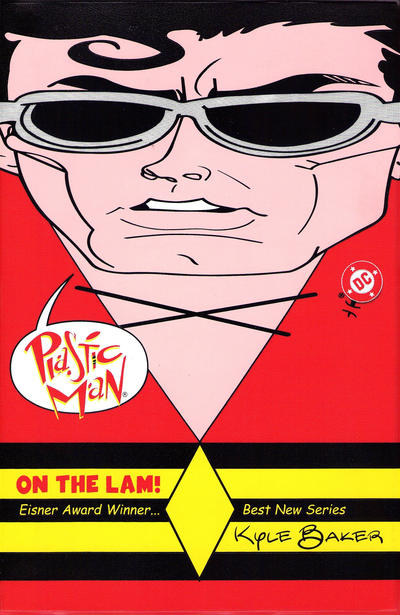 Although I like Kyle Baker a lot, I wasn't all that keen on his Plastic Man run and don't remember much about it now. I don't even own a copy of this trade paperback any more, but I regret selling it and am slightly tempted to buy a new copy purely because I like the cover so much. In fact, when I first thought about contributing to this feature, this cover to a book I don't own, collecting six issues of a series I was indifferent to, was the first thing to come to mind.
Unfortunately, to see what makes the cover particularly good you have to see a copy of the book in person. I mean, the cover design itself is nice enough, but unusually for DC, they have gone the extra mile and printed the book with a plastic cover, so that it appears to be covered in Plastic Man himself. This is particularly impressive when you consider that this isn't some fancy hardcover that they have given a plastic dust jacket and overcharged for, it's just a slim trade paperback that they have printed with an actual plastic cover, presumably just because they thought it would be funny.
Inspirational Choice: Love & Rockets #23 (1987) by Gilbert Hernandez (Fantagraphics Books)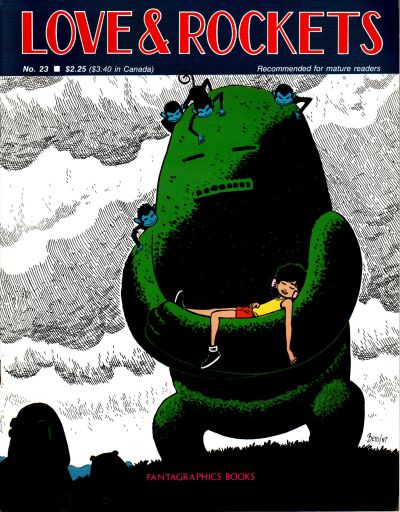 I tried to avoid choosing a Love and Rockets cover, just because other people have chosen them (Peter Bagge's cover to Neat Stuff #2 came very close to appearing in this spot), but in the end, I couldn't resist. The reason people keep choosing Love and Rockets covers is simple: it's because it's the best comic ever!
My first exposure to Love and Rockets was through the first two Titan Books collections, which came out in 1987 (when I was 18) and collected Jaime and Gilbert's work in separate volumes. I liked the book collecting Jaime's stuff ('Love and Rockets') a lot but the book collecting Gilbert's stuff ('Heartbreak Soup') blew me away. I already wanted to draw comics and I already drew a bit, but it wasn't until shortly after I'd read Heartbreak Soup that I wrote and drew my first proper comic story (a not-very-good, 20-page superhero/romance story, with almost no backgrounds, that got thrown away many years ago).
I started buying the Love and Rockets comic around #20, which was a great time for the series, as Jaime was just starting 'The Death of Speedy' and Gilbert was just starting 'Human Diastrophism' (AKA 'Blood of Palomar'), which is one of my favourite comic stories of all time. The cover I have chosen came two or three issues into that storyline.  It's a striking, relatively simple image and I've always loved it.
Nostalgic Choice: Marvel Treasury Edition #13 (1976) by Gil Kane, John Romita & Joe Sinnott (Marvel Comics)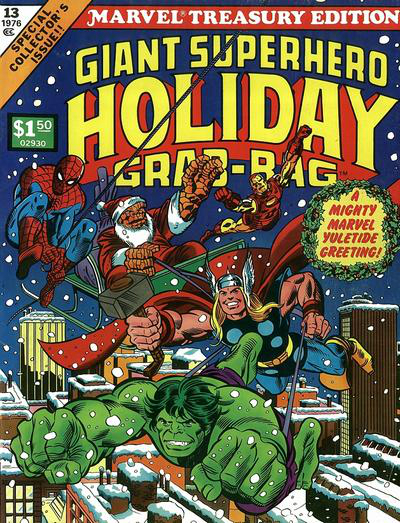 While I was wondering what to pick for my nostalgic choice, thinking it might be an old X-Men cover from the Byrne/Claremont run, an old Marvel Team-Up cover, or maybe even something British, like a Monster Fun cover, I glanced over at my bookshelves, saw a pile of old Marvel Treasury Editions, and immediately thought of this.
I love Marvel Treasury Editions and I still remember seeing this one on the shelf in the Streatham branch of WHSmith when I was a kid and having to have it. I was a big Marvel fan as a kid and things like this are what kicked that off. I mean, it's got Spider-Man, the Hulk, the Thing, Thor and Iron Man on a Christmas-themed cover – what comic-loving kid wouldn't want this?
I don't particularly like Christmas now that I'm an adult (I've got no money, no kids, I'm not religious and I hate crowded shops and cold weather – why would I like bloody Christmas?) but thankfully the only Christmas-related content in this Treasury Edition is a boring-looking story about the various Marvel heroes having a snowball fight, which is broken into chunks and used to fill the gaps between the reprints.
The reprints themselves are all extremely solid and consist of: Marvel Team-Up #6 (Spider-Man and the Thing with Gil Kane art), Avengers #58 ('Even an Android Can Cry' by Roy Thomas and John Buscema), the Stan Lee/Marie Severin Hulk vs Silver Surfer story from Tales to Astonish #93, and Daredevil #86 (DD vs the Ox with Gene Colan art). In other words, it's awesome, and the cover price was only 50p (which sounds cheap, but in 1976, you could by a three-bedroom house in South London for 70p).
You can follow Robert Wells on Twitter here.