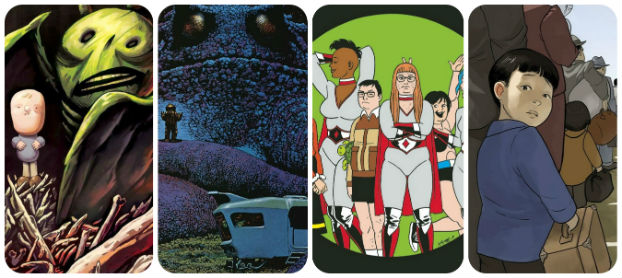 It's Wednesday, and you know what that means: a fresh load of comics and graphic novels! With so many publications hitting your local comics store, comics event or digital storefront, the BF team are here to lead you through the woods with our weekly staff picks. Satisfaction guaranteed!
Comic of the Week
They Called Us Enemy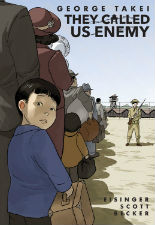 The argument of whether or not art is relevant comes close to being resolved whenever a creator manages to tap into the zeitgeist in a manner that doesn't seem unnatural. George Takei has a memoir that makes more sense than ever at a time when the United States — a country his family immigrated to — is waging a war against the most vulnerable among us.
Illustrated by Harmony Becker, They Called Us Enemy documents Takei's childhood in concentration camps, where over 100,000 Japanese Americans were imprisoned by the American government during World War II. It is heartbreaking, powerful, and a reminder of how fascism is always closer than we think it is.
George Takei, Justin Eisinger & Steven Scott (W), Harmony Becker (A) • Top Shelf Productions, $19.99
– Lindsay Pereira
Bags (Or a Story Thereof)
Cartoon Network veterans turn from cartoons to cartooning in this Original Graphic Novel based on writer Patrick McHale (Over the Garden Wall, Adventure Time)'s short story of the same name. As addictively obtuse and whimsical as his animated work, this new addition to BOOM! Studios imprint for younger readers KaBOOM! from McHale tells the story of John, an anxious, potato-headed individual hunting for his lost dog Beth in a town where very little is as it seems.
Artist Gavin Fullerton's (Disney's Space Chickens in Space) storybook suburbia is rendered extra retro by colourist Whitney Cogar (Steven Universe)'s dotted overlays. Think Edward Gorey or Glen Baxter tone with more of a Rupert the Bear aesthetic, sure to please the surreally inclined of all ages.
Patrick McHale and Gavin Fullerton (W), Gavin Fullerton (A), Whitney Cogar (C), Marie Enger (L) • BOOM! Studios/Archaia, $12.99
– Jenny Robins
Build Your Own Theme Park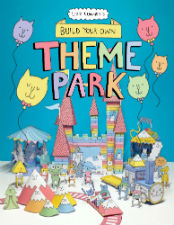 Lizz Lunney has been a firm favourite at Broken Frontier over the years with her self-published minicomics being amongst the very first work we covered in our 'Small Pressganged' column many years back here. Her eccentric wit and bizarre but very recognisable characters – including Depressed Cat, Keith the Wizard (and, of course, his Magical Unicorns) and the Street Dawgz cast – have built up a loyal and dedicated audience.
Available in shops now Build Your Own Theme Park allows Lunney fans to immerse themselves in her world in a totally different interactive way. Create your own amusement park including a roller coaster, Merry-go-Round and ticket booth and populate it with some much-loved Lizz Lunney characters. A great intro to the artist's work for a younger audience and one that will also stimulate their 3D modelling skills. And if you're an older fan then it's another chance to experience the ever evolving absurdist humour of a British indie fave.
Lizz Lunney (W/A) • Andrews McMeel Publishing, £13.99
– Andy Oliver
How I Tried to Be a Good Person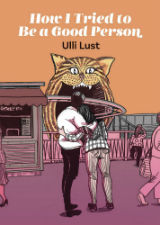 The English translation of Austrian artist Ulli Lust's Today is the Last Day of the Rest of Your Life won an Ignatz for Best Graphic Novel in 2013 and was nominated for an Eisner for Best Reality-Based Work the following year so this sequel was always going to be an essential buy this week.
How I Tried to Be a Good Person follows up the previous book and is set in Vienna in the 1990s. It gives an account of Lust's relationship with two men in "a story of sexual obsession, gender conflict, and self-liberation." Expect an uncompromising and powerful piece of autobio work.
Ulli Lust (W/A) • Fantagraphics Books, $34.99
– Andy Oliver
Creepy Archives Vol. 29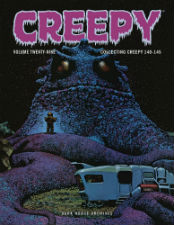 All due credit to Dark Horse Comics for completing their hardcover reprint run of Creepy Archives this week. The seminal horror comic originally ran from 1964 to 1983 and this final volume collects the last five issues #141-#145.
Yes, we're at the tail-end of the magazine's history now and arguably it's greatest days were long behind it at this point, with too many reprints creeping in. But there's still plenty to hook a modern day audience here including work by Roger McKenzie, Alex Niño and Don McGregor. One final reminder for the moment as to why this anthology was quite as influential as it was.
Anthology – Various Creators • Dark Horse Comics, $49.99
– Andy Oliver
Love and Rockets Vol. 4 #7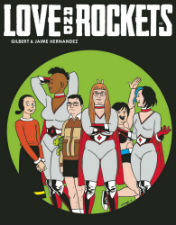 It's been quite a few months but the first issue of Love and Rockets of 2019 hits shelves this week and will no doubt be the most eagerly awaited comic of the week for committed fans of Los Bros Hernandez.
In this issue, behind that striking Jaime Hernandez cover, Guadalupe and Steve's wedding continues, Isla needs rescuing from the Hellmets, and there's cosplay and the mysterious Black Widow dinner for Tonta and friends.
Jaime and Gilbert Hernandez (W), Jaime Hernandez (A) • Fantagraphics Books, $4.99
– Andy Oliver