When last we left teen paranormal investigator Mason Mooney, in the first book of the Flying Eye series, he had just one-upped his glory-seeking nemeses Trent Reilly and the Paranormal Society in their hometown of Grimbrook, a kind of supernatural nexus point where the creepy and the spooky are commonplace. His victory, though, was really thanks to his newfound friend Iris who proved an invaluable ally to the narcissistic and self-absorbed Mason. While some questions were touched on in that first instalment (like the mystery of why Mason keeps his own beating heart in a jar with him at all times), others were left unanswered and new ones appeared at story's end, all ready for this second volume in the series, Doppelgänger Detective.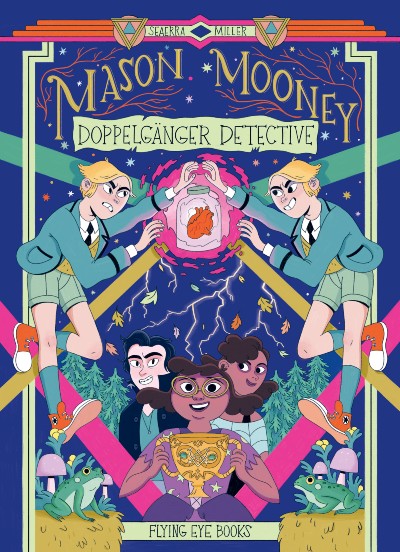 Creator Seaerra Miller's approach was so effective in that first book not just for its wildly imaginative flights of eerie fancy but also for its hybrid approach of comics strip and narrated, storybook-style, commentary on events. Mason's own often disagreeable character was also a clever twist on the usually likeable boy wizard hero with this second story underlining her intent to allow us to gradually find a more sympathetic side to him as he too, with Iris's help, begins to rediscover himself.
Doppelgänger Detective is set at Halloween and follows Mason and Iris's latest misadventures as events conspire to weaken the barrier between dimensions, allowing his doppelgänger Nosam to arrive in Mason's reality. Unlike the vain and self-indulgent Mason, Nosam is a likeable and apparently good-humoured version of his counterpart. With two Masons working together so begins a quest for a magical artefact that ties into both the town's history and Mason's own back story. As things begin to get stranger and stranger, though, it becomes obvious that not everything is as it seems, and that the structure of reality cannot cope with the tear in space-time that an extra Mason has caused…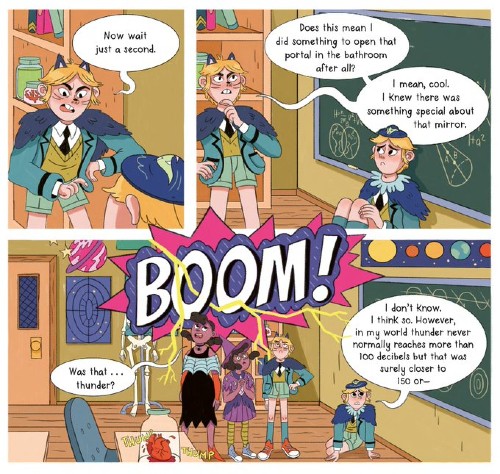 Miller's knack of giving us just enough resolution of existing plot points while opening up entire new ones will keep the target younger audience both satisfied and hooked for more. Her characters continue to capture our imagination with their expressive physical depiction and layered characterisation. And the visual storytelling is full of effective use of the form – a rain of frogs falling through pages and panels; a cutaway of the school building as the cast search through it; dynamic lettering effects; and some neat page structure playfulness like lightning-style borders during a storm. If you're looking for a seasonal reading treat for the younger readers in your life then there's still time to get the first two volumes of the Mason Mooney series into their hands before Halloween.
Seaerra Miller (W/A) • Flying Eye Books, £8.99
Review by Andy Oliver