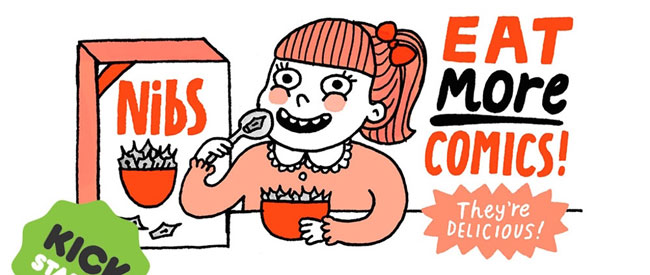 Matt Bors, founder of online comics magazine The Nib, talks about his editorial vision and his Kickstarter campaign to fund a print version of the site, which became a go-to destination for everything from comics journalism to personal essays.
The Nib launched in September 2013, and founder Matt Bors has presented a fascinating challenge ever since: trying to guess just what you'll find in the latest update.
A "Feminist Legion of Doom" launching a dastardly plot against a beloved TV dad? An illuminating comic essay on the years of privilege encoded in a simple switch between hexadecimal codes? It's safe to say that this continual boundary-pushing played a large role in helping the site accrue a readership of nearly 3 million visitors by April 2015.
Since its inception, The Nib has been published by Medium, the brainchild of Twitter co-founders Evan Williams and Biz Stone. On July 15, however, Bors announced his departure from Medium and launched a Kickstarter for Eat More Comics!: The Best of The Nib, the publication's first print collection.
The move came just weeks after the site was forced to decrease its output and cut staff positions following Medium's directional shift from publishing platform to social network.
"When I started out at Medium the mandate was to build a unique publication that you could build a large readership around and push the limits of the platform at the same time," Bors told Broken Frontier.
"They did that with a number of publications – Matter, Human Parts, War Is Boring – and The Nib ended up being one of the most widely read things on the site. I was given full freedom to build it up how I saw fit and had complete editorial independence. They are focusing less on publications, so I ultimately decided to continue The Nib elsewhere to see what we can still do with it. This Kickstarter is the first step."
Bors and his contributors used that freedom to offer insightful and at times controversial perspectives on a variety of topics, often assembling linked groups of comics to illustrate the competing emotions and voices associated with any subject of importance.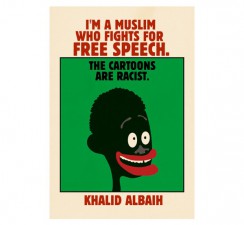 In the wake of the Charlie Hebdo tragedy, The Nib published 'Laugh, Cry, Be Offended: 7 Comic Essays on the Charlie Hebdo Attacks'. Contributions included James Van Otto's grief-stricken 'I Still Can't Believe It' and Khalid Albaih's self-explanatory 'I'm a Muslim Who Fights for Free Speech. The Cartoons Are Racist.'
For Bors, the variety of the Charlie Hebdo pieces, along with a similar package for International Women's Day, effectively sums up The Nib's mission.
"There we're making comics happen that wouldn't have otherwise existed," said Bors. "Some of the best personal essays we ran feel that way. 'Trigger Warning' was an incredibly popular and powerful piece. 'I Want To Live' by Erika Moen and 'Lighten Up' by Ron Wimberly [the comics essay mentioned in the opening paragraph] – there haven't been a lot of outlets for this type of work before."
As Bors mentions, The Nib has featured a number of recognizable comics creators during the last year and a half. The Eat More Comics! Kickstarter page lists even more: webcomics creators like KC Green and Rich Stevens, alt-weekly heroes like Tom Tomorrow and Jen Sorensen, and even contributors like Shannon Wheeler and Kate Leth, better known for their work with larger publishers.
"I started out choosing the initial weekly lineup on my own, and after Eleri Harris and Matt Lubchansky joined me, some of their tastes influenced things as well," Bors said.
"They brought people to my attention I didn't even know about who ended up doing great work. We were publishing at a furious pace and commissioning a ton of work. Initially it was pitches that were coming to me, but as time went on we got more directly involved in assigning stories and subjects to people we thought would do great with them, rather than simply waiting for ideas to roll in."
These creators, and many others, helped to establish The Nib as a go-to destination for everything from comics journalism to personal essays, going far beyond the typical editorial cartoons featured in most publications that you find outside of the Diamond distribution channels.
"Comics like this aren't really centralized in one place, so we could cross-pollinate readerships a bit," said Bors.
"The type of work we publish, it's a broad umbrella, but whether it's journalistic or something funny, it's all substantive and covering what is happening in the world. That's still a fairly under-served genre when you look at where most comics out there fall."
Currently, Bors is focused on helping the Eat More Comics! Kickstarter reach its funding goal. The 300-page hardcover will collect the site's best features from every format, plus some comics appearing for the very first time. But Bors is also working diligently to find a new home for The Nib.
"I want to get back to daily publishing, to really create a destination for this type of work again, to do more of the big ambitious editorial work we were doing," Bors says.
"I'm talking with a few places about what a relaunch could look like. I also love print and think it works especially well with comics, obviously, so I don't count on this being the last time your see The Nib in print."
The Nib Kickstarter is running until August 12, 2015. Click here for more info.