Press Release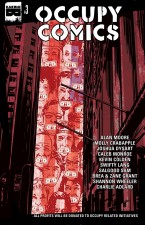 Black Mask Studios today releases Occupy Comics #3, the finale issue of this very special book.
Issue 3 features Molly Crabapple, Alan Moore, Joshua Dysart, Kelly Bruce, Caleb Monroe, Theo Ellsworth, Mark L. Miller, Brea Grant & Zane Grant, Jonathan Spies, Jenny Gonzalez-Blitz, Patrick Meaney, Eric Zawadzki, Allen Gladfelter, Salgood Sam, Kevin Colden, Matt Bors, Jerem Morrow, Swifty Lang, Frank Reynoso, Shannon Wheeler, Eric Drooker, and a cover by Charlie Adlard.
Being the anniversary of Martin Luther King Jr's "I Have A Dream" speech, we thought it would be cool to share a preview of Caleb Monroe and Theo Ellsworth's "A History of Nonviolence," a historical account of the development of the philosophy of non-violent resistance.