We're always keen to let you know what our 2019 Broken Frontier 'Six Small Press Creators to Watch' are up to here at BF and we're very much looking forward to visiting the Hello Love studio in London's Southampton Row next month to see this joint exhibition Meet Me at the Market from Francesca Tiley and this year's Six to Watch creator Aleesha Nandhra. It runs between May 17th-23rd and the full press release runs below. We'll have more exciting announcements to make about Aleesha's practice in relationship to an upcoming Broken Frontier event very soon so this is the perfect opportunity to check out her work (and Francesca's!) beforehand.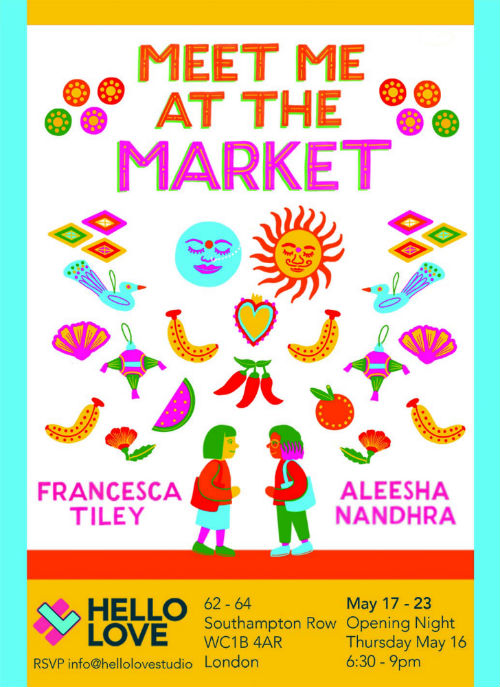 Meet Me at The Market is a collaborative Pop-Up by Francesca Tiley & Aleesha Nandhra intending to visually explore their dual cultural heritage.
Francesca with Mexican roots, and Aleesha with Indian heritage, both artists were struck by the many crossovers and similarities that both of their cultures share; A rich history of textiles, printmaking, iconography & motifs, folk art, and a love of bold colours.
Another connection both countries share is the marketplace, and with that all of the inspiration a multi-sensory, bustling market can conjure up.
Come and meet Fran & Aleesha at the market!
You can visit Francesca Tiley's website here and Aleesha Nandhra's website here.