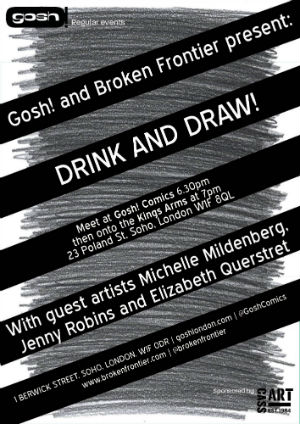 Our third Gosh! Comics and Broken Frontier Drink and Draw of 2018 is next week! And, as ever, we have three of the movers and shakers of the UK small press world with us on Wednesday March 28th. Creators Michelle Mildenberg, Jenny Robins and Elizabeth Querstret join us for our regular monthly meet-up, sponsored by Cass Art.
Please note that we're in our new venue again this time around. You can find us upstairs in The King's Arms on Poland Street and your co-hosts for the night are myself (Broken Frontier Editor-in-Chief Andy Oliver) and Gosh's very own Nora Goldberg.
The fun begins at 6.30pm at Gosh! on Berwick Street before we head off for our sketching and drinking antics at 7pm. Don't forget you can join the official Facebook event here.
So who have we lined up for you this time on that guest artist front?
First up, Colombian-French illustrator Michelle Mildenberg describes her work as being "at the intersection of visual communication, creative strategy and speculative design" and creating sets of images "that create universes, daydreams and stories about people, products, ideas and brands."
Her recent art zines include the titles Femina Futura and her Mexico Fanzine.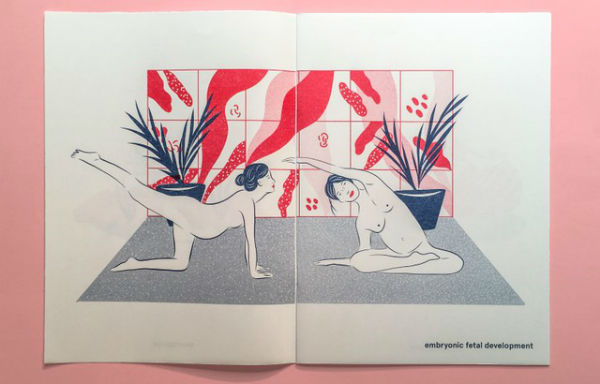 Broken Frontier reviewer and interviewer Jenny Robins is also a comics creator and illustrator whose work has appeared in such anthologies as Solipsistic Pop, Dirty Rotten Comics, Over the Line and Soaring Penguin's Meanwhile… (you can read her BF work here).
Her current comics work-in-progress is a series of overlapping stories titled Biscuits (assorted) which was recently longlisted for the Laydeez do Comics Prize. This will mark the first occasion a BF team member has also been a guest artist at our Drink and Draws!
Elizabeth Querstret is one of a long line of UK small pressers who you heard about first here on Broken Frontier! A prolific zine-maker, her self-published comics have largely centred on autobiographical work like her witty look at her employment history in Enter My Working World.
Elizabeth has been seen in anthologies like Dirty Rotten Comics and A Bit of Undigested Potato. She also has the distinction of being published by both Avery Hill Publishing and Good Comics for Walks with LuLu (below left) and New York (A Holiday to Remember) (below right)  respectively.
Join us on Wednesday March 28th, then, for another fun evening of drinking, drawing and comics camaraderie. We kick off at 6.30pm in Gosh with a chance to get hold of signed comics and books from all our featured creators before moving over to The King's Arms for 7. We look forward to seeing you then!
The Facebook event page for the night is here.