The Customer is Always Wrong, Mimi Pond's sequel to the critically lauded Over Easy, is a semi-autobiographical account of Margaret – an inspiring comic book artist and waitress at the Imperial diner, Oakland. The narrative is chiefly concerned with Margaret's attempts to escape the drudgery and despair of her surroundings without being dragged down by the erratic, drug-addled lives of her friends and colleagues.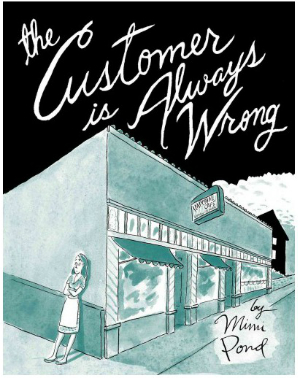 Set in the late '70s, Pond's most significant work to date broaches heavyweight issues with a deft touch, exploring the doubts and questions that stalk adulthood, like how to deal with loss, how to make something of yourself, and how to create a better world for the people you care about.
As a writer during the golden era of The Simpsons and a cartoonist for National Lampoon for decades, it's fitting that Mimi Pond's artwork portrays a sense of levity and accessibility. While reading The Customer is Always Wrong for the first time, you'd be forgiven for anticipating a lighthearted affair depicted in her grey washed, minimal panels.
The opposite is true, with casual drug use, addiction, violence, and even death prevalent throughout. The juxtaposition of gritty subject matter against Pond's dreamy illustration style softens the edges of her darker subplots, making the clearly dangerous world of inner city Oakland seem like an adventure you'd risk taking.
I was lucky enough to catch up with Mimi about her recent release, who described her writing process: "It took a long time to sift through all the characters and all the most significant real-life episodes to try to mold them into a plausible narrative. I began with lists and outlines."
One of Pond's strengths is exploring the futility and self-destructive nature of drug abuse without preaching or being sanctimonious. Coke and booze are routes of escape in cities all over the world, and while the media may try to convince us otherwise, not every rolled-up banknote or raucous drinking session ends in debilitating addiction, sometimes it just equals a good time. After all, it was the '70s.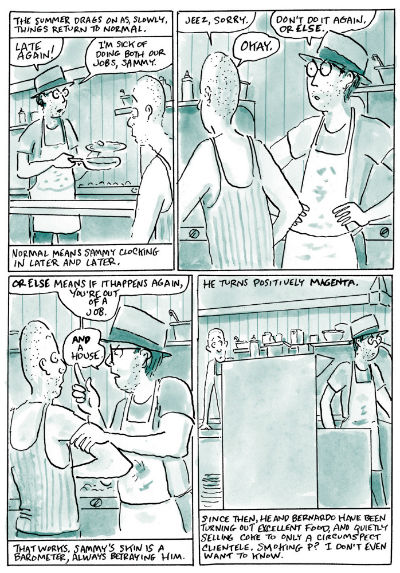 Not everyone in The Customer is Always Wrong escapes the potential pitfalls of causal drug use however: "So many people I knew disappeared down rabbit holes of addiction for years and years. Some of them finally came out of it, some of them never did. Some of them came out and did well and then wound up getting sucked back into it. It's tragic and horrible and completely avoidable – if you have any self-esteem and common sense. I think people should know that. Unfortunately, there was a great deal of naiveté about heroin and cocaine at that point. There isn't anymore, but people still manage to fall into that hole, now more than ever. Of course, that speaks more about corporate greed at this point."
One of the key plots from Pond's newest work is the Margaret's attempts to launch her career as a cartoonist and save enough money to move to the Big Apple.
Her journey comes to a crescendo in the final third, as the decade ends and Margaret's life takes a new direction. It's a bittersweet to see her leaving the quirky cast of characters behind, and as this transition is based on Pond's own experiences, I was curious about how she felt at the time: "I did have mixed feelings, but as much as I loved Oakland (and still do) I was ready to be somewhere where I wasn't the big fish in a small pond (sorry) and the most ambitious person I knew. You have to throw yourself in that huge ocean of real talent that exists in the big world and find a way to measure up to it."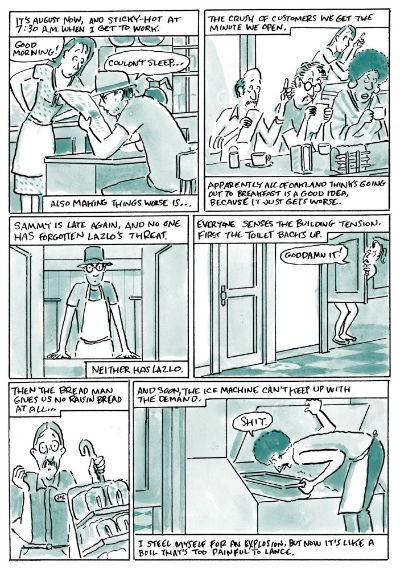 Breaking away from a 'normal' life and job to explore a creative career is a barrier that many people struggle with, and rarely overcome. Margaret's tenacity to follow her dream despite the chaos that surrounds her is at the heart of the narrative, and I wondered if Mimi had any advice about pursuing a creative dream: "You have to stay focused and remember who you are. You have to forge an identity as an artist and see yourself that way even when other people refuse to. It's important to find friends and mentors who support that identity and avoid people who want to pull you down into their unhappiness, people who want to steal your joy, people who lack imagination."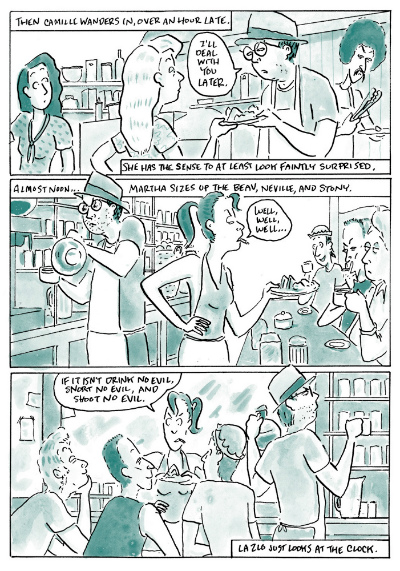 We finished with Mimi's biggest inspirations, of which there are many: "Early on in the process of creating both graphic novels, I was inspired by Dave Eggers. Also, Alison Bechdel, and the extremely brilliant Poe Ballantine, who was an early reader of my manuscript. But in general, I'm a big fan of writers like Nabokov, Patricia Highsmith, and Edith Wharton, who were real geniuses at creating compelling characters whom you really should hate but whom you wind up rooting for. There's a huge list of cartoonists I have always loved, including Charles Schulz, Al Capp, George Booth, Charles Addams, Posey Simmons, Peter Arno, George Price, Syd Hoff, Helen Hokinson, R. Taylor, Jules Feiffer, M.K. Brown, Art Spiegelman…"
Some people, myself included, crave nostalgia. I often find myself wistfully describing old friends and jobs that I despised at the time, and this romanticism is certainly present in The Customer is Always Wrong. Mimi paints an Oakland where bad things do happen – a particularly grisly scene involves Margaret being attacked by intruders who mistakenly think her boyfriend has stolen drug money – but Pond's artwork is too optimistic to allow the gloom to settle for long.
The Customer is Always Wrong is available from Drawn & Quarterly. You can follow Mimi Pond on Twitter here.