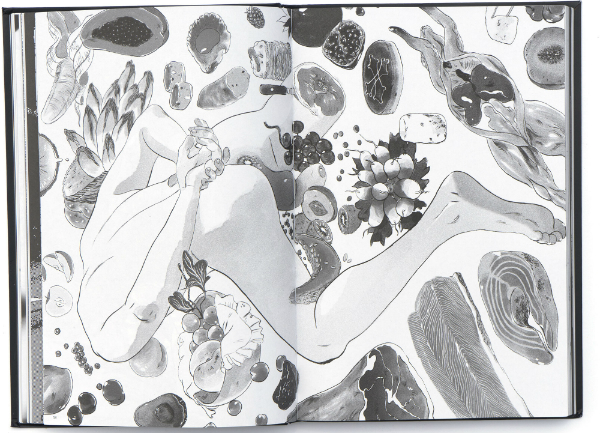 Horror, as we're often told, is a safe space to explore the things that scare us. You sit in a cinema, read a book, play a videogame that gently guides you around your real-life fears. Which is not to say it necessarily interrogates these dark recesses of your psyche too closely. Erotica does much the same thing for what turns you on, whilst usually not going into the complex mass of power dynamics, prejudices, biases and life events that created your libido too closely. As writer Gretchen Alice Felker-Martin notes in her introduction to Mirror Mirror II, an anthology that actually does explores this link between the horrific and the horny in some depth, "there is no division between the shame that ignites desire and the desire itself, just as there is no division between love and the fear of death." Just so you know what you're getting yourself into.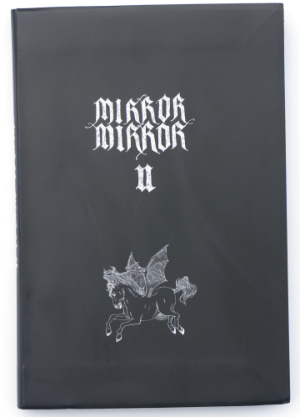 One of the first times Julia Gfrörer and Sean T. Collins joined forces on a comic, it was for the mini The Hideous Dropping Off of the Veil, an erotic retelling of Edgar Allen Poe's The Fall of the House of Usher. Skipping right to the short story's denouement, where the sister entombed alive in the walls of the family home breaks out, it added a disquieting new wrinkle. Upon discovering the brother responsible for her imprisonment, she not only beats him but then mounts him, the climax of their incestuous coitus heralding the implosion of the gothic house the narrator flees from. It's haunting on an entirely new level from Poe's original text.
Mirror Mirror II is the couple's latest collaboration, edited for 2dcloud and featuring stories which similarly straddle (oo-er) the erotic and the horrific. The monochrome ink-washed story from writer-artist Laura Lannes (below) that opens the book sets the tone, those two motifs linked by a middle-aged office manager's disintegrating relationship with her husband and simultaneous fixation on a young female intern, which culminates in a bloody ending of seduction and castration. A bit like Anti-Christ, only with less talking animals.
It's heavy stuff! The way male violence especially complicates and often robs agency from female sexuality is a recurrent topic — which should serve as something of a content warning, not that the book ever appears exploitative, gratuitous or irresponsible in exploring these topics — as key to stories of horror as they are to aspects of BDSM culture. Some (relatively) light relief can be found in Aidan Koch's 'The Estate', a both literally and thematically lighter tale of a woman who takes in an abandoned bird, the shapes of each character in the story — and the living room they're in — discombobulating and losing their structure as it goes on.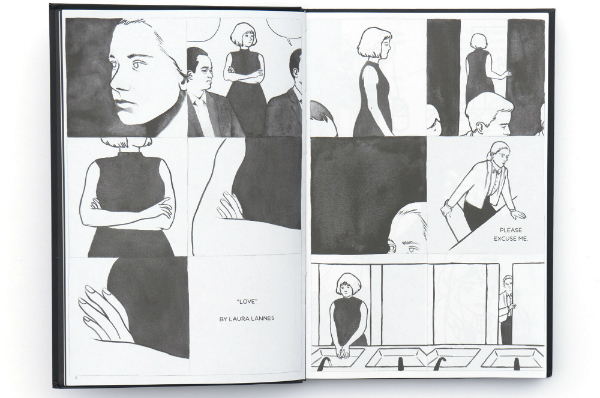 Its themes remain consistent throughout, but the curation of Gfrörer and Collins aims for a plurality of approaches and artistic styles in illustrating them. Mou, Baton Sinister and Uno Moralez borrow their aesthetics and general "vibe" from the top-shelf appeal of the exoticised, pre-mainstream era of manga and anime. The pixel art of the latter's ten-page 'Vitalya (I'm Fucking Tired of You)', is further reminiscent of Japanese PC games (below), the story appearing in the form of page-wide screenshots of an aggressive young man being visited by an angelic, black-eyed presence from the depths of a waterfall. In the former's 'Empty Handed', a young man is driven to explore previously-undiscovered corners of his sexuality, chasing the mystery of letters printed on beads that emerge when he ejaculates, spelling out a message apparently punishing him for pushing his girlfriend into areas of kink she was uncomfortable with.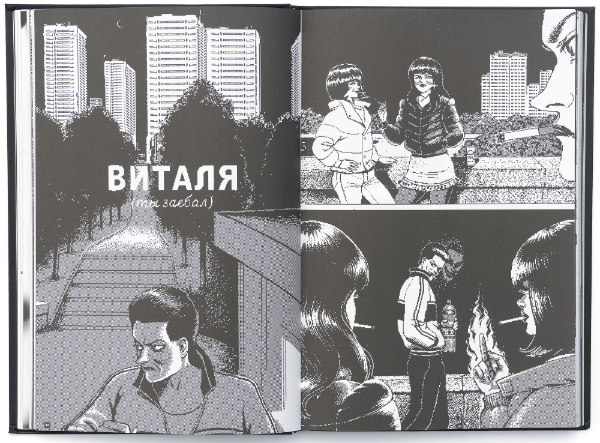 The big names offer comparatively small contributions. Some macabre double-page drawings by Clive Barker, the man behind Candyman and Hellraiser who was something of a pioneer in linking the eros and thanatos urges; a brief strip by Simon Hanselmann, and written by Collins (below), where his Meg character is menaced by a black apparition, a spectral embodiment of trauma inflicted by sexual abuse in the form of a dripping ink smudge; and the incomparable Dame Darcy contributes a short story recognisable in its densely-packed frames and "Neo-Victorian" style from her Meat Cake books for Fantagraphics. Gfrörer herself provides wonderfully detailed single-page images illustrating a medieval French text about ancient myths and legends, removing them from the safety of a museum display case or plummy BBC history programme and returning some of the grit, dirt and viscera in which they were actually found.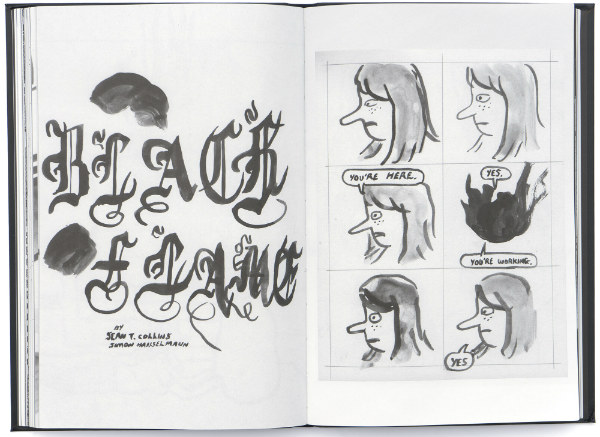 Mirror Mirror II is a sexy, creepy book which is daring in the topics it addresses, its creators eliding conservative platitudes or easy explanations for parts of human behaviour which psychologists have spent decades struggling to get to the bottom of (can you imagine if Freud had had access to PornHub's stats when doing his formative work?). It does not shy away from how complex and difficult its subject matter is. It's also a sumptuously designed, beautifully illustrated compendium of some of the most talented alternative comic creators working today. Just don't read it on the bus.
Anthology – Various creators • 2dcloud, $39.95 (Available to buy from the 2dcloud online store). Top banner image is Celine Loup's 'Market Day' – you can view an alternative colour version here.