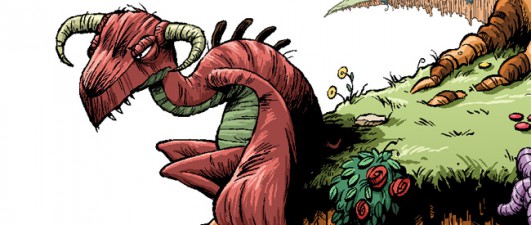 Great rollicking fun for the whole family, Monster on the Hill is fantastic all-ages fare!
All-ages comics seem to be all the rage, right now. Of course this could change in a proverbial heartbeat but for now, an eclectic array of titles appropriate for kids and adults alike are popping up on the shelves like the first handful of kernels exploding in a bag of popcorn. And these are high quality books too, outshining and in some rare cases out-performing more traditional comics fare. Cow Boy from Archaia, Axe Cop from Dark Horse, and Princeless from Action Lab are all exemplary, critically-acclaimed examples of the kind of high-quality craftsmanship available.
Top Shelf Productions' latest all-ages offering comes to us courtesy of ultra-talented writer-illustrator Rob Harrell, well-known for his popular Big Top syndicated comic strip. With Monster on the Hill, Harrell weaves a warm-hearted tale of courage and friendship set against the backdrop of rural Victorian England. Chronicling the misadventures and eventual triumph of a failed monster struggling to find his confidence, Harrell's story is smart, extremely well-crafted, and lushly illustrated. Lightly touching upon themes of tolerance, friendship, and even depression, Monster on the Hill is a great story for kids and their parents to read together.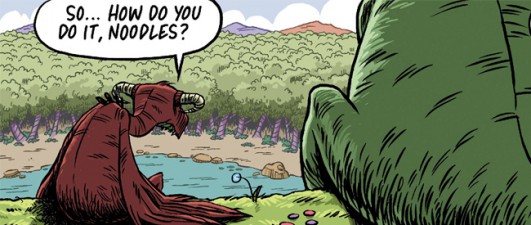 Harrell's writing is light-hearted but sophisticated enough that older readers won't lose patience with either the dialogue or narration. The plot, while simple and straightforward, has great legs and canters along at a good clip. Harrell also provides his audience with a charming and clever premise for the existence of monsters. You see, they actually protect the towns they somewhat mischievously plague from a far more terrible (and real) monster known only as the Murk. When Stoker-on-Avon's resident monster Rayburn embarks on a quest for his lost courage and drive, he leaves the town at the mercy of the Murk. The quest transforms quickly from one of self-discovery to one of desperate, resourceful last-minute heroics with plenty of delightful action to keep the pace driving forward.
The artwork is boisterous and well-rendered, evoking some of Rick Geary's unique linework but with a little more texture and weight. All of the characters enjoy distinctive appearances but it's in the myriad forms, shapes, sizes, and evolutionary branches Harrell manipulates that his design-work truly shines. From the merely silly to the utterly evil, the scope and breadth of Harrell's monstrous imagination is on full display.
Founded on a solid base of a beautiful, distinctive visual tone that remains as accessible as it is offbeat and refreshing, Monster on the Hill is a decidedly fun, family-friendly diversion that won't insult your intelligence – or your kid's.
Rob Harrell (W, A) • Top Shelf Productions, $19.95, July 2013.