PRIDE MONTH 2023! My Life in Transition is the second collection of Julia Kaye's Super Late Bloomer series detailing her trans journey. We reviewed the first volume here last year at Broken Frontier. Those strips detailed Kaye's early days in transition as she came to terms with her identity, dysphoria, self-doubt, and the transphobic reactions she had to endure. This follow-up presents her autobiographical reflections from a post-transition perspective, giving us a first-hand account of trans lived experience.
Using the same three-panel structure (premise/build-up/punchline) of its predecessor My Life in Transition follows Kaye's story over a six-month period, with another mix of humour and poignancy. The strips herein allow us to observe Kaye as she tries to get over a painful break-up, starts dating again, and deals with the anxiety of a lack of family acceptance. At the same time she continues to embrace her new life and find comfort in her true identity, despite occasional moments of dysphoria and depressive episodes.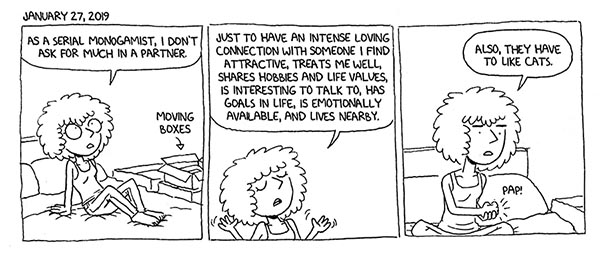 It's that contrast of joy and despair that emphasises the raw humanity that sits at the heart of My Life in Transition. It's a collection that allows the reader to dip in and out of its pages; a narrative that's pieced together from a procession of smaller vignettes. By structuring her thoughts in these incremental bursts, Kaye invites us to dwell longer on each individual strip and consider the emotional beats and themes that she so eloquently expresses in such a concise format.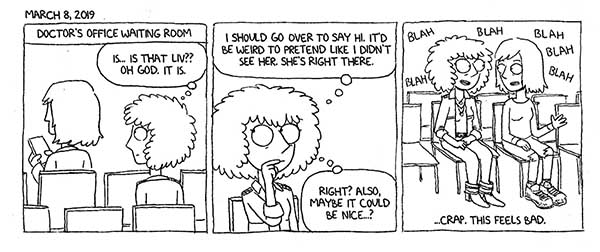 Kaye's cartooning is expressive and appealing, allowing us to form an immediate bond with her on-page incarnation. While comedic pacing is excellent she also makes strong use of visual metaphor to get profounder points across. A strip that plays with perspective and the confines of the panel to express dysphoria, for example, or the use of lettering to represent feelings of being overwhelmed by circumstances.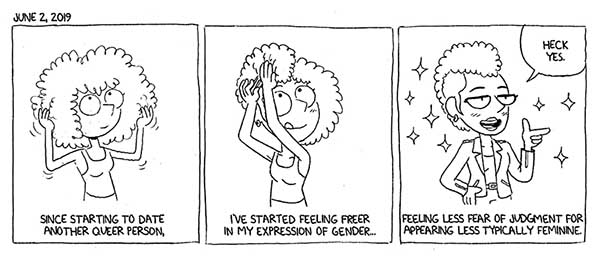 At a point in time when the trans community is dealing with being the target of such oppressive negativity it's books like My Life in Transition that provide important and essential accounts of lived experiences. A highly recommended starting point for those wanting to understand the realities and the challenges that the trans community face. But also, and just as importantly, to comprehend the cathartic release that comes with being your true self.
Julia Kaye (W/A) • Andrews McMeel, $14.99
Review by Andy Oliver