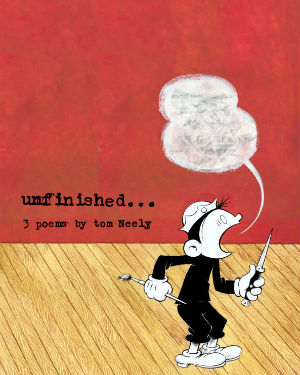 Comics that push the boundaries of the form, interrogate the potentialities of its unique language and manipulate its singular narrative possibilities define the type of material that we exist to champion here at Broken Frontier. But we're particularly fond of work that goes one step further than that; practice that doesn't just toy with the form but actively seeks to find new ways to employ it to communicate and reach out to its readership.
Unfinished… 3 Poems by Tom Neely most assuredly fits into that latter category and it will, perhaps, be of little surprise to those familiar with their recent output to hear that it comes to us from Silver Sprocket. After all, the US micropublisher has been responsible for a number of essential indie comics publications over the last few months including Ben Passmore's Your Black Friend and Other Strangers.
Neely's visual poetry in this one-shot offering has its origins in conversations the artist had with his late friend Dylan Williams, the founder of the much respected Sparkplug Comic Books. The book comprises in three segments of individual paintings in a number of mediums created over a three-year period, Silver Sprocket have described Neely's creative process as involving the individual images being "shuffled and re-shuffled until they found their sequential voice as poems."
The results open up fascinating questions about the symbiotic relationship between artist and audience in terms of original intention and both reader interpretation of and interaction with the work. Neely's distinctive exploitation of the between-the-panels element of comics comprehension inviting us throughout to think about one of the fundamental elements of the form from a different perspective.
In the first poem 'I just figured it all out…' Neely explores the age-old question of why we create art and what its purpose is. Apparently disconnected imagery is pulled together into a superficially disjointed work; the profoundness of which lies in that loose assembly of pop cultural imagery and random stream-of-consciousness thoughts which feel visually erratic and yet, somehow at the same time, thematically whole.
The second and shortest poem 'Noise' focuses on the demise of aesthetic beauty in a society more concerned with the expendable and the throwaway. Its stark black and white imagery provides a sense of helplessness and impotence to its pages. It's the final offering though – the titular 'Unfinished…' – that will doubtless prove the most powerful and affecting reading experience for most readers. In this final section, perhaps more than any other, Neely reminds us of fundamental truths about the nature of existence – its impermanence, of how we become not just immersed in bereavement but entangled in it, of how grief isn't just about losing someone else but about losing ourselves as well.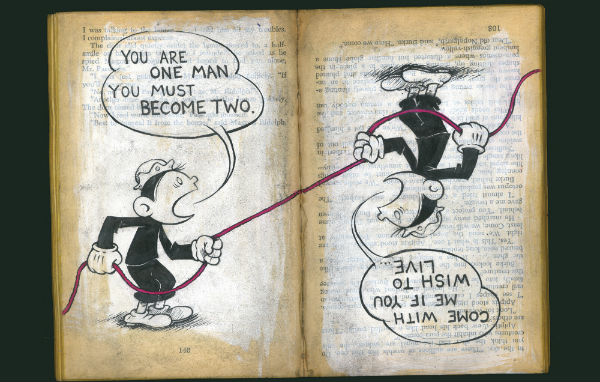 Again, that consideration of our own interaction with the medium and the choices we make in our relationship with panel sequencing is a constant here. Almost every page is a separate narrative unto itself, inviting us to dwell on that individual image and to consider, ruminate and consume. And yet they are also arranged into something that is undeniably sequential despite its cursory sense of disconnection. As 'Unfinished…' draws to a close Neely slows down the pace of our reading with an increasing use of white space in the form of blank pages and minimalist imagery, before fading out in a moment of heartbreaking finality. A life unfinished, boundless possibilities brought to an abrupt and cruel halt, so much that should have been forever unfulfilled.
It's a thing of raw, fragile and despairing beauty and it acts as a coda to an intensely personal project. Neely's uncertainty as to whether the work herein should be shared with an audience is understandable but from philosophical enquiry to an almost nihilistic crescendo over the three poems this repurposing of the ephemeral and the intimate into the profound and the universal is undoubtedly one of the most acutely affecting graphic narratives you'll read this year.
For more on the work of Tom Neely visit his site here. You can visit the Silver Sprocket site here and follow them on Twitter here.