Two cracking Comica Conversations take place next week as part of the ongoing series of Comica Festival programming for this Autumn – events that we have been supporting with a whole raft of coverage here at Broken Frontier.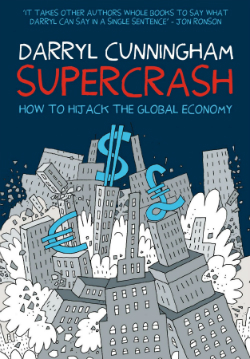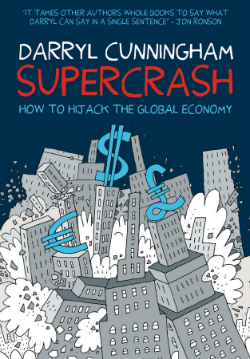 On Monday 3rd November creator Darryl Cunningham will be chatting to Danny Dorling, Halford Mackinder Professor of Geography and author of Inequality and the 1% in the auditorium at Foyles. Cunningham's latest book Supercrash: How to Hijack the Global Economy will be the focus of discussion. You can read my interview with Darryl on this subject here last week at Broken Frontier.
While Darryl recently expressed a desire to distance himself from the term "graphic journalism" – in this Waterstones blog piece – there's no doubting his ability as a communicator in effectively using the comic strip form to convey relatively complex ideas in an easily digestible visual language – the very essence of graphic reportage. After Psychiatric Tales and Science Tales, Supercrash is another uncompromising yet utterly compelling piece of topical comics. It covers the ideology of Ayn Rand and its continuing influence, the truth behind the banking crisis and who was responsible, the new gilded age for the super rich, and the psychological differences between the conservative and liberal mindset, in its bid to expose the politics of selfishness behind the global financial woes of the last decade.
Tickets for the Supercrash Comica Conversation can bought here.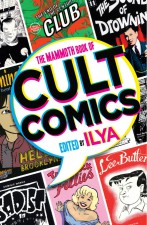 And at the end of the week, on Friday 7th November myself – Broken Frontier Managing Editor Andy Oliver – will be speaking to ILYA (The Mammoth Book of Cult Comics), Carol Swain (Gast), Rob Davis (The Motherless Oven) and Paul B. Rainey (There's No Time Like the Present/Thunder Brother: Soap Division) on the subject of 'What Makes a Cult Comic?' Four creators representing a diverse array of approaches to the canvas of the comics page and, in either an editorial or artistic capacity, all responsible for books in 2014 that should grace the shelves of any self-respecting would-be comics aficionado!
Tickets for 'What Makes a Cult Comic?'at Foyles can be bought here .
 For a full round-up of Comica Festival 2014 check out the events guide here.