Rutu Modan in Comica Conversation with Hannah Berry!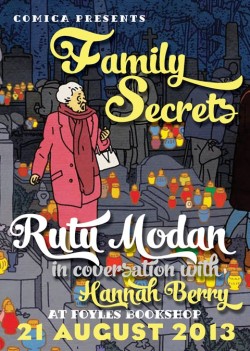 Rutu Modan will be speaking with Hannah Berry at Foyles Bookshop, Charing Cross Road, London on August 21st, 6.30-8pm, tickets £6  – details and booking link here.
Comica Festival, in association with Foyles and Jonathan Cape, brings you the rare opportunity to hear the award-winning author of Exit Wounds, discussing her new book The Property – surely the most hotly anticipated literary comic of the summer.  Drawing on Rutu's family roots, The Property tells the story of Regina Segal, an old woman who travels with her granddaughter Mica to Poland to reclaim a family property lost during the Second World War. Thrust into the unfamiliar surroundings of modern Warsaw, difficult memories begin to surface, and family skeletons emerge from their closets, in front of a cast of complex, absurd and nuanced characters – all finely and subtly drawn, in every sense.