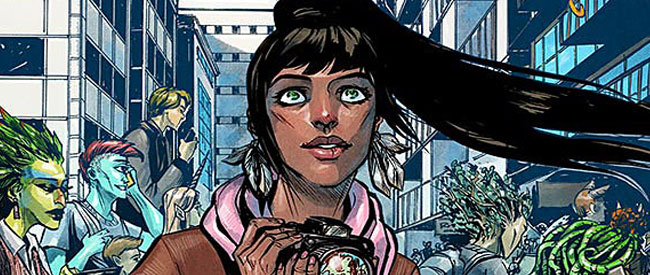 Move over Lara Croft, Kate Christopher's coming to town! The next in line of the great explorer/adventurer characters, Kate is the star of Joe Keatinge and Leila del Duca's Shutter, a new ongoing series debuting from Image Comics on April 9.
'Reluctant star' might have been a better qualifier for Kate, as the young lady has actually set aside her exploring ways for a more easygoing life. But as it so often goes with the adventurous type, they tend to get pulled back into questing sooner than later – they're just not the folk for which the fat lady sings.
What will make Kate's adventures different from what you've seen from the likes of the aforementioned miss Croft or that other crusading stalwart, Indiana Jones, is that she lives in a world populated by demons, gods and all sorts of monsters you wouldn't want to find beneath your bed.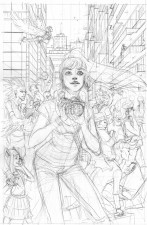 As such, world building was a critical part in the creative process shaping the book. Keatinge says a lot of back and forth happened to get the look and feel just right, while at the same time leaving both writer and artist with enough flexibility to 'go crazy' if the story warrants it:
"From the get go, before I ever pressed a button on a keyboard for the script, Leila and I had a lot of talks about what she wanted to draw, what I wanted to write and then we figured out how to make all that work together," Keatinge says. "We still have these discussions on the regular, usually before I write a script, after I write a script and sometimes after she does layouts.
"We set up Shutter so that we could work anything we wanted to work in there, as long as we retain the emotional core and integrity of Kate and those around her. It's crafted so it makes sense for a ninja ghost to show up in the same panel as a robot cat."
The duo was also happy to share a few design sketches with Broken Frontier. Below you'll see some of Leila del Duca's page breakdowns, character designs and cover concept art. The Montana native confesses it was not too difficult to get Kate's look down, because she had a good idea of what kind of character she wanted her to be.
"I already was set on drawing a non-white main character with a pointy nose, so sketching out a final character design for Kate only took two rounds of minimal sketches," del Duca says. "I wasn't completely sure what body type to use for her, but we soon decided that she was going to be lanky and fit.
"As for the character's mannerisms, Joe writes Kate with a delightful, weird, rebellious, sensitive personality, and I can put a lot of emotion into her poses and face, something that is essential in defining Kate."