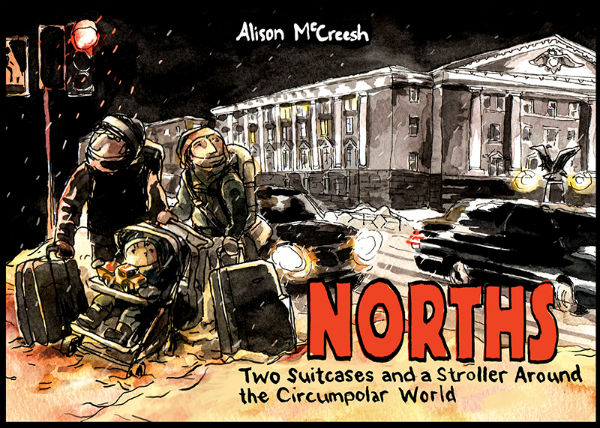 A comics travelogue with a markedly different structure from the norm, Alison McCreesh's Norths from Conundrum Press is both a window into the peculiar realities of living above the 60th parallel and also a beautifully observed study of family life with a nomadic twist. The book follows six winter months in the lives of McCreesh, her partner Pat and their infant son Riel as she took up short artistic residencies in Finland, Russia, Greenland and Iceland (taking in Sweden and Norway along the way) between 2016 and 2017, and examines how they adjusted to living in a circumpolar world.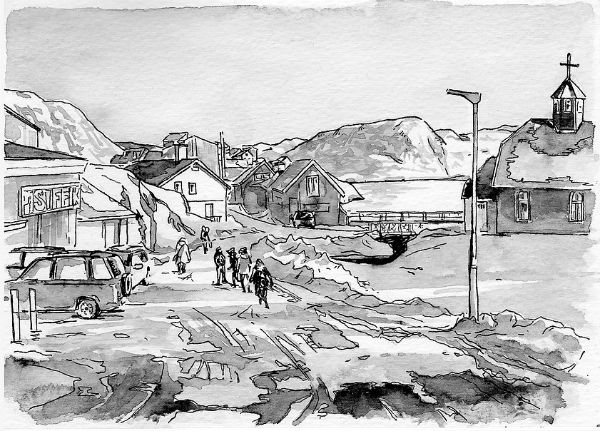 While that, in itself, may already seem an intriguing description to the casual reader, Norths is as notable for the way in which McCreesh delivers that story as it is for its premise. The artist conveys those months in the form of a single illustrated postcard for each day of their travels, with the front depicting an original illustration and the back containing written reflections on the events of the last 24 hours. Those illustrations can be landscapes, city scenes, moments of family life, visual lists or even the odd comic strip, while the accompanying text captures the highs and lows, the successes and the occasional mini-disasters, and the excitement and unpredictability of this distinctive journey.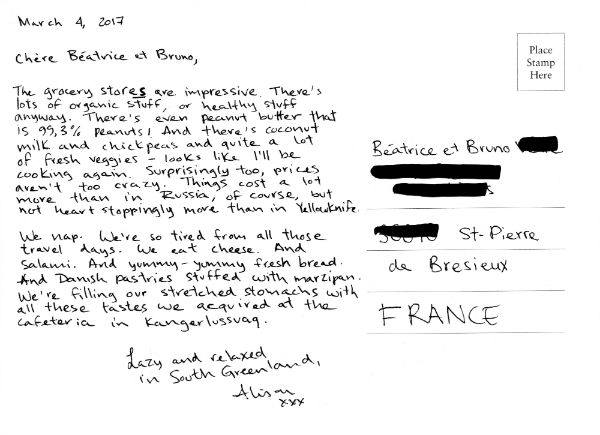 The postcards were originally sent to supporters who had backed McCreesh on this epic trip. They provide an initially fragmentary reading experience that incrementally builds into a satisfying whole; snapshots in time that contain the essence of the family's experiences but also leave the reader, on occasion, to fill in the wider picture for themselves. That's an important aspect of the book because undoubtedly for some this will be more experimental graphic narrative than comics per se. And yet, in their own way, each individual postcard here almost acts as a panel in itself, with the gaps between simply requiring an extended level of comics' "between the panels" comprehension.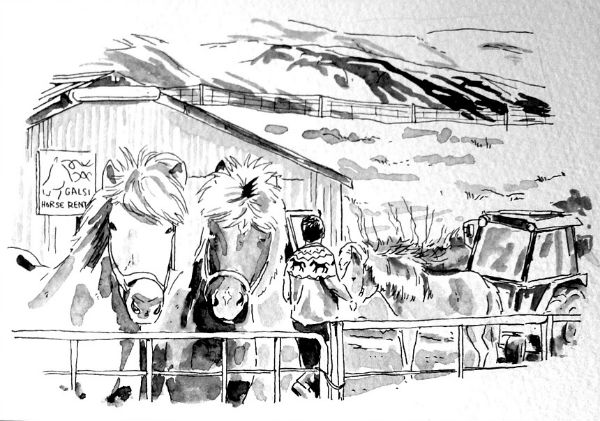 Added nuance comes from each postcard being directed to its individual recipient, hinting at friendships and acquaintances that sit just outside the main narrative we are experiencing. The trek begins with a residency in Finland which sets the tone for each brief sojourn of creative industry and exhibition as the trio settle into every several week stop-off. Sometimes there's a feeling of community spirit to these stays; on other occasions they seem more alienated. But, throughout, McCreesh never lets us forget – whether with self-deprecating wit or with a sense of fragile poignancy – that they're always slightly out of step with their environment.
Part travelogue, part family drama, with occasional side forays into the psychogeographical, the heart of Norths is, perhaps unsurprisingly, in the portrayal of its three central "characters". We quickly become invested in their daily routines and their misadventures, whether that be in Pat and Riel's attempts to fill their days with playdates and activities while Alison works on each residency project, their struggles with menus and food, getting to grips with the Cyrillic alphabet, immersing themselves in the stark beauty of the Northern natural world, or watching Riel's development in these formative months.
In Norths Alison McCreesh ensures that the reader feel less like a detached observer and more like an unseen fourth family member, experiencing their adventures alongside them. Appealing and incredibly likeable, there's a delightful contradiction at the core of this book – that something so profound can be expressed in the trappings of something so ephemeral.
Alison McCreesh (W/A) • Conundrum Press, $20.00