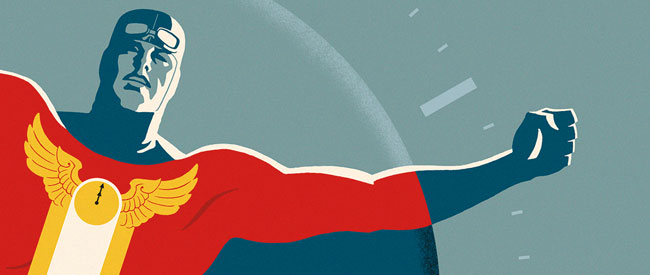 Move aside, Steve Rogers… there's a new Captain in town! Much like Captain America, Captain Midnight is a war superhero who ends up in our time and needs to figure out his place in the world.
Captain Midnight, whose mortal name is that of war pilot Jim "Red" Albright, is a pulp creation from the late 1930s who first rose to stardom as a radio character whose adventures were followed by millions of Americans before making the leap to comics.
His sequential adventures as the leader of army unit the Secret Squadron first took the form of a newspaper strip based on the popular radio show. When Fawcett Comics acquired the character's rights, they remodeled him to be a more traditional superhero, costume, gadgets and all.
Uniting Midnight's past and present is writer Joshua Williamson, who penned the good Captain's return flight last year in the pages of Dark Horse Presents, the publisher's Eisner Award-winning anthology, and is now taking him on an ongoing journey starting in next week's Captain Midnight #1.
BROKEN FRONTIER: How does the ongoing series build on the stories from Dark Horse Presents, collected in Captain Midnight #0?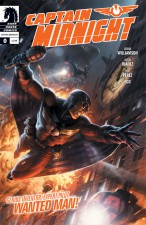 JOSHUA WILLIAMSON: It races right out of it. We tried to set up the world around Midnight before really getting into his personality and his adventures. You'll notice of all the characters in the zero issue that Midnight has the least amount of dialogue. That was so we could set up Midnight's new environment and then see how he reacted to it.
In that issue, Midnight arrives in present day but quickly goes on the run. Why Midnight went on the run and the hunt for him begins in issue #1 of the ongoing series.
Was it always the plan to follow up the DHP stories with an ongoing book?
Yeah, that was the plan for Dark Horse from the moment I was asked if I wanted to write the book. Mike Richardson has a very detailed plan for how he wanted to roll out Captain Midnight. We knew we had a big adventure and mystery planned and felt DHP was a good place to reintroduce the character and start our story.
Will it take Captain Midnight a long time to adjust to the present?
Part of our ongoing arc for Midnight is his getting a new view of the world. The guy is old school, sees everything in a very black and white outlook.
The last thing he was doing before he was transported to modern day was fighting Nazis, y'know? Midnight from a very different world on a lot of levels and it won't be an easy adjustment. Things are just… much more complicated now.
One of the things that Jim Gibbons and I talked a lot about was this: "They stole his perfect vision of the future. He's here to take it back." Midnight isn't happy with the way things turned out after he disappeared. He might adjust… but how? At what cost? What would take a man like Captain Midnight see our world for how it really is?

What are the most important qualities from his old pulp stories that you're looking to further explore in the ongoing?
The action, the pulp adventure and the romance. And I don't just mean romance as love and roses, but like Indiana Jones, the fantasy of adventure. There was a team dynamic and the action was much more punches and over the top. The almost noir take on superheroes.
And then there was his bad guys. I've tried to keep that same feel of his villains. Captain Midnight was an "against all odds" kind of guy and is villains reflected that. His big bads were smart and underhanded, forcing Midnight to be even smarter.
Overall, did it take you and Dark Horse long to see eye to eye on where to take Captain Midnight next?
Not at all. This has been Mike Richardson's vision from the beginning, but he let us play with it. Early on I was brought in and talked with Mike about what he saw for the character and thankfully we all were on the same page. We all knew we wanted action, intrigue and mystery.
It's funny, I knew Mike was reading the scripts and got nervous. There is no one who knows Captain Midnight better than Mike and I wanted to make sure that I made him proud and was happy and surprised when he liked what I was writing.
I can't even begin to start saying how thankful I am for the team at Dark Horse. It's very clear that we're all invested in Captain Midnight and the book.
Will the book have a much different look and feel with Fernando Dagnino drawing it as opposed to Victor Ibáñez and Pere Pérez?
Oh of course. Every artist brings something different to the page and the project. Victor and Pere were amazing and I loved working with them.
Readers of the #0 issue might find this surprising but the #0 issue was tame in action compared to the ongoing series. Fernando helped bring that action. He added little touches and flairs to the series that have helped push the direction of the story and the mystery.
Hopefully people can see how much work the whole team has put into the book and enjoy it as much as we do.
Captain Midnight #1 goes on sale July 31, 2013 from Dark Horse Comics.