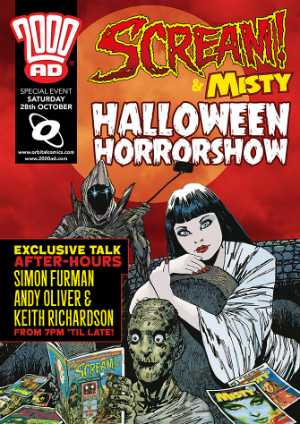 Halloween is nearly upon us and 2000 AD publishers Rebellion have a double dose of devilish delights on offer for the season. Fans of vintage UK horror comics will no doubt have already snapped up their copies of the Scream! and Misty Halloween Special with its updating of many favourite IPC strips of yesteryear.
And also from Rebellion's Treasury of British Comics series comes the hardcover collection of The Dracula File (also from the pages of Scream!) detailing the vampire lord's escape from behind the Iron Curtain and the subsequent chaos and carnage he unleashes in 1984 Britain.
To celebrate this creepy coupling of comics classics I'll be in conversation with The Dracula File writer and former Scream! editor Simon Furman alongside Scream! and Misty Special editor Keith Richardson at London's Orbital Comics on Saturday October 28th. Join us from 7pm when we'll be looking back on the original Scream! run as well as discussing the updating of the characters and strips in the new one-shot. Full details on the Orbital site here.
Those wanting a further taster of the project should take a look at the video trailer below…
And if you want to make a fear-filled day of it don't forget that there's a Scream!/Misty signing at Gosh! Comics earlier in the day when contributors to the special including Hannah Berry, Simon Coleby, Frazer Iving, Grainne McEntee, Ben Willsher and Alec Worley will be in attendance. Full details here.