As Thought Bubble rapidly approaches we can always expect to hear rumblings of exciting debut releases to coincide with the UK's major autumn convention/festival season. Courtesy of Owen Michael Johnson – whose Reel Love was recently given a big thumbs up in BF's 'Small Pressganged' column – is news of Beast Wagon, a new project in collaboration with John Pearson, that will be previewed in Leeds in November. The full press release and teaser image are below…
Owen Michael Johnson & John Pearson invite you to board the Beast Wagon at Thought Bubble
Preview of anthropomorphic comic book set in a Safari park includes 6-page preview and fold-out map.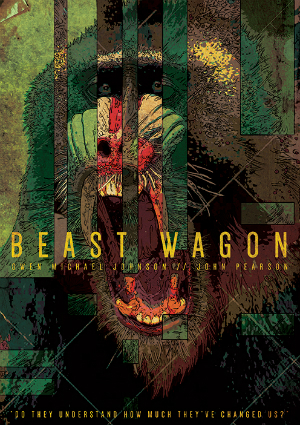 The co-creator of cult hit Raygun Roads and the critically acclaimed coming-of-age tale Reel Love has described Beast Wagon – scheduled for release in 2015 – as 'One Flew Over The Cuckoo's Nest with talking animals…' and promises 'an examination of systems and control. This preview is an intense little introduction to the book we're making. John is an honest artist. We're pushing each other, creatively, into dark waters.'
Pearson, an illustrator heralding from Leeds and one of the contributors to the CULT exhibition at Orbital Comics in April, said 'Beast Wagon will be a debauched tale of insanity. Owen has pulled out the stops to explore madness and frustration across many complex layers. I've been scooping out my mind to put together a collection of images that feeds into the vision of hell we've had. Madagascar this is not.'
Released under Johnson's Changeling Studios imprint, the preview will be lettered by Colin Bell (Dungeon Fun) and available at Thought Bubble Sequential Arts Festival, which is held in Leeds this November.