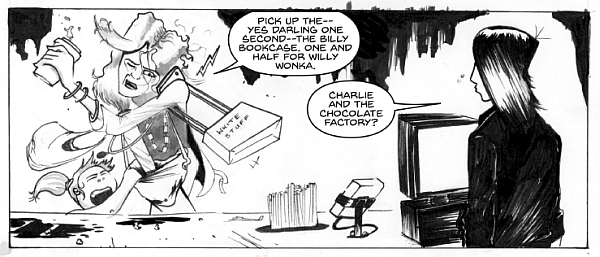 The first act of Owen Michael Johnson's Reel Love was a heady tale of a young boy's growing love affair with the big screen – a coming of age story where the protagonist's sense of wonder at the cinematic worlds he became immersed in was so tangible because it mirrored our own memories of discovering the magic of movies for the first time.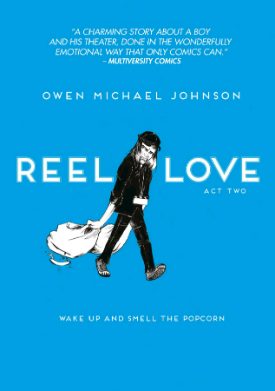 With something of a meta flourish – "The sequel is always darker than the original… Act Two is where everything goes wrong" – the second issue of Reel Love moves the story on a number of years. Our central character is now a young man, unemployed and living at home in an uneasy relationship with his sister and father. His passion for film has now taken on an obsessive quality with frustrated over-analysis of plot points, characterisation and frame rate having replaced the joy he once took from the medium. Childhood innocence has been sacrificially slaughtered on the altar of teenage cynicism.
This sense of pessimism is reflected in the setting of much of Act Two as our "hero" finds himself swept into the corporate system as an employee of the local "cinedome". It's a hideous working experience dealing with the unreasonable complaints of the public , out of control children, and the ever present peril of rubbing jalapenos in your eyes when working on the fast food counter.
If the first issue was recognisable for positive reasons – the unbridled awe of discovery – the second is equally familiar for less welcome ones. It will take you back to the monotony and sense of degradation of early teenage employment ; of the spirit-crushing, soul-destroying tedium of those fill-in jobs as the unruly rebel is reduced to being just another cog in the machine.
It's here that another layer to the book's thematic heart is apparent as this sequence takes on the feel of a Brat Pack movie with a memorable cast of wise-cracking cinedome characters coming to the fore as supporting players. It's also cleverly conceived in terms of engendering reader empathy; so swept away are we in the humorous asides and the black wit surrounding the horrors of working in a customer service industry – and of nodding our heads in sage agreement at Johnson's deft portrayal of the torments that entails – that we forget we are now following the exploits of a distinctly unsympathetic lead character.
Johnson's busy pages can shift deftly from recognisable realism to cartoon grotesqueness in the blink of an eye; rapid transitions that emphasise the unbearable ordeal of working in such an environment but also underline the observational comedy that is such a part of the issue. The visual film references throughout are a bonus, reminding us of those sequences from the first issue when fantasy and boyhood life became almost indistinguishable.
Cleverly constructed and populated with a rich array of memorable characters, Reel Love Act Two may turn the tone of the first issue on its head but it does, at least, leave us with a glimmer of optimism in its final pages.  Johnson's greatest strength as a storyteller is his ability to pull his audience so deeply into his story through that undeniable sense of shared experience. It will be intriguing to see where this book goes in its third and final act…
You can order Reel Love Act Two from Changeling Studios here priced £4.00.
For regular updates on all things small press follow Andy Oliver on Twitter here.