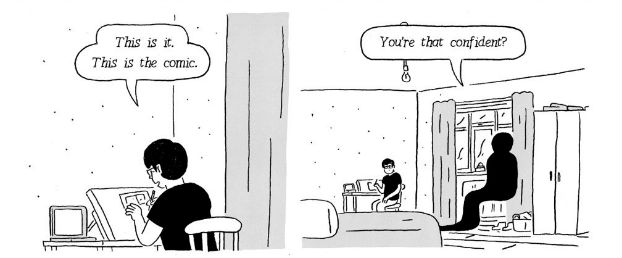 There's a slight sense of caution when approaching Luke Healy's Permanent Press for review. Healy's second graphic novel, published this year by Avery Hill Publishing, ostensibly explores a central theme of the artistic craving for recognition. Within its pages we meet a semi-fictional version of Healy and observe as his introspective ruminations on becoming an award-winning creator drive events forward. It is, therefore, a book steeped in the meta, and just the very act of analysing it seems to add another interactive level to that cleverly crafted self-referentiality. By critically dissecting it is the reviewer also becoming part of the greater narrative themselves?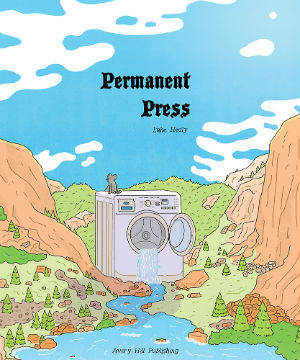 Permanent Press collects two Healy offerings – The Unofficial Cuckoo's Nest Companion and The Big and the Small – with a new framing sequence that centres on Healy himself and his own frustrations with his practice and the acknowledgment it is receiving. In the opening pages we meet the self-absorbed Healy facsimile desperate to create an award-winning comic as he bemoans his failures (including being "washed up" at 26) to his weary confidante – his own shadow. The dry wit of this self-deprecating introductory section ("I need to access my pain… I should call my parents") ensures that as self-pitying as Healy's comic strip avatar is he retains, if not our sympathy, then certainly our attention; pretentiousness and pomposity often giving way to half-hearted weariness.
The Unofficial Cuckoo's Nest Companion is the first offering that Healy presents in this quest to ensure that achievement equals aspiration. It follows the story of one-time feted theatre director Robin Huang who, years after her daring take on Macbeth proved a critical disaster, is given the opportunity to revitalise her flagging career. This occurs when BBC producer Benjamin asks her to adapt an obscure novel The Cuckoo's Nest by A.B. Cadbury (or "Dave" to his friends) for the stage.
But the sting is that Robin has just a handful of weeks to have the production ready for a first night live broadcast. As the planning begins, characters and events begin to overlap and interlink. Set designer Wally's ambitious designs cause friction while Robin's daughter Natalie is causing problems at school and also, coincidentally, studying The Cuckoo's Nest in class. And Robin herself is having problems with the novel's open-ended denouement.  That ending will slowly reveal itself as echoing the lives of the characters with a profound subtlety as the story progresses.
The Unofficial Cuckoo's Nest Companion provides something of a meditation on metafiction in a story that acts as a paragon of the unique language of the form. Healy jumps between mediums and modes of presentation throughout, utilising each shift to communicate specific elements of his narrative. The story is structured in play format with acts, footnotes and even a cast list. But within those confines he constantly and consciously experiments with the page.
Mixing traditional comic strip, illustrated prose, pages displayed as scripts and photography, as well as documents like school reports, maps or representations of online discussions, it's a dexterous piece of pure comics craft. Thematic parallels are layered over each other as motif, concept and presentation merge in recursive union leading into a quietly triumphant conclusion in a story that explores communication as much in terms of narrative method as in personal contact.
Whereas The Unofficial Cuckoo's Nest Companion concerns itself with linguistic and artistic expression the second main story The Big and the Small focuses on ideas of scale, scope and number. It initially contrasts and compares two neighbours Amir and Mo with a cosmological slant, telling their stories as much through statistics about their daily lives and respective places in the universe as it does customary exposition or dialogue. The two men's interactions are at first limited to their mutual irritation and how their routines tangentially impact each other. But chance meetings and time trapped in a lift together will take their realationship in new directions.
The Big and the Small is a fascinating counterpoint to The Unofficial Cuckoo's Nest Companion, conveying information and characterisation through a wholly diiferent method of delivery. Interspersed throughout this tale are cutaways to an ever more desperate and needy Healy, still chasing that elusive awards recognition as his own personal story begins to border on the surreal.
Healy's clean linework provides pages that are both accessible and also intricately structured, and yet each story has its own distinctive visual identity. While Permanent Press does feel slightly stitched together, each part works to either complement or cleverly reflect its counterparts. A graphic novel that somehow simultaneously manages to be entertainingly self-indulgent and carefully insightful it's a book that will no doubt both underline Luke Healy's status as one of the most exciting newer prospects in comics and also, as if it needs saying at this point, just what a banner year 2018 is proving to be for Avery Hill.
For more on the work of Luke Healy visit his site here and follow him on Twitter here. You can buy Permanent Press from Avery Hill Publishing online here.
Luke Healy will be a guest at the next Gosh! Comics and Broken Frontier Drink and Draw on Thursday August 30th.