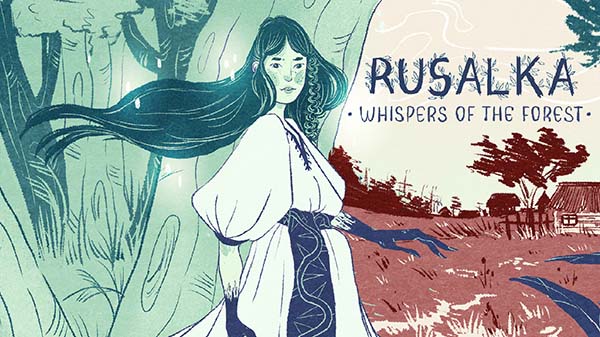 Currently crowdfunding on Kickstarter, and already virtually at its target, Rusalka – Whispers of the Forest is the latest comics work from our 2020 Broken Frontier 'Six to Watch' artist Kamila Król, aka Pigeon. It's not the first time Kamila has brought this demonic entity from Slavic mythology to the comics page, with a previously self-published Rusalka story reviewed here at Broken Frontier in 2021. While Rusalka – Whispers of the Forest is a thematic continuation of that story it's also a self-contained tale, and Kamila promises us that it "also introduces a lot more creatures, places and customs from the Slavic folklore."
From the Kickstarter page:
You are invited once again to enter the ominous Forest, and unravel its dark secrets. Following Rusalka in her journey of self-discovery, you will stumble upon other creatures present by Eastern European myths, such as the mischievous water demon Vodnik or the deity of the underworld Veles.
Kamila takes her inspiration from Slavic folk storytelling and traditions, and re-imagines them, shifting the perspective to the mythical woman's point of view. "Rusalka – Whispers of the Forest" is the story exploring identity, belonging and control.

I have described Kamila's folkloric illustration as "stunning" in the past at Broken Frontier and that's not hyperbolic. If anything it's gross understatement. It's been a delight to see her storytelling increase in confidence and maturity over the last three and a half years, and as you can see from the pages below this is her finest work yet. The Kickstarter is stripped back to the essentials in terms of reward tiers so it's a very easy campaign page to navigate. Rusalka – Whispers of the Forest will be published by Strangers Publishing in time for Thought Bubble this year.
Check out the preview below and BACK THE KICKSTARTER HERE!