THOUGHT BUBBLE 2023! Another of our Broken Frontier 'Six to Watch' creators to go on to be picked up by a publisher, Kamila Krol, AKA Pigeon, will have her first full-length comics work Rusalka: Whispers of the Forest debuting at Thought Bubble this week. Centring on the titular mystical figure from Slavic folklore, who featured in one of her earlier self-published comics, this new book was successfully crowdfunded earlier this year and comes to us via Strangers Publishing.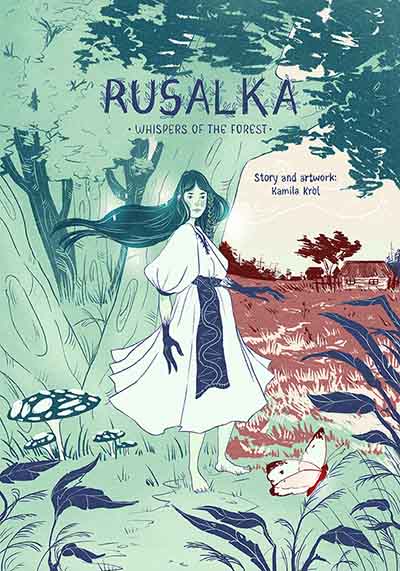 Rusalka herself is a demonic entity whose appearance as a beautiful young woman lured travellers to their doom. Krol's approach to the character is to sympathetically examine her motivations from her perspective, rather than just those of the observer's, and to reveal truths at the heart of this alluring and otherworldly creature. In Whispers of the Forest, though, she also engages in an exercise in supernatural world-building, introducing to a whole society of woodland nymphs, sprites, spirit and sundry magical figures. The reader takes a journey with Rusalka as she learns the truth about her origins and her identity, and in the process see her stand up against the controlling forces that have subdued her.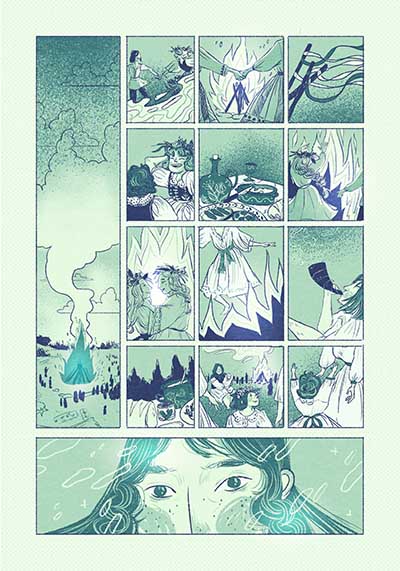 It's Krol's visual storytelling that will immediately stand out for most readers here. Whether that be in the tightly panelled pages of character interaction where the almost claustrophobic surroundings of the forest are emphasised, or the more open, wordless pages where the majesty and elegance of Rusalka within her home environment is eloquently choreographed. Colour choices here, with the pale blue tones dominating, create something enchanting (though always with a hint of the potentially sinister) rather than feeling subdued as they so easily could do. It also means that certain sidesteps into the human world with their purplish brown hues contrast the two planes of Rusalka's existence perfectly.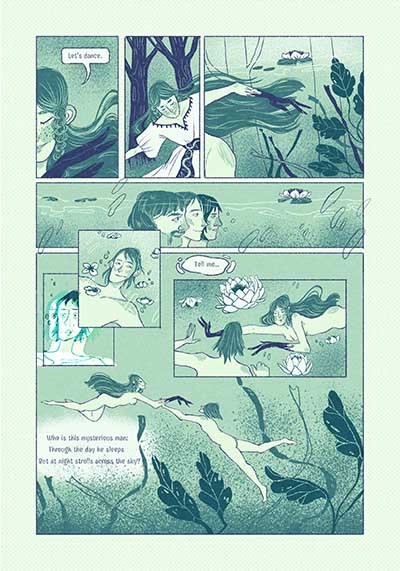 When we ran a preview of Rusalka: Whispers of the Forest here at Broken Frontier a few months back I said: "I have described Kamila's folkloric illustration as "stunning" in the past at Broken Frontier and that's not hyperbolic. If anything it's gross understatement. It's been a delight to see her storytelling increase in confidence and maturity over the last three and a half years, and as you can see from the pages below this is her finest work yet." Make sure you pick up a copy of this debut graphic novel in Harrogate because this is just the start of something undeniably special.
Kamila Krol/Pigeon • Strangers Publishing
Visit Pigeon's site and online store here
Pigeon is at Table B54, next to Strangers Publishing at B55, in the Dstlry Hall at Thought Bubble 2023
Review by Andy Oliver