THOUGHT BUBBLE 2023! It's always a pleasure (and something of a relief given the currently contracting publisher base in UK indie comics) to see a new micropublisher on the small press circuit. Gareth A Hopkins (he of such experimental comics genius as Explosive Sweet Freezer Razors) and Martha Hopkins founded Absolute Collider Press as a father/daughter enterprise. One which has rapidly expanded as more family members have joined the fun and other creators have been invited into the fold. One of the latter is Anastasia Hiorns whose abstract comic Shedding makes a fine fit for ACP given Hopkins Senior's medium-pushing practice in that area.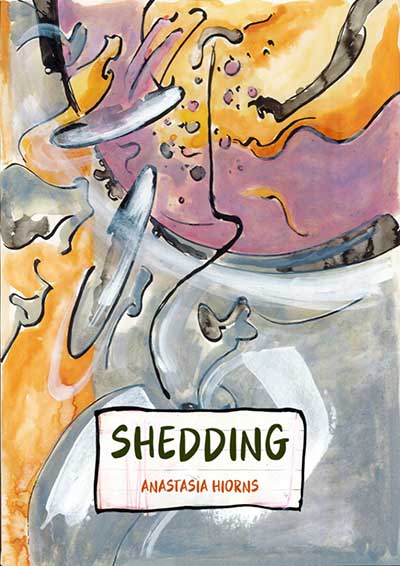 Subtitled 'Visual remnants' Shedding is the kind of work that embraces the oblique and asks the reader to find/interpret/construct their own narratives in its pages. While Hiorns makes use of traditional panel-to-panel storytelling the expressionistic, indefinable images they contain ensures this is a reading experience that eschews clarity in favour of reader interaction. Not so much communicating a narrative as acting as a catalyst for one, with each reader no doubt inferring very different things from its loose and dreamlike visuals.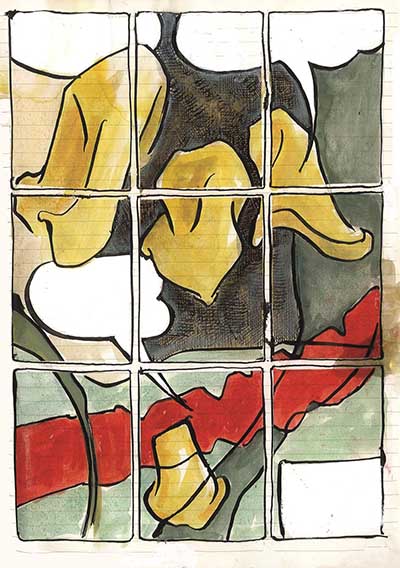 There are characters of sorts but they're amorphous and unknowable entities whose form and substance shifts and mutates through the often double-page spreads collected here. We know they're interacting because of the empty word balloons we see emanating from their direction but the nature of those communications is left to us to consider on an instinctual nature, as is the flow and (un)realities of events on the page.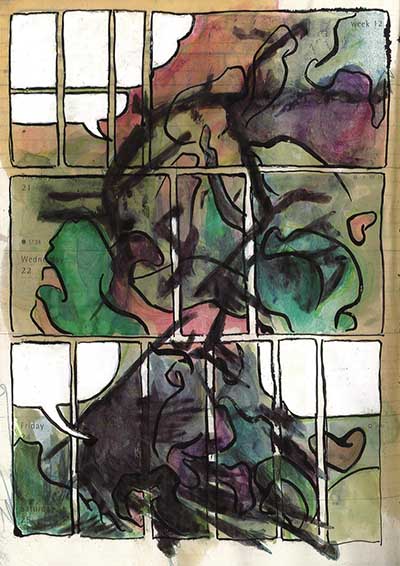 Hiorns' colour choices also doubtlessly affect the way the reader responds emotionally to each strip, and the use of what appears to be cast-off notepad/photocopy pages that include scribbled notes or the ghosts of scanning only add to that odd sense of the incongruously surreal being rooted in the mundanity of the everyday; a kind of meta collision of the otherworldly and the banal. Shedding is just one of a number of unpredictably esoteric publications available from Absolute Collider Press at Thought Bubble that you absolutely need to check out.
Anastasia Hiorns (W/A) • Absolute Collider Press
Visit Absolute Collider Press here
Absolute Collider Press are at Table F9 in the Bubbleboy Hall at Thought Bubble 2023
Review by Andy Oliver