Captivating, endearing and brilliantly absurd.
Published collaboratively between Germany's altcomics outfit Rotopolpress and Blank Slate Books in the UK, Pimo & Rex is the creation of German artist Thomas Wellmann. Following the adventures of struggling novelist Pimo Huerte and his best chum, chef Rex Iman, it's one of those offerings that invites you into an already fully-realised fantasy world operating by its own established esoteric rules and peculiar societal logic.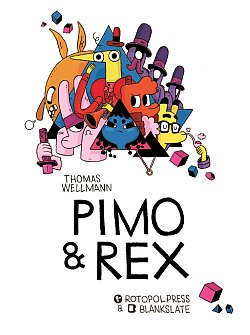 In the first of the two stories in this volume, Rex's celebration of his upcoming marriage to fiancé Leopold is swiftly followed by the duo becoming embroiled in the schemes of an insane necromancer who is obsessed with becoming a fine artist. Can Pimo and Rex rescue Magret, the magic muse he has captured for that purpose, and liberate her from the evil magician's remote woodland castle? Backing this up the pair find themselves in more slapstick scrapes when Pimo becomes the victim of a relentless pursuer – a dogged librarian who will stop at nothing to reclaim a rare overdue book that he has lost.
It goes without saying that the lunacy of the fictional environment that Pimo and Rex exist within is one that the reader would be foolish to analyse too deeply. Much of the charm of the book is in the exploration of this realm of odd, indefinable, anthropomorphised creatures where the archaic sits side by side with the progressive, and the stuff of fairy tale is common currency. Just immerse yourself in it and let it gently carry you away in its wonderfully nonsensical flow.
At its core, though, Pimo & Rex has a very simple premise buried beneath all those outlandish trappings and the childlike glee that is pushed to the forefront of the narrative: the simple concept of friendship. In his protagonists Wellmann spotlights two immensely likeable characters, made all the more relatable to the audience by both their very human foibles and their enduring loyalty to each other.  It's a classic double act in many ways, with Rex playing the straight man to Pimo's more erratic, reckless persona.
Vivid colouring – often in rich autumnal hues – brings the characters' misadventures to life with a distinctive flourish. It's particularly effective in the first story with noticeable contrasts in colour signalling the transition between scenes and locations, resulting in a change of mood and atmosphere. In terms of panel structure Pimo & Rex has something of a feel of those bandes dessinées aimed at a younger audience.  Tightly panelled pages full of frenzied action are interspersed with intricate full or double-page spreads that the eye doesn't want to leave because there's just so much detail to relish and be absorbed there. In that respect I was continually reminded of Lorenzo Etherington of the fabulous Etherington Brothers. Their styles may not be entirely similar but both artists have an incredible knack for keeping the audience transfixed on their elaborate and busily constructed pages.

As much of a champion of previously self-published or up-and-coming creators as Blank Slate are, it's sometimes easy to forget how much translated European comics material they have brought to us over the last few years – particularly a number of German graphic novelists. From multiple Mawil comics to Peggy Adam's gripping Luchadoras, Oesterle's Hector Umbra to  Randall C's dreamlike Sleepyheads, they've introduced as to all manner of diverse approaches to the form that may otherwise have been denied an English release. Pimo & Rex is a welcome addition to those BSB ranks. Captivating, endearing and brilliantly absurd, I sincerely hope the wait for another volume of the exploits of this unpredictable pair of pals is not long in coming.
Thomas Wellmann (W/A) • Rotopolpress/Blank Slate Books, October 2013, £11.99