We have an exclusive (unsurprisingly!) preview today from Broken Frontier team member Jenny Robins from her new self-published comic Poogurtory, a spin-off from her lauded debut graphic novel Biscuits (assorted), published by Myriad Editions. It follows two of the breakout characters from that book – the scatalogically obsessed Rosa and Danni – through the pandemic via their phone texting conversations. Inventive in presentation, and full of the amiable observational humour that made Biscuits such a hit, it's a welcome return to the book's world and its characters.
It's also an excellent piece in terms of recording the everyday realities of the pandemic; those smaller but no less human moments that readers will encounter in these pages with a resonant familiarity. It's a story of adapting to a new way of life, watching the world you know changing fundamentally around you, dealing with the existential angst wrapped up in a major global event, and the importance of comparing your poo with a good chum. And it's also Jenny Robins at her irreverently witty best.
Here's how Jenny describes the book:
Rosa and Danni are some of the most often commented on characters in Biscuits (Assorted). People often confide in me that they too, have a poo friend, or wish they did. Anyway this is some extracts of what they got up to in the Covid times. It is not particularly inspirational. I see it rather as a record of an imagined, fairly adequate, friendship. And really, what more can many of us really hope for in this life? It may also help as a reminder, if you've forgotten when in the pandemic some things happened. Not all the things, but definitely some of them. 
Poogurtory is available to buy online here for £4.50 in print or here for £2.75 in digital format.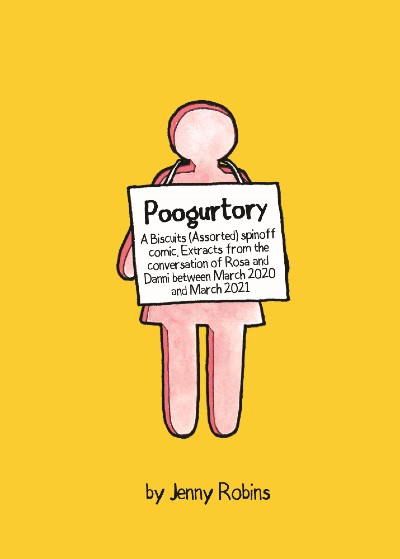 You can also buy Biscuits (assorted) here
For more on the work of Jenny Robins visit her site here and online store here. You can follow her on Twitter here and Instagram here.
Blog by Andy Oliver