Press Release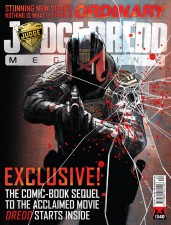 2000 AD isn't really known for stories involving superheroes, but they've got a new series starting next week which not only has a unique take on the genre, but is also creator-owned, and will be available day-and-date digital worldwide next Wednesday.
This is Ordinary – the next creator-owned series debuting in the monthly Judge Dredd Megazine next week by Rob Williams (Iron Age, Ghost Rider) and Matt "D'Israeli" Brooker (SVK, Lazarus Churchyard).
Ordinary will begin in Judge Dredd Megazine #340, which will be available digitally through the 2000 AD iPad app, DRM-free from the 2000 AD webshop on 18th September, and in print from all good retailers.
What if one day everyone on the planet woke up with superpowers? Except one. Middle-aged divorcee plumber Michael Fisher is from Queens, New York. And has just become THE most ordinary man in the world. But super powers don't lead to utopia – suddenly every argument, every slight, every  crime on the planet leads to massive loss of life, and it soon becomes clear that a cure needs to be found for this plague if humanity is to survive. And the cure is inside Michael, who quickly becomes the most wanted man on the planet
The Megazine's creator-owned slot promotes the best new work by some of the industry's top talents and was already the first to publish Andy Diggle and Jock's Snapshot, later reprinted by Image Comics, and Simon Spurrier and PJ Holden's Numbercruncher (recently collected by Titan Comics).
Creators publishing stories in the Megazine's creator-owned slot receive both a page rate AND full control of their property.