Titan Comics has provided BF with preview art to Issue #3 of their A1 anthology, which hits comic stores next Wednesday, August 14th, 2013.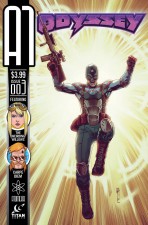 A1 #3
Issue Number: #3 (OF 6)
Page Count: 32pp
Full Color, B&W, or partial color: FC
Publisher: Titan Comics
Cover Price: $3.99
Release Date: August 14, 2013
Writer(s): Dave Elliot, W.H. Rauf
Artist Name(s): Barnaby Bagenda, Sami Basri, Sakti Yuwono, Jessica Kholinne, Garrie Gastony, Rhoald Marcelius
Synopsis:
Frankenstein's Monster is in the Weir and the angry mob greeting him with pitchforks and flaming torches are Mice, Weasels and Rabbits.
From World War 2 to Iraq, you'll always find Blazing Glory in the thick of it. But after 60 years of combat he's starting to question what he's doing and why.
An extremely out-of-shape video game freak assembles his own army of gamers and plans a hit on a well-loved politician.
The reason? Said politician made a really disparaging comment on the nutfreak's favorite game. Carpediem vs an army of vengeful nerds!