Titan Comics provided BF with info on Next Wednesday , which sees the release of A1 anthology #4.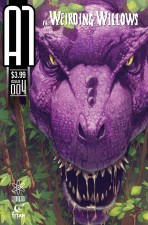 A1 Anthology #4
Issue Number #4 (of 12)
Cover Price: $3.99
Release date: September 11 2013
Writer(s): Dave Elliot, W.H. Rauf
Artist Name(s): Barnaby Bagenda, Sakti Yuwono, Jessica Kholinne, Garrie Gastonny, Rhoald Marcelius
Synopsis:  WEIRDING WILLOWS: There's a dinosaur from Hollow Earth loose in the Weir and she's eating Farmer McGregor's sheep! Can Alice and Frankenstein's Monster stop her – before McGregor puts down this purple T-rex for good?!
ODYSSEY: What do you get when you cross soldiers, superheroes, supervillains with a truckload of guns, in a children's hospital in Iraq?! This month's ODYSSEY, that's what!
CARPEDIEM: NINE IRON
Grab your woods and irons, and join the CarpeDIEm agents as they battle a haunted putt-putt golf arena – where deadly surprises wait in every hole!