Top Cow has provided BF with a preview to Darkness #116, the series finale of the ongoing title, in stores December 11, 2013.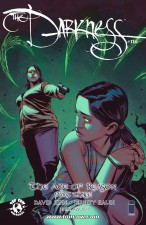 Darkness #116
Story By: David Hine
Art By: Jeremy Haun
Price: $3.99
Diamond ID: MAY130549
Published: December 11, 2013
As The Darkness virus becomes a citywide epidemic, the Old Gods run rampant. What will it take for Jackie Estacado to reclaim the Darkness from his nefarious Doppelganger?