Titan Comics has provided BF with a preview to Preview: Dr. Grordbort Presents Triumph, in stores 4/15/2014.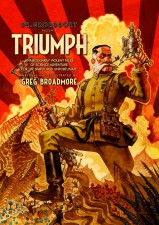 DR. GRORDBORT PRESENTS TRIUMPH
Greg Broadmore
on sale: 04/15/2014
Full-colour Hardcover
56pp
Price: $19.99
PREPARE YOURSELF FOR TALES OF TRIUMPH!
Since the first word was inscribed onto parchment, man has searched for tomes that lift the lid on the inner machinations of the human condition and reveal truths about humanity and its place in the universe – there are books that teach, books that inspire and books that offer a glimpse into our very souls. Triumph, on the other hand, is full of violence, bad language, interplanetary racism and a little sprinkling of smut… but you get what you pay for.