12-Gauge Comics offered Broken Frontier info and preview pages to their FCBD book featuring BOONDOCK SAINTS and debuting SHERWOOD, TX.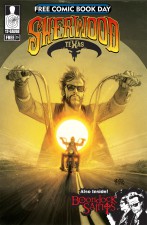 SHERWOOD, TX / BOONDOCK SAINTS Double Feature
Writer (SHERWOOD, TX): Shane Berryhill
Artist (SHERWOOD, TX): Daniel Hillyard
Co-Feature Writers (BOONDOCK SAINTS): Troy Duffy and J.B. Love
Co-Feature Artist (BOONDOCK SAINTS): Toby Cypress
Cover: Andrew Robinson
Price: FREE
32 pages
Synopsis:
A story older than all of us, told now for the first time…
After the same biker gang who murdered his father leaves ROB HOOD for dead, he returns to seek revenge on an epic, blood-soaked scale. Combining the biker gang epic with Spaghetti Western sensibilities, SHERWOOD, TX retells the legend of Robin Hood as a modern day, noir-action opus.  Hood is joined on his quest by Padre Elvin Tuck, Will Scarlet, and Little John, as they take on the crooked Sheriff of Nottingham, TX and his partners in crime, The Nobles biker gang and their leader John Prince.
Included in this 12-Gauge FCBD issue is a special BOONDOCK SAINTS co-feature, written by film-franchise creator/writer/director Troy Duffy and comic scribe J.B. Love, with art by Toby Cypress! Fans of the film series won't want to miss this short story/deleted scene from the original cult-classic film, as the MacManus brothers bring their brand of justice to the criminals of Boston, MA.