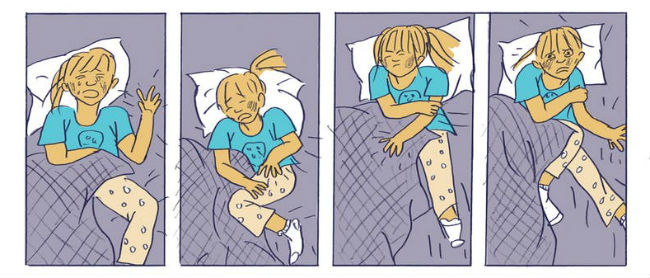 Three years ago at Broken Frontier I covered Sarah Lippett's graphic memoir Stan and Nan here; a comics record of the life of the grandfather she never knew and the grandmother she adored. It was our 'Comic of the Week' in its week of publcation and a book I described as "a revealing reflection on the relationships that guide our passage through life and the richness of the bonds of family."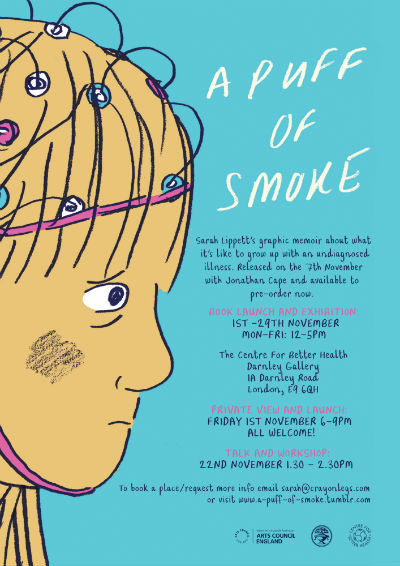 Sarah's new graphic memoir, A Puff of Smoke, debuts in November with an accompanying exhibition in East London. Falling into the graphic medicine side of comics its premise is described in the following terms:
When the headaches started, Sarah Lippett would stand alone on a different side of the playground from the other children. When she started to drag one of her legs, her parents took her to hospital, and so began the visits to many different doctors, each one more bewildered by her illness than the last. Initially schooled at home, when Sarah went back to school she was placed with the struggling kids, and still so often ill, she felt even more alone.
But although Sarah's parents often despaired of the stream of appointments and no cure, they never showed it and she grew up in the midst of a boisterous, loving family and foud good friends at last, as well as venturing into bands, art, boys, books and records. Finally, when Sarah turned sixteen, she was admitted to Great Ormond Street Hospital where the doctors diagnosed her with the rare disease, Moyamoya.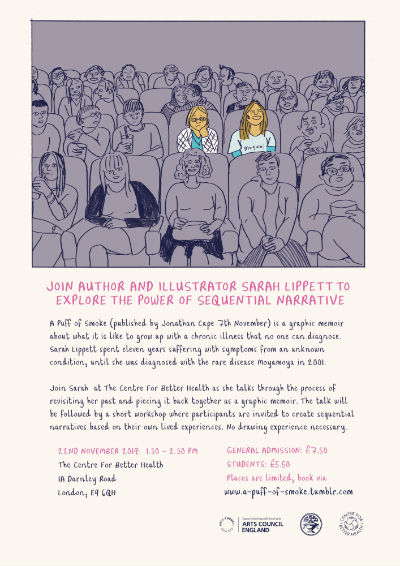 The exhibition and launch of A Puff of Smoke will be at the Darnley Gallery at the Centre for Better Health in Hackney. Sarah tells us the exhibition, which runs from November 1st-29th will consist of "some new comics that touch on the wider themes of the book, some process sketches from the making of the memoir, photographs and memorabilia." Those attending the first night launch event are also in for a chance of winning a copy of the book. You can do that on the Eventbrite booking page here. There's also a talk and workshop event on November 22nd that can be booked here where Sarah will discuss the book's creation and attendees can create their own autobio sequential art.
You can follow Sarah Lippett on Twitter here and on Instagram here.