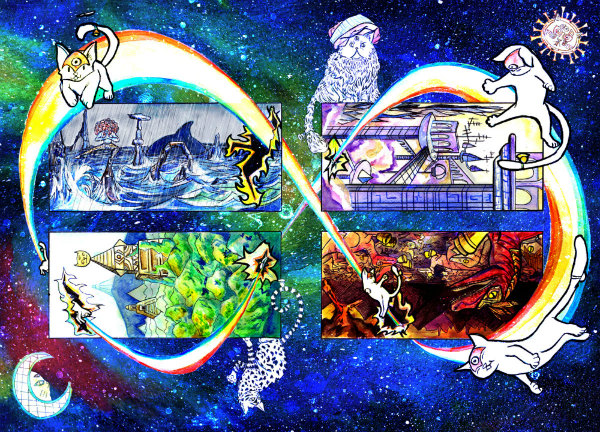 Earlier this year in my regular 'Small Pressganged' column I reviewed the first outing for irreverent animal spirit guide Kitty Jenkins in the memorably titled darkly comedic F*ck You! Kitty Jenkins here. That book was a product of London-based small press collective Backwards Burd (with contributions from de Sosa, Siobhan Alcaide, Sajan Rai and Shane Melisse) and I described the anthology then as one with "its own underground-style charm – a kind of trippy Viz vibe – and a never-takes-itself-too-seriously attitude that is not without appeal."
Kitty Jenkins was different to the average supernatural helper from beyond in that he took those he visited on journeys of spiritual enlightenment whether they wanted to go or not! Creator Daniel de Sosa is returning solo to the character in a new offering – the puntastically titled Purrvana – as the title character this time embarks on a journey through time and meowter space.
De Sosa describes the book as "a sci-fi gag comic influenced strongly by David Lynch's Dune, old Heavy Metal comics and the mysteriously popular phenomenon that is lolcats". With eight days to go Purrvana still needs a push to move it nearer to its ultimate target but it's certainly got my backing. If you want to check out more images and the rest of the Kickstarter rewards (including the possibility of starring in your very own Kitty Jenkins comic!) then visit the Kickstarter campaign page here.