It's almost Wednesday, and you know what that means: a fresh load of comics and graphic novels! With so many publications hitting your local comics store or digital storefront, the BF staff is here to lead you through the woods with our weekly staff picks. Satisfaction guaranteed.
Comic of the Week
March: Book Two
March: Book One, the first part of Rep. John Lewis's autobiographical trilogy, has already earned a status as a valuable teaching tool – no surprise given the author's involvement in some of the American Civil Rights Movement's most historic moments. But what transfers it to the realm of comic art is the subtlety and emotional strength that Lewis, co-writer Andrew Aydin, and artist Nate Powell strive for on each page.
In a medium where metaphor and hyperbole are par for the course, March shows that a single individual's actions can still have immense weight. This second volume picks up in 1960 as Lewis embarks on his path of nonviolent resistance, encapsulating the Freedom Rides and the momentous 1963 March on Washington.
Last week, Rep. John Lewis brought President Obama an early copy of this title during a White House screening of the film Selma. The Commander-in-Chief may have a well-documented love of Spider-Man and Conan the Barbarian, but this gesture is still indicative of the cultural significance that Lewis, Aydin, and Powell's autobiographical trilogy-in-the-making has already achieved—a significance which should only grow stronger with this next volume.
John Lewis & Andrew Aydin (W), Nate Powell (A) • Top Shelf Productions, $19.95
– Paul Mirek
Powers #1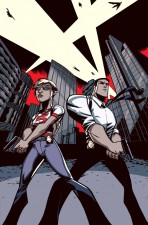 Brian Michael Bendis and Michael Avon are back with the fourth volume of their Eisner Award winning series just in time for the debut of the long-awaited Powers TV show.
Christian Walker and Deena Pilgrim are homicide detectives who are assigned cases specifically involving powers. If a superhero falls dead from the sky or a super villain is found dead in the gutter, it's up to Walker and Pilgrim to solve the case. But having barely survived the most harrowing case of their careers and discovering government corruption of the highest level, Walker and Pilgrim are now faced with the most difficult decision they've ever had to make.
This double-sized first issue is the perfect jumping-on point for new readers. As a special bonus, it includes an exclusive behind-the-scenes look at the making of the Powers TV show with never-before-seen pictures from the set.
Brian Michael Bendis (W), Michael Avon Oeming (A) • Marvel Comics/Icon, $3.99
– Tyler Chin-Tanner
First Year Healthy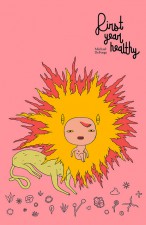 Of the current crop of alternative cartoonists, probably none has their work as eagerly awaited as Michael DeForge. And, after a characteristically productive 2014, his first print publication of the new year is this mesmerising little fable about the increasingly hallucinatory life of a young woman recovering from a bout of mental illness.
This is a small but beautifully produced hardback that moves beyond the usual comic form. It looks a first glance like an illustrated children's book, but it exhibits another idiom in which words and pictures create a synergy and become something bigger than the sum of their parts.
First Year Healthy blends DeForge's trademark style and imagery with a touching narration that tackles folklore, attitudes towards mental health and the complications of family and personal relationships. And while it might not be his most substantial work, it bears the mark of a singular talent who probably embodies the current state of the art.
Michael DeForge (W/A) • Drawn and Quarterly, $14.99
– Tom Murphy
Burning Fields #1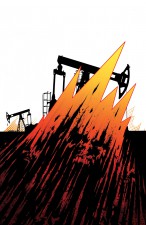 Last year, Michael Moreci, Tim Daniel and Colin Lorimer united for the horror mini, Curse, a story their publisher was so pleased with that they decided to greenlit the team's new horror project.
Burning Fields revolves around the dishonorably discharged Dana Atkinson, who gets persuaded by a former colleague to return to the Iraqi oilfields to investigate a series of bizarre murders. Together with a local detective, she soon finds out that what's happened to the victims was not done by the hand of man.
This eight-issue series combines mythic horror with private detectivery in a military setting from a trio of on-the-rise creators. Do check out the other work they've done: Roche Limit (Moreci), Enormous (Daniel), UXB (Lorimer) and of course, Curse.
Michael Moreci & Tim Daniel (W), Colin Lorimer (A) • BOOM! Studios, $3.99
– Frederik Hautain
F*ck You! Kitty Jenkins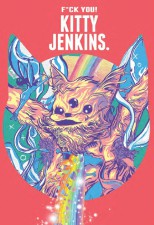 Launching at London's Gosh! Comics this Friday 26th January, F*ck You! Kitty Jenkins is the first long-form work from small press collective Backwards Burd. Kitty Jenkins is an animal spirit guide with a difference – he takes people on spiritual journeys regardless of whether they actually have any interest in going or not, and on the way dispenses cryptic, often meaningless life advice before leaving them in a far worse position than they were before they met him. You can read a full advance review of the book here at Broken Frontier.
Funded by a Kickstarter campaign last year, F*ck You! Kitty Jenkins is a compilation of around 100 pages of strips. The humour is a mix of the gratuitous, the bizarre and the trippy, giving creators Siobhan Alcaide, Shane Melisse, Daniel De Sosa and Sajan Rai free rein to flex their comedy comics muscles in an ever morphing variety of genre parodies. A suitably irreverent introduction to the off-centre sensibilities of the Backwars Burds team.
Siobhan Alcaide, Shane Melisse, Daniel De Sosa and Sajan Rai (W/A) • Backwards Burd, £10.00
– Andy Oliver
Ivar, Timewalker #1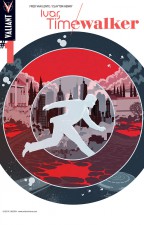 Fred Van Lente and Clayton Henry set their sights on the oldest of the Ani-Padda brothers, Ivar, in a new ongoing series seeking to catapult the Timewalker to new heights of cross-time adventuring. Having enjoyed critical and popular success as the architects of Archer and Armstrong, Van Lente and Henry peek behind the veil of mystery surrounding Armstrong and Gilad's (the Eternal Warrior) time-traveling sibling.
This latest title in Valiant Entertainment's Valiant Next initiative provides a wonderful jumping-on point for new and old readers alike, presenting a new suave, devious, and powerful iteration of Ivar, who embarks on a quest to save the universe from a young physicist's life work.
Fun, fast-paced, and smart, this rollicking adventure explores the past, present, and future of the Valiant Universe, while digging deeper into one of its most ancient and mysterious players. What secrets does Ivar hide in his past and how does his origin tie into a dark future for the entire universe?
Only time will tell…
Fred Van Lente (W), Clayton Henry (A) • Valiant Entertainment, $3.99

– Jason Wilkins
Rumble #2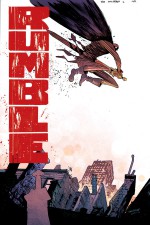 This new series is so good I had to recommend it two months in a row. While the first issue really grabbed readers attention with its eerie vibe and the introduction of Rathraq, the scarecrow warrior god, this second issue does a lot to round out the storyline and develop the characters in the supporting cast.
Last week, Bobby LaRosa was miserable—miserable with his dead-end job, his callous ex-girlfriend, and his lazy, loser skinhead buddy. This week, it's all sword-swinging scarecrows, guts-dripping demons, a giant bog mummy, and six headed monsters! Right now, last week's not looking too bad. You get some answers, more questions, and a whole lot of crazy in the second issue of Rumble.
John Arcudi (W), James Harren & Dave Stewart (A) • Image Comics, $3.50
– Tyler Chin-Tanner
Batman and Robin #38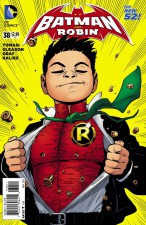 In a title that could aptly be called, "Damian Wayne 2.0," the creative team of writer Peter J. Tomasi and artists Patrick Gleason and Mick Gray launch a whole new Robin into the DC Universe.
Among the DC writers, it wasn't exactly a secret that Grant Morrison was going to kill off Damian at some point. But there was quite a hole in the Bat family when he did, and that included what to do with the Batman and Robin title.
Fortunately, a series of guest heroes filled in for the boy wonder as the grieving Batman worked to uncover the mystery of who stole Damian's body. When Batman and Robin #37 hit the shelves almost a year and a half after his departure, Robin had returned. In Robin Rises: Alpha #1, readers learned that Damian has powers. So as the journey to bring him back ends, the discovery of what this new version of DC's brattiest 10-year-old ex-assassin can do begins.
Issue #38 opens a new chapter in the dynamic between Batman and Robin, and also between Bruce and Damian. If the kid was a behavior case before, we get the feeling that this creative team has only scratched the surface of how obnoxious and effective a super-powered Robin can be.
Peter J. Tomasi (W), Patrick Gleason and Mick Gray (A) • DC Comics, $2.99
– Karen O'Brien