The introduction to the striking Movements and Moments anthology makes an interesting point that doesn't often crop up in discussions about comics. It points out that while there have been more graphic novels by women in recent years than ever before, mainstream artists and creators continue to get more attention than writers and illustrators representing 'feminisms' of the global South.
Movements and Moments began at a 2018 feminism and pop culture conference in Berlin, following an open call from the Goethe-Institut Indonesien. A follow-up meeting in 2019 prompted the proposal of an archive for feminist endeavours, which a grant in 2022 eventually made possible. 325 applicants across 42 countries sent in their stories, of which 16 were eventually selected. The book holds eight of them, with the rest now available online.
Like any collection that brings together disparate voices and styles, this is a mixed bag, both in terms of subject matter and approach. What ties them together is a spirit that moves through these protagonists, empowering them in struggles for gender equality, the environment, or against the debilitating effect of colonialism.
Illustrator Nina Martinez, with non-profit feminist Gantala Press from the Philippines, uses a strict palate of just two or three colours to shine a light on the systematic oppression of the Cordillera people and failed Chico River Dam Project under the regime of dictator Ferdinand Marcos. From Ecuador, the story of 'Mama Dulu' by artist Cecilia Larrea and actress Citlalli Andrango introduces us to Mama Dolores Cacuango (1881-1971) from the northern Ecuadorian Andes, who spent her life fighting to give indigenous people the right to land that originally belonged to them.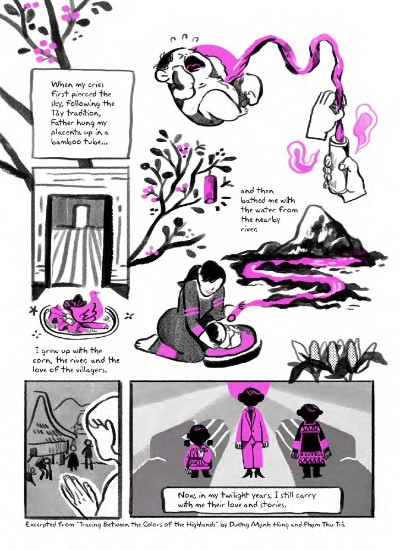 With 'Shanti: Beyond the Veil', illustrator and designer Bandana Tulachan from Nepal shares her story of writer and poet Shanti Chaudhary, using it to show how women from the Tharu community have historically been marginalized. 'Tracing Between Colors of the Highlands' by Vietnamese writer-translator Du'O'Ng Manh Hung and illustrator Pham Thu Tra, is more a series of reminiscences than a story of struggle, but explains some of the sociocultural practices and rituals of different ethnicities in the Central Highlands in a simple, straightforward manner.
Journalists Greta Di Girolamo and Consuelo Terra from Chile share the story of Millaray Huichalaf, healer of the Mapuche Indigenous commune in Chile, and her community's resistance against a Norwegian company building hydroelectric plants and threatening the delicate ecosystem they call home. From Peru comes the story of educator and activist Helen Quiñones Loaiza, brought to life by graphic designer and illustrator Trilce Garcia Cosavalente. It is a curious mix of myth, memoir, and history, about people rarely talked about.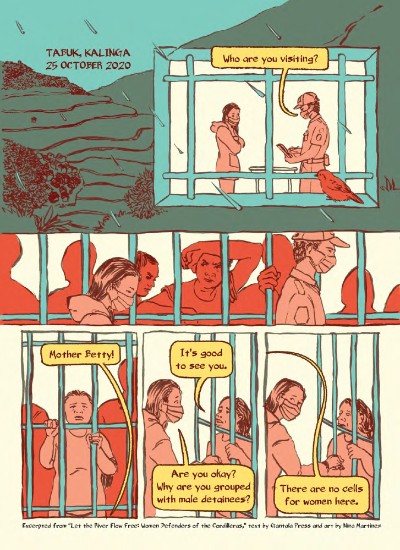 The two most colourful tales come from Bolivia and India. Representing the former are visual artists Vanessa Penuela and Cesar Vargas, who use the vivid colours and costumes of their land to tell us about the anarchist cholas, a group of women unionists in the first half of the 20th century. From India, artist and storyteller Chandri Narayanan teams up with illustrator Sadhna Prasad for a more personal feminist story of acceptance, deploying the gorgeous tones of South India for a story of immigration from Tamil Nadu to San Francisco.
Movements and Moments is a great beginning of sorts, not only because it helps draw attention to people and places often written out of mainstream narratives, but because the presence of a publisher like Drawn & Quarterly can hopefully inspire other major publishers to take a chance on stories waiting to be told.
Anthology – Various creators Drawn & Quarterly, £29.95
Review by Lindsay Pereira