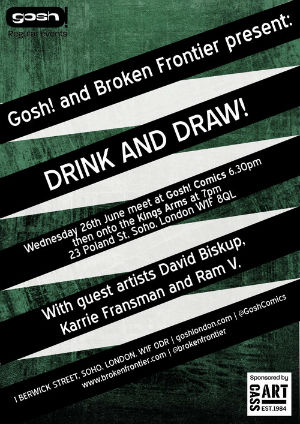 Can it really be four years? Our next Gosh! Comics and Broken Frontier Drink and Draw! marks the fourth anniversary of London's favourite comics social. As ever, we have a tiptop trio of comics creatives on Wednesday June 26th joining us for our regular monthly meet-up, sponsored by Cass Art. This time around Karrie Fransman, Ram V and David Biskup will join in the party celebrations!
You can find us upstairs in The King's Arms on Poland Street and, as ever, your co-hosts for the night are myself (Broken Frontier Editor-in-Chief Andy Oliver) and Gosh's very own Nora Goldberg. The fun begins at 6.30pm at Gosh! on Berwick Street before we head off for our sketching and drinking antics at 7pm. Don't forget you can join the official Facebook event here.
Let's introduce you to our guests for this anniversary extravaganza…
Multiple Broken Frontier Award-winning Karrie Fransman has been a long-time fixture at Broken Frontier since we reviewed her first graphic novel The House That Groaned on the old BF site here in 2012. Karrie's work is often experimental, taking the medium in new directions, as seen in her acclaimed graphic novel Death of the Artist (below) which presented its chapters in a variety of mediums.
Karrie has also been involved in a number of projects spotlighting the refugee crisis including Over Under Sideways Down with the Red Cross and the "zoom comic" North Star Fading (below) from PositiveNegatives.
Ram V is one of the fastest rising stars of the comics world! We first met him at a Gosh! and Broken Frontier Drink and Draw just a few short years back and since then he's gone on to write such hits as the dystopian sci-fi epic Paradiso from Image Comics (covered here at BF) and the remarkable team effort Grafity's Wall, a graphic novel from Unbound telling the story of a young group of friends in Mumbai. Ram is also the writer of These Savage Shores from Vault Comics and has been exploring the DC Universe in a number of books including Catwoman and the upcoming Justice League Dark Annual.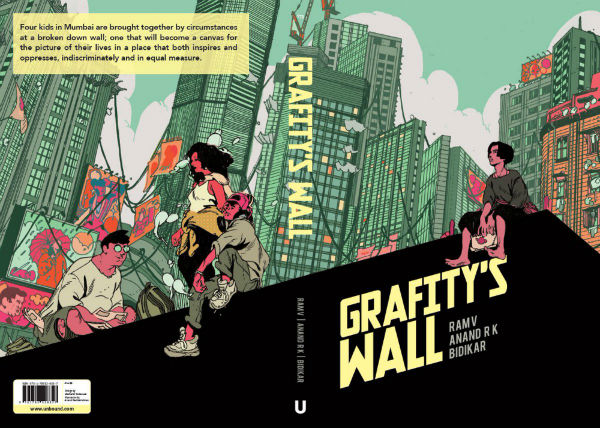 And, finally, we have the winner of the recent ELCAF x WeTransfer Prize – David Biskup! We were absolutely delighted for David when he scooped that award at this year's ELCAF. David is one of the unsung geniuses of UK indie comics with books like Seagram (below) which interweaved graphic medicine with the live of artist Mark Rothko.
We've also covered his touching account of Obama's last days in office in @potus and recently looked at his Brief Encounters (below) bringing together real life figures from cinema and history. We can't wait to see his new comic at ELCAF 2020.
Join us on Wednesday June 26th, then, for another fun evening of drinking, drawing and comics camaraderie. We kick off at 6.30pm in Gosh with a chance to get hold of signed comics and books from all our featured creators before moving over to The King's Arms for 7. We look forward to seeing you then!
The Facebook event page for the night is here.