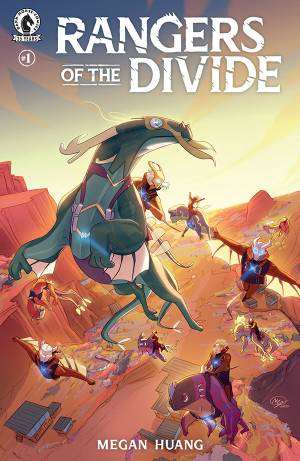 Creator Megan Huang (Princeless, Jia and the Nian Monster) launches a promising sci-fi/fantasy adventure with Rangers of the Divide. The nations of Veil and Ryllion are continuously at war, yet they are united by an ancient military order—the Rangers of the Divide, charged with the protection of the vast region separating the warring factions. The Divide is a wondrous territory of mountains, plains, waterways, and the fascinating creatures dwelling there. Huang's delightful art launches us into this bright world from the first page, but overlaying the beauty of the Divide's imagery is the foreboding narration of the Commander. He arrives at the Ranger station only to learn that all the adult Rangers mysteriously departed, leaving behind a small group of young cadets—a group he needs to train fast.
While the plot isn't new, Huang's smart mix of sci-fi technology and dragon adventure makes for a compelling page-turner. There's urgency and duality in the Commander's mission, he's facing a "big bad" and needs immediate assistance—but that help is in the form of six raw individuals that must now function as a well-oiled team. One issue isn't enough time for much character development with a large cast, but the training sequences reveal a lot about these recruits and the Commander's ongoing narration provides his own motivation. "It's a tale about unbreakable bonds and how far people are willing to go to get what they desire," Huang said.
Huang's dragon concept is sleek, dynamic, and borrows enough—but not too much—inspiration from the flying creatures of Avatar and How to Train Your Dragon to be distinctive yet plausible for this world. The Ranger concept includes Iron Man-like helmet displays, and their flight suits include fold-out arm wings and a maneuverable tail. They're great, complementary designs. Although we receive only a cursory introduction to the dynamics between dragon and Ranger, it's clear that the relationships among the human characters won't be the only ones explored in this title.
Huang's animation-inspired art shines in the world-building establishing shots and becomes deliberately disjointed during the action sequences as the smooth cinematic qualities of earlier scenes give way to the frantic, uncoordinated fighting methods of the untrained cadets. The panels provide rapid clips of the action, which was confusing to follow, much like a real fight would be in real time for the participants. The smooth pacing returns when the cadets function as a real team and the fight ends.
You'll leave this title wanting to know more about the Rangers, their new mission, and this wondrous world. Make plans now to pick up the next issue.
Megan Huang (W/A/C/L), Kathleen Barnett (D) •  Dark Horse Comics, $3.99
Review by Karen O'Brien