Divinely shocking yet devilishly good…what better way to describe James Turner's satanic, stylish chronicle of a revolt in Hell?
Fan-favorite creator James Turner's (Rex Libris) latest project is sure to rub people the wrong way. Never one to shy away from controversy, Turner's Rebel Angels is a sprawling, rousing saga set against the backdrop of an infernal war in Hell. Turner's creative mandate becomes immediately evident right from the story's opening sequence depicting a young demonic couple's ill-fated attempt to escape Damnation. In a scene promising to have dire implications down the road, Turner drops the reader right into the meat of his sinister campaign into the depths of Hell's singular hierarchy.
Pervaded by cartoonish design and exaggerated violence, Turner's Hell-spawned epic nevertheless owes much of its inspiration to classic literary works such as Dante's Divine Comedy and Milton's Paradise Lost. Chronicling the quest of self-discovery of a young, disillusioned demonic knight Balthazar Venomfang, Rebel Angels in many ways is an exercise in juxtaposition. Turner takes great pains to immerse his audience in his version of Hell, an infernal, eternal landscape of kaleidoscopic Stygian architecture populated by a staggering array of demonic personages. Yet despite the dizzying, labyrinthine cityscapes and grotesque menagerie of the damned, he also presumes to draw unexpected parallels to many of the complex socio-cultural issues vexing us mere mortals on the earthly plane.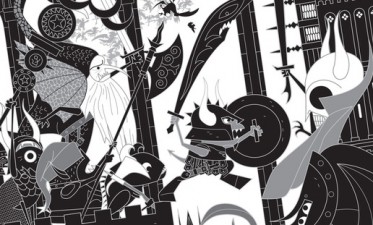 This is a comic permeated by Turner's arch cynicism and informed by an intellectual – and at times laugh-out-loud funny – social discourse that challenges his readers' perceptions on a number of societal ailments including class inequality, corrupt government bureaucracies, and an overall lack of basic civil liberties. Turner refrains from preaching here, delivering his running commentary via a cohort of comedic demonic foils whose numerous frustrations and trials garner as many chuckles as they do sympathetic nods. If Balthazar himself remains a little under-developed, Turner drops enough hints about both his glorious past and uncertain future that he remains an intriguing, if unreliable, protagonist.
Rebel Angels' greatest strength is its utterly unique visual tone. Relying only on varying line weights, styles, and levels of intricacy and an intuitive understanding of contrast, Turner succeeds in creating a singular vision of Hell that impinges on one's moral compass even as it assaults the inner ear, throwing us off balance both physically and metaphorically. There's an underlying, infernal logic at work behind the distracting chaotic profusion of parallel lines and right angles that only complements the innate tension of a demonic revolt in Hell.
Smart, technically brilliant, and infused with a jagged, sharp-toothed cynicism that burbles under the surface of every vertiginous panel, Turner's Rebel Angels should probably come with a disclaimer warning that it may cause seriously funny discussion about the nature of religion, faith, and social equality.
James Turner (W,A) • SLG Publishing, TBA, TBA.