Regular Broken Frontier visitors will know we're huge fans of what publisher Rebellion have been doing with the classic British IPC characters since they began acquiring the rights to so many of them a couple of years back. Whether it's the handsome Treasury of British Comics collections like Marney the Fox or Ken Reid's Creepy Creations, or new takes and re-imaginings in the Scream! and Misty Special and The Vigilant, we've been giving them regular coverage on the site over the last year or two.
An exciting press release today, then, from Rebellion who have announced a Cor! and Buster Special for Easter. The one-shot will feature all-new material starring the characters from those two fondly remembered British humour anthologies. Buster originally ran from 1960-2000 with the titular schoolboy originally intended to be the son of newspaper strip character Andy Capp. Cor! lasted just four years between 1970 and 1974 and starred such favourites as Gus Gorilla, Fiends and Neighbours and Ivor Lott and Tony Broke.
I had the pleasure of interviewing the Special's editor Keith Richardson at London's Orbital Comics in 2017 and can assure you his enthusiasm for that era of countless comics on UK newsagent's shelves is boundless. The full press release and Neil Googe's cover is presented below.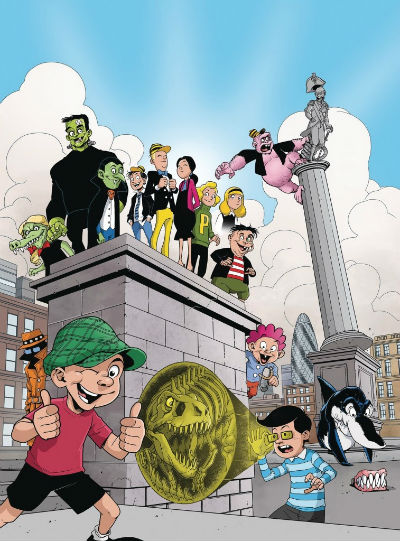 'Spring' into hilarity with the new Cor! & Buster Special!
The greatest characters from Britain's golden age of humour comics return this Easter for a one-shot celebration of daft and zany fun!
Rebellion Publishing is proud to announce the Cor! & Buster Special will be tickling your funny bone this spring and a whole new generation of readers are about to experience comics' humour at its finest!
The 48-page special will hit newsstands in the UK and Ireland, and comic book stores in the UK, Ireland, and North America, on 17th April, retailing at £4.99.
It will be the first use of the vast number of classic humour characters by Rebellion since it acquired the archive of comics publisher IPC and the Cor! & Buster Special offers new takes on some of the greatest characters from Britain's golden age of humour comics, with an edgy celebration of daft, zany fun.
From the world's naughtiest baby, Sweeny Toddler, to Gums, the most incompetent shark in the seven seas, this one-shot special will feature top comics talent including a cover by Neil Googe (The Flash), and strips by Ned Hartley (Star Wars), Cavan Scott (Doctor Who), Abigail Bulmer (2000 AD) and Tanya Roberts (TMNT).
The special will also complement Funny Pages, Rebellion's title for Free Comic Book Day on 4th May, which will be available for free from participating comic book stores around the world.
Editor on the Cor! & Buster Special, Keith Richardson, said: "Humour titles like Cor! and Buster were a massive part of many a childhood but have been sadly missing from the newsstand for years – the time is ripe to bring these amazing characters back for a new generation. Just at a time when many kids will be on their Easter break, this special will introduce them to some of our favourite classic characters, but all with a modern twist. For us, it's time to put the comical back into comics!"
Humour comics were once a constant staple of the British newsstand, with dozens of titles filled by some of the industry's greatest talents, such as Leo Baxendale and Ken Reid. IPC/Fleetway titles such as Cor!, Buster, Whizzer and Chips, and Shiver and Shake entertained generations of children for decades. They were part of the acquisition by Rebellion of arguably the world's largest archive of English-language comics in 2016 and 2018.