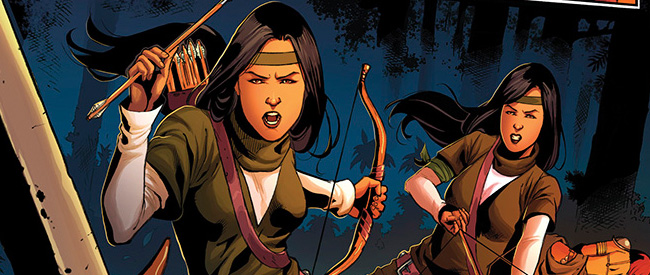 A new era begins for the She-Devil With a Sword as fan-favorite writer Gail Simone begins her run on the series.
After defeating the army of Zamora, a victorious king finds two women, tortured and half-dead, in a dungeon. Rather than granting them a quick death, he spares their lives and sets them free. Months later, King Dimath finds his city ravaged by plague and a furious Zamoran military out for revenge. He seeks the help of one whose life he spared – Red Sonja, the legendary Hyrkanian swordswoman. With the Zamorans and their supernatural allies nearly at the gates, Sonja must teach a ragtag group of peasants, women, and children to be warriors…before it's too late.
Writer Gail Simone has a self-professed love of the sword and sorcery genre and it's entertaining to see her fully embrace such a setting. This is a far cry from the superhero work she's usually known for yet all the hallmarks of her style are present. As ever, Simone does an admirable job of blending drama, humor, and strong characterization in her script, giving us memorable moments with an honorable king, a group of misguided thieves, and a pair of twin sisters more proficient at slaying rabbits than enemy soldiers. Simone also has an excellent grasp on the character of Sonja herself. The defiance, pride, unshakeable sense of honor, and discomfort with the decadence of civilization and royalty all ring true to past depictions of the heroine. The only distraction is a slight penchant of Sonja's for referring to herself in the third person. The stage is set for a solid tale and an intriguing new character has been introduced to Sonja's world.
Walter Geovani's art seems well-suited to this type of story, giving us sprawling battlefields, elaborate armor, supernatural sea-beasts, and towering castle keeps. But it is in his characters' eyes that Geovani's strength as an artist truly shines. Rage, fear, pain, world-weary exasperation – all are conveyed quite powerfully and give the cast a palpable sense of emotion and life. Geovani also employs some dynamic camera angles and non-traditional panel structures that add to the drama. Colorist Adriano Lucas employs a slightly muted color scheme throughout, except in the garments of the upper classes and in Sonja's famous crimson tresses. The contrast works well and draws the reader's eye.
Red Sonja appears to be in capable hands with this new creative team and fans of the character and genre should find much to enjoy.
Gail Simone (W), Walter Geovani (A), Adriano Lucas (C) • Dynamite Entertainment, $3.99, July 17, 2013.