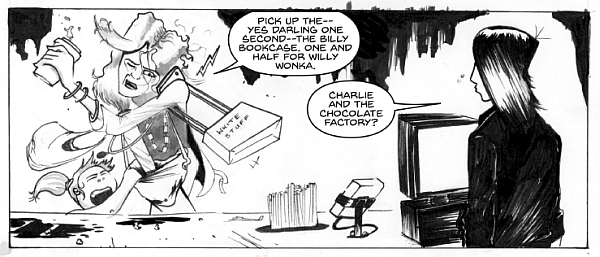 Last week I had the pleasure of chairing a panel discussion at London's Gosh! Comics focusing on the new graphic novel line from Unbound Books. It was an opportunity to chat to Lizzie Kaye who oversees Unbound's new line of graphic novels, their Head of Publishing Mathew Clayton, and two creators currently involved in Unbound's unique crowdfunding publishing model – Ram Venkatesan (Grafity's Wall) and Owen Michael Johnson (Reel Love).
The event acted as a natural follow-up to our recent interviews with Lizzie Kaye (here) and another of their graphic novelists Jessica Martin (here). Today we continue our look at Unbound's prospective new comics line with an interview with twice British Comic Awards-nominated Owen Michael Johnson (Raygun Roads, Beast Wagon) who returns to his semi-autobiographical Reel Love project (early issues reviewed here and here at BF). Join us as we talk about Owen's route into comics, cross-media convergences and what Unbound's unique crowdfunding structure offers creators…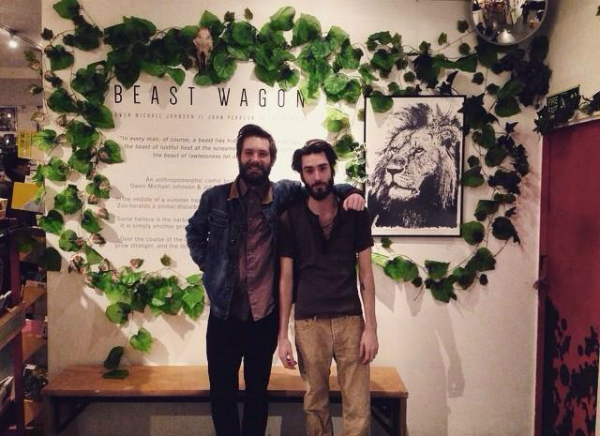 John Pearson and Owen Michael Johnson at the Beast Wagon exhibition at Orbital Comics
ANDY OLIVER: You've been involved in the comics scene from a variety of perspectives from both the creative and publishing sides of comics. Let's begin with a brief summary of Owen Johnson's journey into comics to date…
OWEN MICHAEL JOHNSON: I've been making mini-comics locally since 14. At 16 I began writing short genre stories for Accent UK anthology collections. I've organised conventions where I grew up in the Lake District (Carlisle's Megacon, the inaugural Lakes Comic Art Festival). For the last 5 years I've been marketing comics for Titan Comics and most recently 2000 AD which began with my directing the 2000 AD 40 Years Of Thrill Power Festival in February. On top of that I've maintained my own small press label, Changeling Studios. My main passion lies in comic book creation, as a writer and collaborator, and as a sole artist. When you stack it all up like that, it's kind of a lot! It's been a wild but exhausting few years.
You had early success with the British Comic Award-nominated Raygun Roads (above). Can you tell us a little about the premise of that psychedelic comics extravaganza?
The full title of the one-shot was Raygun Roads & The Infinity Loop Death-Trap of Ullysses Pomp. Raygun Roads is a fictional pop culture icon, and lead singer of cosmic punk band The Kittlelbach Pirates, who kidnap Vincent Paradise – the listless and unemployed teenager that invented them – to help him cure his own subconscious of a spiritual disease commanded by a villain who looks uncannily similar to Vince's job centre advisor.
We released it for free as a webcomic experience with interactive elements and original sound-track, and in print. It was a homage to punk, 70s head comics, Kirby, and a rage-cry about the state of the UK at the time, which hasn't seemed to improve since. That's when things got really weird. The band crossed over into our existence (see photos below). They play shows infrequently, when the world needs them.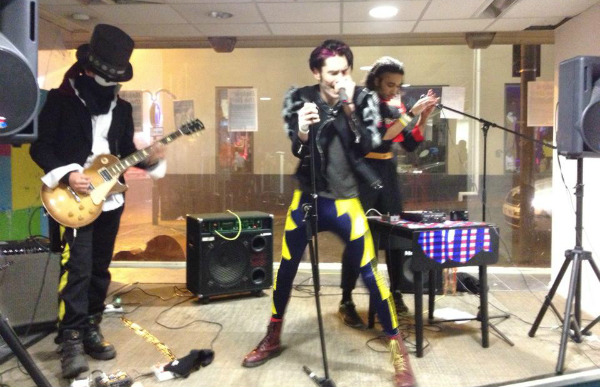 Over the years you've been known for those complementary multi-media or performance elements to your comics work. How does that feed into and enhance the wider narrative experience for your readers?
Theatre and performance has been important to me since an early age. At school I got a lot from the immediacy and spontaneity of physical theatre, and the local punk music community. It instilled in me a D.I.Y. ethos that has carried me through. The live event experience is something we're losing in the age of Netflix. We need to work to maintain that.
For me it's a huge amount of fun to create a fiction with room for adaptation into different media, and to be callow about it, it is different from how most comics are promoted. It all comes out of the content, the tone of what you're creating. I'd like to see more imagination in convention tabling, even for small press creators producing genre work. More theatre, or music, or short-film. You know who's great at story-led promotion? Fraser Campbell. Check out his stuff for Alex Automatic. Fake government files, action figures prototypes, secret lair exploded diagrams. It's so much fun and adds a sense of play for the reader.
In many ways much of what I do is because I feel quite trapped between two polars. I love the insular act of creating comics and being in control, but I get very restless and crave the rush of a live experience. I'm hoping to one day get around to a total mash-up of live theatre and comics, but it will really take some crafting and working with people far more comfortable in the world of theatre.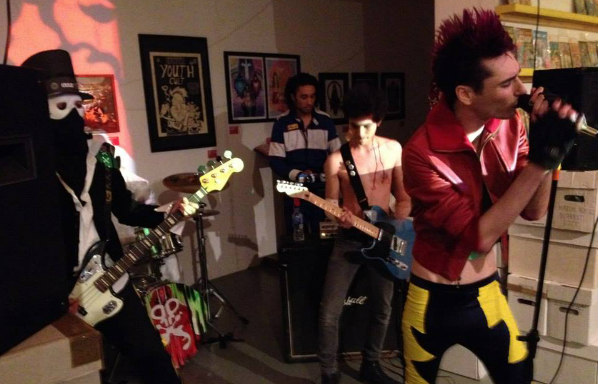 Beast Wagon (sample spread below) – also British Comic Award-nominated – recently wrapped up its run. What were the themes of that darkly comedic book and how rewarding has its reception been?
Beast Wagon as a concept was just about animals hating their zookeepers – just an anti-authoritarian animal rights rant. But in the act of actually making the series, it became about ecological disaster, toxic masculinity, sexual violence culture, incarceration, xenophobia and absurd, grim life in Britain circa 2016. For me, it became a book about the stress of those without control. Obviously we got that early boost of the BCA nomination for the first issue, which was pretty ridiculous because as you so rightly raised in your first review, it was a complete story masquerading as single issues.
We kind of discounted that nomination because it's too early in the process to judge anything. We just got our heads down. We were all working on it for nearly two and a half years so we weren't really aware of the impact until we raised our heads above the parapet at the end and found it had quietly become a cult favourite word-of-mouth success. Most genre comics blow their load on a first issue. I love the fact that the buzz of Beast Wagon built with every new issue.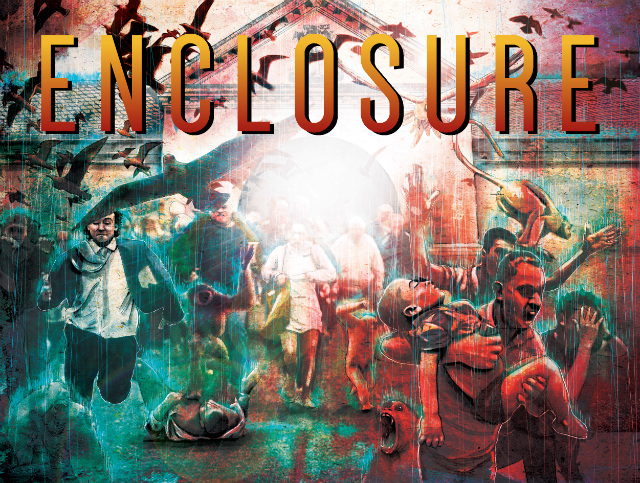 It was artist John Pearson's first foray into comics. What did he bring to the project in terms of its tone and how did Colin Bell's lettering enhance the book's taut atmosphere?
John astounds me and I'd like to think we'll work on many, many projects together in the future. We already have multiple ideas in the pipeline. We grew together on Beast Wagon. I could write comics but I learned how to write a series as he was learning to draw one. It was total collaboration on all aspects so we became very close. He's just an astonishing talent and brought this intensity and esoteric feel the book never would have had without.
There's this really special alchemy which is rare when you're working in such a visually prescriptive medium. We can do literary, and profane, and Pythonesque silliness, and horror. It's a more malleable experience than working with other artists because John's willing to try anything, to reinvent his technique if called for. The artistic shift on Beast Wagon is self-evident.
Colin quite simply made the book professional at a level we could not have achieved without him. Colin edited the book and was the third collaborator so his impact can't be understated. And he insisted I call the book Beast Wagon instead of my second choice of Enclosure, so Colin made sure we really dodged a bullet!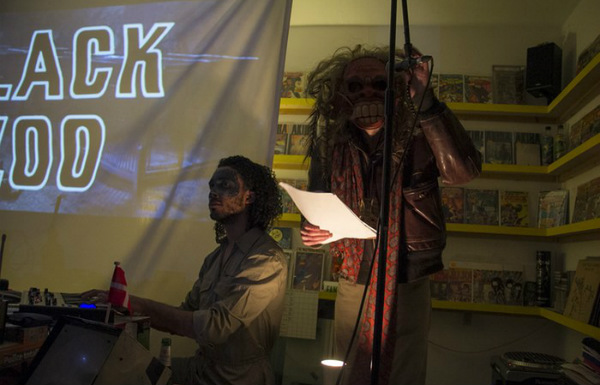 More performance crossover from the Orbital Comics Beast Wagon launch
You're revisiting a previous project at the moment as you take Reel Love to Unbound. Can you describe the book's timeframe-jumping structure and its distinctive combination of coming-of-age story and exploration of our relationship with the Big Screen?
Reel Love is a semi-autobiographical coming-of-age story about a young boy who forms a relationship with his local cinema and follows his dreams of becoming a famous film director. Told in three acts, each taking place over the course of a British summer at fateful points in his life, it chronicles the triumphs and heartbreaks of childhood friendship, first romance, and the realities of early adulthood set against the backdrop of rural Cumbria.
The tone of the chapter relates both to the key emotions and preoccupations of the character at that point in his life and also to the genre of film which is prescient in his cinematic obsessions at that time. It's very much a book about memory, about how we remember (or misremember) people and places and the art we love, and how that fuses itself to specific times in our lives.
Above – Owen's official crowdfunding video for Unbound. Back Reel Love here.
How did you become involved with Unbound and given that you've crowdfunded before with Beast Wagon how does Unbound's unique crowdfunding process compare?
Wow, that's a big question. I got involved with Unbound when graphic novel commissioning editor Lizzie Kaye gave me a call and asked if I wanted to do Reel Love through the publisher. It really was as simple as that. We had worked together at Titan Comics so she knew the kind of work I did outside of that. She's a great editor and I'm happy to be working with her.
The crowdfunding difference between Kickstarter and Unbound is massive. Kickstarter is a sprint, Unbound is a marathon. The basic rules remain the same with a few key differences: Unbound provides editorial support which Kickstarter doesn't. Great for independent creators who have reached a ceiling and need editorial feedback (something many indie creators are starved for when publishers are unwilling to provide constructive feedback). Another key difference is that at Unbound the pledge levels can be changed at any time, and pledgers/readers have control over the process and can suggest their own rewards.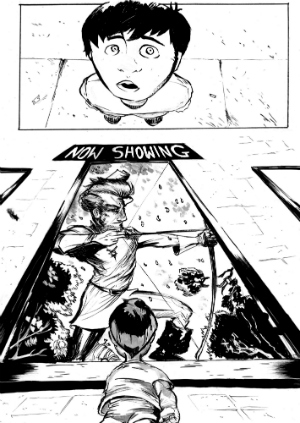 You as the creator are still running the promotion and working to get the pledges, but once you are 100% funded Unbound handles top to bottom regular publishing duties. That means distribution around the world via Penguin Random House. So that's a game-changer. They're a fusion between a regular publisher and a crowd-funder. As a creator you're really playing the long-haul for that distribution, to reach audiences you wouldn't have already.
The Catch-22 is that you need to prove you have a decent-sized audience in order to do that. It stretches you outside a regular comics audience and into building an entirely new one so you have to be sure your book has crossover appeal or interesting subject matter. You have to be unique. You should always want to take those odds as an artist.
Given that the first two chapters of Reel Love were published a few years back can established readers expect to see some reworking of the original material alongside that final chapter?
When I first began working on the comic I had no idea anyone was reading it, let alone it would get picked up by a publisher. There are some pages that – beyond mistakes unnoticeable to anyone else – really bug you, and keep you up at night. Those mistakes will be fixed in the most organic way possible. Pages that were rushed to hit a self-imposed print date will be re-drawn, and for a stronger complete narrative flow a few pages will be added in to give breathing room to important moments. That kind of thing.
I'm avoiding the impulse to 'George Lucas'. As my editor rightly suggests, that way lies madness and infinite folly. Each chapter of Reel Love really is a moment in amber of my head and my skill as an artist at that time. It grows as I grow. I want to retain that.
Reel Love – like a lot of your work – has semi-autobiographical inspirations. Does using an on-page avatar rather than expressly identifying the protagonist as yourself ensure that those autobio themes make you feel less vulnerable? Do they give you an opportunity to embellish the tale for the sake of a better story?
I've always been of the slightly myopic opinion that autobiography can be self-indulgent and self-involved in a way that has classically made me feel uncomfortable. Ironically, most genre work I find soulless and impersonal. Superhero comics especially seem, for the most part, divorced from reality in a profoundly concerning way. It's not so much that I feel less vulnerable, I actually enjoy that process of eroding some truth of myself through fiction. Vincent Paradise in Raygun Roads, Patrick Edwards in Beast Wagon and even the boy in Reel Love (although that's slightly more forgiving) are the most obvious examples.
I'd like to get away from needing that avatar in later books. I think reveal a healthy chaos of obnoxious self-loathing and joyful optimism. But you're absolutely right about the search for a better story. As a writer I have to primarily entertain both myself and readers and I like to twist and play with the truth to do that.
What are some of the more colourful reward tiers on offer for backers?
Most pledges are for a first edition of the book – which is going to be much more than a boring paperback. The production is going to create a beautiful object you're really going to want to own. On top of that I'm creating artwork commissions and large-scale bespoke movie posters (similar to those created for the Genesis – above) for readers and cinemas who have their own screenings. I'm also curating film seasons with independent cinemas and doing workshops with schools.
But the joy of the Unbound model is that readers don't have to stick to the tiers. They can suggest their own incentives or extras and, if we can make it work, we can do reader-specific tiers. We want to hear from retailers along these lines as well and find out what will benefit their store and their customers.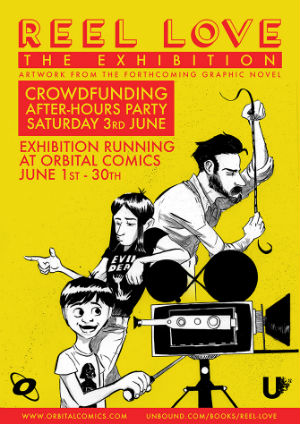 You have an exhibition at Orbital Comics as well in June. What can we expect to see on show there?
The exhibition is the biggest display of my solo artwork there's ever been. I'm really excited and nervous! Along with some special one-off pieces, and details of my process and sketchbooks, there will be movie posters I've produced for special screenings at the Genesis cinema in East London, and over 50 pages of original art featured in the Reel Love graphic novel. They're all available to buy via pledging on the book, and Orbital customers will receive a unique discount code when pledging on the book.
And, finally, are there any other projects you're working on at the moment that you can tell us about?
Lots of projects that were happening are on the back-burner right now so I can dedicate everything to Reel Love. It really is 24/7 stuff. If that all goes well, I'm writing a bright and colourful all-ages mini-series or short graphic novel with another UK artist which is shaping up lovely, and I've had the first pieces of a solo graphic novel fall into place. It will be a fantasy/quest book inspired a little by RPG video games and Cumbrian folklore. Trying to fuse the two.
You can back Reel Love on the Unbound site here. Follow Owen Michael Johnson on Twitter here and visit the Changeling Studios site here.  The Reel Love exhibition runs at Orbital Comics throughout June. Details here.