Jessica Martin is another of those now established rising stars of the UK indie comics scene who you first heard about here at Broken Frontier. She was a finalist in the Myriad First Graphic Novel Competition in 2014, a nominee for the 2015 Broken Frontier Breakout Talent Award and is the creator behind the period drama graphic novel Elsie Harris Picture Palace.
While Martin's profile in the comics world has grown in leaps and bounds over the last four years she's also known to an entirely different audience for her work as an actress, impressionist and West End star. Her next project brings those worlds together in a graphic memoir titled Life Drawing: A Life Under Lights, currently part of the new line of graphic novels being crowdfunded by publisher Unbound (see our recent interview with Unbound's Lizzie Kaye here). You can back the project here.
Today at BF I talk to Jessica about her move into the world of comics, the responsibilities of autobio work and the particular challenges of crowdfunding…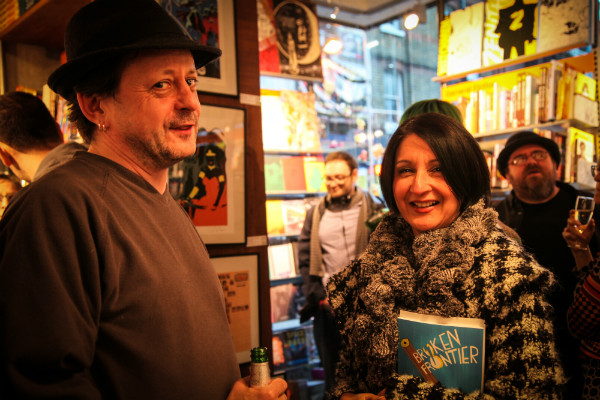 Jessica with BF Editor-in-Chief Andy Oliver at the Broken Frontier Anthology/Small Press Yearbook launch at London's Gosh! Comics in 2016. Photo by Mauricio Molizane De Souza
ANDY OLIVER: When we've spoken in the past at Broken Frontier we've focused largely on your sequential art but that's actually a relatively new part of your artistic practice. For those who only know you through your comics can you give us a quick tour through your career on stage and screen?
JESSICA MARTIN: My career on stage and screen began over thirty years ago. You could say it was in the DNA, as my late father Ido Martin was a jazz musician and I performed with him as a teenage singer. I was also performing with a youth jazz orchestra from when I was about 18. At the same time I was at London University studying English and Drama.
Without going into the how and why (that will be explored in my memoir!) I achieved success on television as a comedy impressionist in variety shows like Copycats and voicing Spitting Image, acquired a cult status for appearing as an alien werewolf called Mags in the Seventh Doctor story 'The Greatest Show in the Galaxy' in Doctor Who and then moved into musical theatre more or less for the rest of my professional career after playing the lead in the West End musical Me and My Girl. Most recently I played the Mom in Big the musical.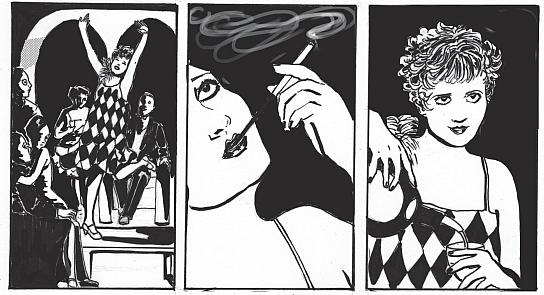 Art from It Girl – Jessica's very first comic on silent film star Clara Bow
What pulled you into the world of comics? What was the draw of the medium for you in terms of its storytelling potential?
I took up drawing again a few years ago and found myself obsessively sketching every day. When I was on tour with the musical Spamalot, Phill Jupitus who was also in the show would visit comic shops in every location. When I showed him my sketches he suggested I look at comics and graphic novels. He said it would be the perfect medium to bring my scriptwriting and drawing skills together. Eureka!
I then immersed myself in reading comics and graphic novels that I liked the style of. The two that immediately appealed were Fun Home by Alison Bechdel about her eccentric childhood and difficult father-daughter relationship and Gemma Bovery by Posy Simmonds with its wry satire on women's ambition, desires and ex-pat life in France. Neither of these subjects were what I expected to find in a medium that I grew up with as being primarily for children!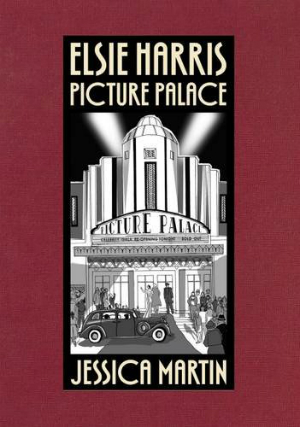 We've been covering your comics work here at BF since the very beginning and your, quite frankly, meteoric rise from small press ventures to published graphic novelist in that time. What have been the highlights of the last four years for you as your comics journey has progressed?
You ask what are the highlights of the last four years since I began in comics. In all honesty I haven't enjoyed so many 'peak' moments in my life since perhaps the early part of my showbusiness career. Although my satisfaction is coming from an entirely different place. My first highlight was going to my very first Comic Con at Excel where I met and was inspired by so many creative people. I also showed the first pages of my graphic novel to be, Elsie Harris Picture Palace to Steve White, then editor at Titan Comics. That was a watershed moment as I was so nervous.
The next highlight was meeting Mark Buckingham, who is one of the star artists at Vertigo and DC. He became my mentor. From then on it has been wonderful. My very first comic It Girl about Clara Bow was given attention here at BF. I was delighted it was in your 2013 line-up of 'Ten UK Small Press Comics You Need to Own!' as was Vivacity which came out the following year.
Getting shortlisted for the Myriad Editions First Graphic Novel Prize was a moment of tremendous pride. To be standing on a podium at the British Library talking about my work, was something beyond my wildest dreams! And of course, the publication of Elsie Harris Picture Palace [reviewed here at BF]  with Miwk Publishing as a beautiful hardbound coffee table book has been another highlight. Literally my dream made reality.
You have a very classic visual style that in some respects hearkens back to a fondly remembered age of British weekly serial comics. Who would you count as among your artistic influences?
The reason why my work has a classic, nostalgic feel to it is because I still have a great fondness for the comics I grew up reading… Bunty, Judy, Diana, Tammy plus the even older ones like Girl and School Friend that I picked up at jumble sales. I love the pen and ink style of that generation but also love the American illustrators like Noel Sickles, Alex Raymond, Alex Toth and my contemporary art heroes include Bryan Talbot, Mark Buckingham, the Studio artists… Mike Kaluta, Bernie Wrightson , Barry Windsor Smith, French artist Annie Goetzinger and, most up-to-date, Alison Sampson.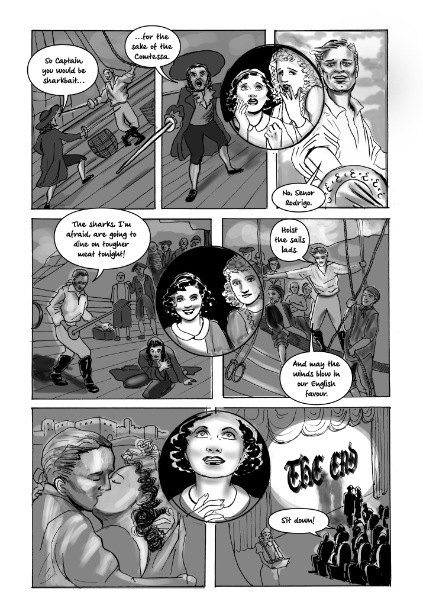 Sample art from Elsie Harris Picture Palace
Life Drawing: A Life Under Lights is the graphic memoir you're currently working on for Unbound. Can you tell us a little about the book and why you chose comics as the form to tell your story?
Life Story: A Life Under Lights is a graphic memoir. Up till now I've been telling the stories of women more famous and notorious than I. Part of an actress's default make-up is to live the lives of others and escape your own, and I was no less guilty of that in my choice of subjects for comics storytelling. But the thing that I noticed in what I found appealing in the stories that I had read to date in graphic novels, were the ones that were on the autobiographical side. The lives were not necessarily dramatic or heroic but the insights resonated and the creative journey ( I think now of Eddie Campbell's Alec: The Life of the Artist) is always a compelling one. In fact my first comic strips Wishful Inking were about my everyday life.
Despite my early flush of success in the field of entertainment, the stakes of what success is, have changed beyond recognition. We now live in the age of celebrity and brand and I don't think my autobiography pitched to the mainstream as a prose book would have attracted the slightest bit of interest. A jobbing actress has an art hobby. So what!
But I knew I was at a time in my life where I'm looking back of what I have and haven't achieved, what I've learnt etc. And I know that I am reaching out to an audience comprised of people who might be on a quest for creative self-expression too. I think comics and graphic novels act as a form of poetry. They can access emotion and convey layers of information in just a few words and the appropriate imagery.
Sorry! That was a long-winded way of answering your question. Really it comes down to the creative urge. There is a deep-seated compulsion to tell my story now and there is a niche but growing audience who want to hear it!
The crowdfunding intro video for Life Drawing: A Life Under Lights
Here's your moment to pitch to the Broken Frontier readership. Why should they back Life Drawing: A Life Under Lights (sample pages below)?
My story is about dreams coming true, dreams falling apart and new ways to dream. It is many stories. Other people's whose lives have touched my own. My Singaporean father arriving in London to seek fame and fortune as a jazz musician in Soho. My Irish mother escaping her parochial roots, attracted to the exoticism and excitement of Fifties London.
It's about how culture can enhance at even the base level of life. The TV documentary about Garbo I watched as a child, inspired a lifelong love of classic film, art and acting.
It's about being unorthodox to make things happen.
It's my philosophy that life is an adventure from which we can gain insights to share, uplift and maybe inspire. Stories are medicine.. Come with me on this journey, you won't regret it.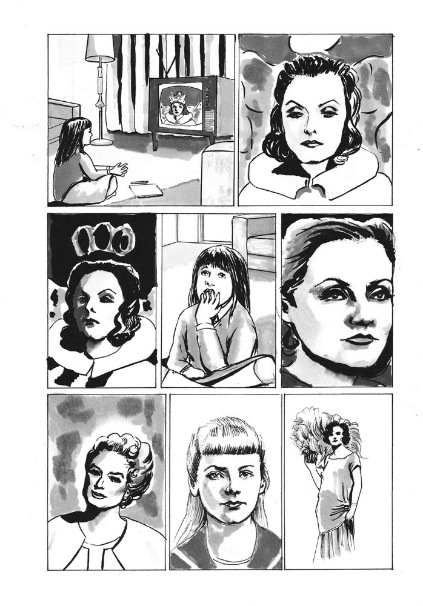 Autobiographical comics work comes with added layers of responsibility and even a sense of vulnerability in putting something so personal out there. Has that been a consideration when working on the book?
Yes. The added responsibility that comes with writing an autobiography can be so onerous that at times, you even think… am I at best, brave enough or at worst, insensitive enough to carry this through? In my case, I'm thinking about my family's feelings. What do I share? How much do I reveal? What is just pure self-serving sensationalism? My father passed away twenty years ago and we had a challenging relationship. But I loved him as he did me, and part of doing his book was to commemorate his talent and service to entertainment, his chosen art form and legacy to his descendants. My Mum is still with us and I want to be honest about the hardships she endured without embarrassing her.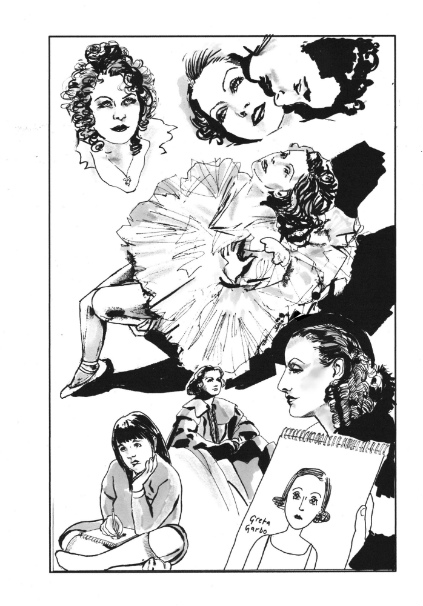 Unbound has a somewhat different approach to publishing with its distinctive take on crowdfunding. What attracted you to their publishing model?
Crowdfunding a novel would not be mine or many authors first choice of publication. We'd all love to have a bidding war, a six-figure advance and an instant audience to buy and love our work. But now first-hand experience at self-publishing and independent publishing has given me a realistic view of how this whole thing works. Kickstarter could have been an option but then I would still have to market and distribute the book myself or go pitch to a publisher once the book was funded with no guarantees that things would happen straight away. What attracted me to Unbound was that here was a sort of "Here's the Golden Fleece (publishing deal, marketing and distribution taken care of) and now your challenges are to get the funding by whatever means you can."
One of the things I've learnt is that marketing cannot be left till after the book has happened. It's good to start banging the drum and letting people know in advance so you can get a feel for how the book is going to go. My crowdfunding campaign is as much about gauging a response as it is about raising the target money. Unbound authors are encouraged to post regular updates and keep their readers apprised of what's happening; milestones reached etc. It also keeps the author on their toes. Everyday I wake, I literally ask myself " Why the story? What's the story."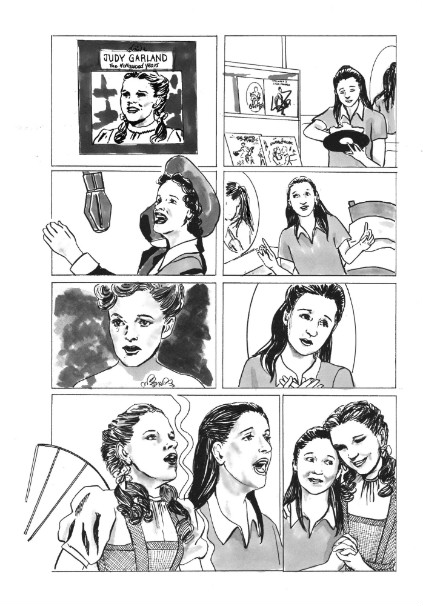 How much of a sense of trepidation did you have about the crowdfunding aspect? Was it a daunting prospect or a challenge to be embraced? What have reactions to the campaign been like to date?
Trepidation doesn't even cover it! I lost my crowdfunding virginity last week and it was like being a kid standing at the edge of the diving board…crying with panic. It took half of the first day drafting a personal message and then reading about three articles on motivational exhortation before I channelled my inner Mormon and got knocking on the doors. It dredged up all manner of childhood insecurities about being rejected, not being liked, fear of losing friends because I'd tapped them for money… do you want me to go on?!
But, overall the response has been a rather beautiful and overwhelming demonstration of loyalty won through the work I have done to date. Yes, I'll admit, my Doctor Who legacy has been helpful, extreme generosity from unexpected 'angels' together with the standard and understandable, "No, can't help at this time but wish you well" and quite a few no responses… which may turn into positive responses later in the campaign.
What emboldens me now is that I think, yes a lot of people may feel uncomfortable that I've asked, they may think, "Why should I donate to something that isn't an investment or a charity?" but I've had people say to me that I've inspired them and that creative work does make a difference. So I'm switching the mute button on self-doubt and carrying on. When I finish the book, I hope all my supporters will feel proud they kept the faith.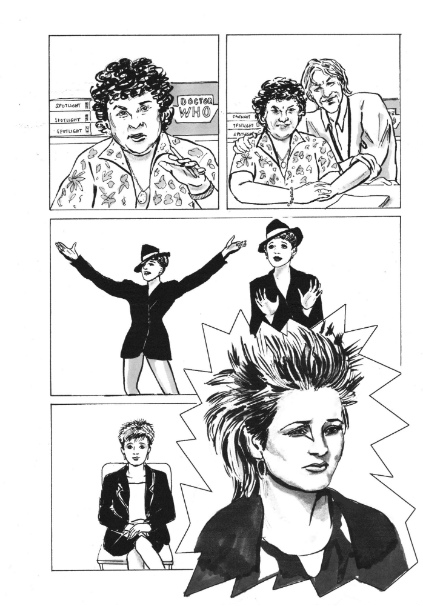 In terms of pledges what are some of the rewards on offer beyond the book itself?
In terms of rewards, I have a great variety from badges, to prints to commissions and at the high levels you can have your likeness and name as a character in the book, one-on-one workshops, a Whovian reward and if there's something else I haven't included please feel free to make suggestions. Very happy to design bespoke ones!
While Life Drawing: A Life Under Lights would seem to have your time tied up for the foreseeable future do you have any other comics or illustration projects planned in the near future?
I'm currently in discussion re: a major illustration job for a British licensed comic which could be construed as also having elements of self-mythologising? Can't say any more because it's not official yet but I am very excited. The timing couldn't be better.
Thank you for taking the time and 'space' to interview me here!
You can back Life Drawing: A Life Under Lights on the Unbound site here. For more on the work of Jessica Martin visit her site here and follow her on Twitter here. 
For more on Unbound visit their site here and follow them on Twitter here.