The late, great John Peel used to say of The Fall that they were "always the same, always different". It wouldn't be too much of a stretch to say the same about the output of the publishing partnership between Retrofit Comics and Big Planet Comics.
That mix of variety and consistency is epitomised in the latest two comics to arrive as part of the Retrofit/Big Planet subscription: Ikebana, by Yumi Sakugawa, and Butter and Blood, by Steven Weissman.
Ikebana is the story of a Japanese-American art student, Cassie, who for her final exam bins her earlier work and concocts a performance piece – the "Ikebana" of the title, referring to the characteristically Japanese style of flower-arranging.
As Cassie takes her silent performance out of the studio and into the street, her classmates initially follow her. However, as her odyssey comes to its dramatic conclusion, she walks alone – or does she?
The 44-page comic has a steady, meditative rhythm: Cassie remains silent throughout, speaking only through the 'artist's statement' that the professor reads on her behalf. It's easy to be a bit eye-rolly at the earnestness of Cassie's statement – one of a few gentle but pointed digs at art-school life – but as her promenade leaves the environs of the classroom and enters 'the real world', the book starts to raise questions about the idea of life as a performance – as well as the culture of harassment women have to endure, regardless of their 'costume'.
Yumi Sakugawa uses a simple art style and a linear narrative approach, with a couple of intriguing wrinkles. Even allowing for art-school affectation, no-one seems fazed by one of the students having the head of a cat, or the professor having what seems to be a leaf instead of hair, giving his noddle the appearance of an apple.
You could maybe describe the drawing as a little crude at first glance, but it's incredibly evocative, especially in its depiction of the silent, stoical Cassie (who might remind UK readers of a certain age of one Mavis Cruet). All in all, Ikebana is the model of an effective one-off comic, using its form beautifully to leave lingering thoughts and unanswered questions brewing away in the mind of the reader.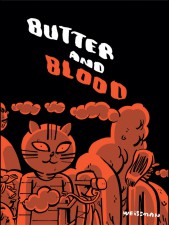 And now for something completely different. Steven Weissman's Butter and Blood is probably as far removed from Ikebana in format, tone and style as it's possible to be. A square-bound 100-pager, it's a rapid-fire compilation of short strips, single-image cartoons, spot illos, bits of graphic design and sketchbook pages.
If you got the Mavis Cruet reference, you'll probably know where I'm coming from when I say that this is reminiscent of The Fast Show – a high-energy surge of comedy ideas, with the safety net that if one item doesn't tickle your fancy, there'll be another one along in a minute. And even if you prefer the narrative pages, there's enough energy and spark in the more illustrative stuff to keep you coming back for more.
There are one or two recurring threads – a series of one-pagers about the misadventures of Guns 'n' Roses running a deli and an irreverent retelling of a few episodes from Watership Down, for example. However, the real joy of the book is not knowing what's going to pop up next (and, on subsequent readings, being able to dip into it at random and find something enjoyable).
The book showcases Weissman's graphic versatility, from a scratchy underground feel to a much more clean-cut and colourful cartooning style. There's something about his work that strikes a connection between a classic retro illustration style and a more contemporary approach.
It's getting to the time of year when Box Brown will probably – hopefully – soon announce next year's subscription offer and line-up of artists. Check them out: there's probably no easier way of bringing some grade-A alt-cartooning to your doorstep.
Ikebana • Yumi Sakugawa (W/A), $5 (print), $2.99 (PDF)
Butter and Blood • Steven Weissman (W/A), $13 (print), $5 (PDF)
Retrofit Comics/Big Planet Comics
(NB: On the other side of the pond, Simon Moreton is distributing these – and a few other Retrofit titles – in the UK.)